Online training has exploded in popularity over the last decade. It's available in a variety of formats, but it's most commonly utilised for college education, certification training, and professional development. The advantages of online training courses were promoted heavily when the vast majority of countries were under stay-at-home orders during the COVID pandemic. But in truth, this only accelerated a trend that was already underway.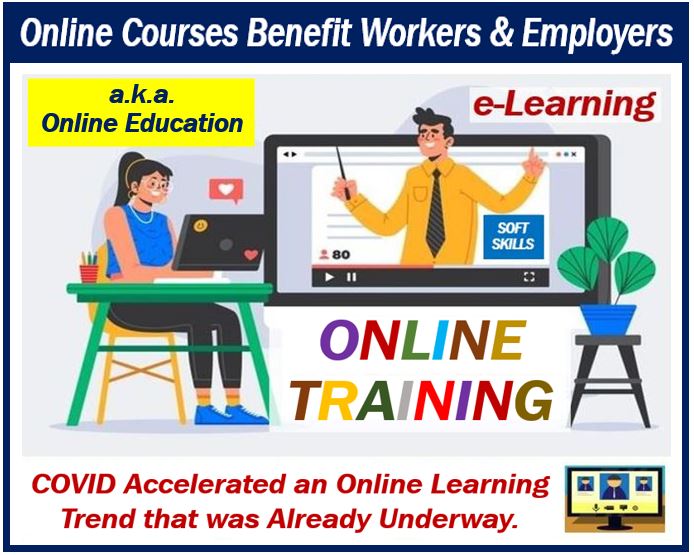 Using the studies on nosignificantdifference.org as an indicator of the effectiveness of distance and online learning, it can be seen that approximately 92 percent of all distance and online education studies find that distance and online education is at least as effective, if not better than traditional education.
The benefits of online training are more crucial than ever before. You don't have to stop growing and learning because you complete your formal education or have disruptions in your everyday life. And maintaining your own development through soft skills and job-related training is simple and convenient with online learning. The possibilities for personal and professional growth in this area are practically limitless. For example, procure training is an option for those looking for an efficient and engaging learning experience.
Businesses find that staff growth, too, is greatly aided by online training. All online training courses come with general advantages as well as unique elements which can provide a customized approach to learning. Here, we've summarized the main advantages of online training for staff development.
If you're an employee, use it to persuade your line manager of the benefit of online training for yourself and your coworkers. If you're an employer, put it into action right away. Using an established online training provider like ZandaX training eases your load with course content that's been proven to work over many years.
Enhanced Flexibility
A main advantage of online training is that you can learn whenever you choose. You can work on your course whenever you have free time because you don't have to schedule around specific class times or days.
Classroom training, on the other hand, is tied to prearranged locations and dates. Classroom sessions will not always fall on days and times that are convenient, or even possible for you. Some goals may conflict with class schedules in today's fast-paced environment, limiting your options.
You can easily balance the demands of your family duties, employment, hobbies, and other activities with online courses. You can enroll in courses at any time and complete them while working to your own schedule.
Convenience
Learning online is like having your own private tutor while you learn. There are no interruptions from other students, and you can run the lessons at your preferred pace. Have you ever had the impression that a teacher was speaking too quickly for you to take notes or fully absorb the material? Or too slowly so you were bored?
Self Management
For individuals, self-discipline can be developed by creating your own timetable and sticking to it. Unlike in-person learning, you have complete control over how much or how little you learn at any given time. So with no one physically present, you need to exercise a high level of reliability and purpose. You will also benefit by improving time-management skills that will boost your career – and your life in general – in so many ways.
Save Time and Money
For businesses, online training removes the need to pay for multiple days of instruction as well as travel to the training venue. Staff can access their classes from anywhere, saving time and money. Another advantage is that with large numbers of employees, cost savings are likely to be significant, which saves even more money.
Consistency
Online training courses give the same knowledge, and learning experience, to all attendees, regardless of how many there are. Because online training never has a «bad day» of teaching, everyone is treated equally and benefits accordingly.
Personalization
At the same time, not everyone needs the same training. Online courses provide the freedom and flexibility to personalize each person's learning to their specific needs. It also aids employee retention, which benefits individuals and organizations with more consistency and a happier workplace.
Accuracy
The information in online courses is current. Unlike print publications, they are regularly updated to guarantee that every user obtains the most up-to-date information. In addition, because content and materials are standardized, errors are fewer and corrected more quickly if they occur.
Feedback
Students receive immediate results and comments on their performance after finishing an online course. Before finishing the evaluation, users can track their progress and go over any areas where they are unclear. In addition, the majority of online training courses issue a certificate of completion to each successful participant.
Last but not the Least
Investing in online training has numerous advantages. As technology continues to push through new and exciting opportunities, learning and development tactics are continuously evolving. Now is the moment to make sure that you, or your company, don't lag behind due to a lack of development opportunities. The easiest, and most effective, way to do this is to use online training as a core element in your strategy.
---
Interesting related article: "What is e-Learning?"