"Taking pictures is savoring life intensely, every hundredth of a second."
Have you heard this saying? If not, you should have got the point, right?
Photos are important!
Today is the world of digital photos. Research by Mylio demonstrates that more than 1.4 trillion photos will be captured in the year 2022. Moreover, more than 300 million pictures are uploaded each day on Facebook alone.
Keeping these stats in mind, you can figure out the significance of capturing high-quality and relevant images for attracting an audience. Surprisingly, 78% of the photos uploaded on the Internet are of low quality and with digital noise. That's where you need to use image upscalers to help you enhance the quality of photo. Especially, with an AI image upscaler from VanceAI, for example, you can easily upscale your image with only one click.
Here are the best 10 AI Image Upscalers list that you should consider for improving the quality and relevancy of your images.
Best 10 AI Image Upscaler View
This AI-powered image upscaler helps you upscale image resolution by 800%. Also, it increases image quality.
PROS
Highly functional AI-based editor
Vintage image restoration
Pricing policy is flexible
AI-powered effects are great
CONS
There are many restrictions for the free version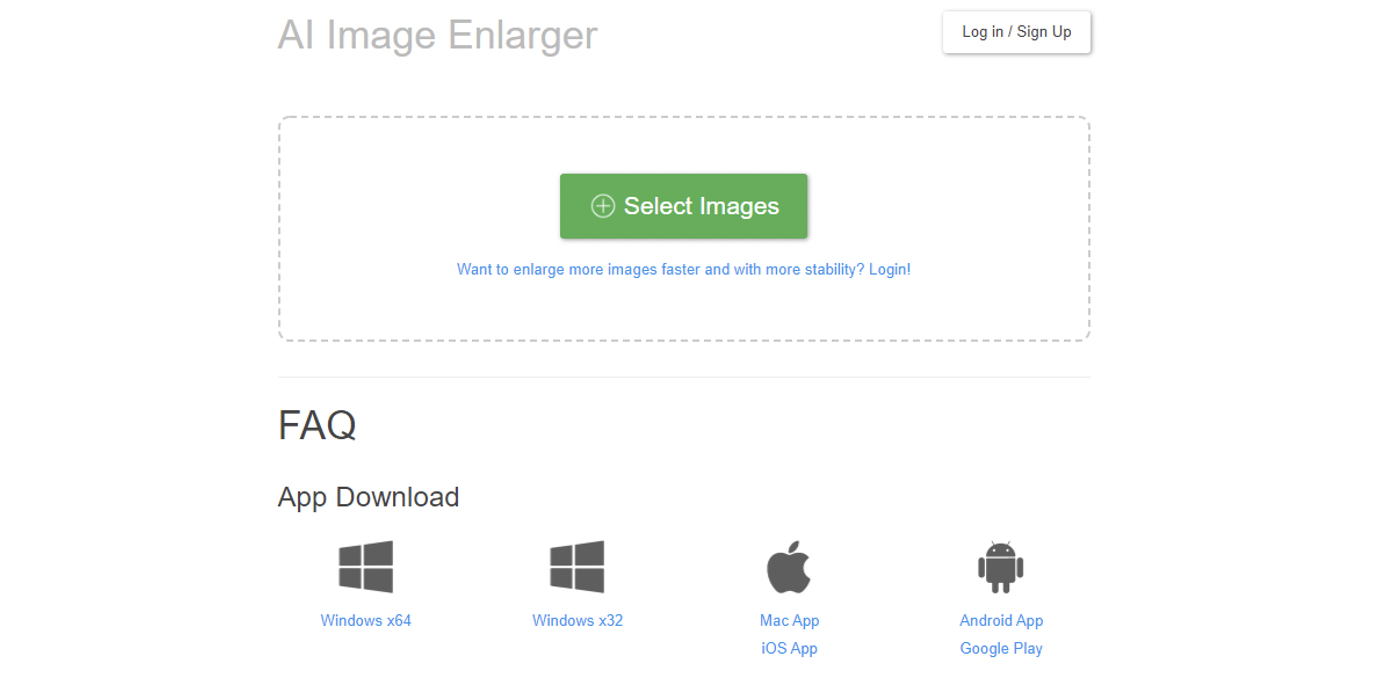 Bigjpg reduces the noise and serration, thereby allowing images to be enlarged without losing quality. It uses the latest deep convolutional neural networks. Enlarged and uploaded images will be automatically deleted after 15 days. Moreover, Image links are encrypted.
PROS
Automatically enhance the image details by suppressing the noise and deblurring them.
Safe to upload pictures
Uploaded and upscaled images will be deleted automatically after 15 days.
CONS
Its free version contains limited functions.
If you need a full-page print or high-resolution photo, then you can download Upscaler. It can help you in this regard. Also, it removes pixelation or blurry details.
PROS
It improves bitrate encoding for your YouTube videos.
An audio codec works better in 1080p/ 256 Kbps.
CONS
Rendering and conversions take a long time and more storage
Upscaling a digital asset doesn't add more information than the one available in the native format.
If both the aspect ratios don't match, there will be blank areas in the uncovered screen real estate.
Artifacts appear as a result of using it.
Suppose the mismatched aspect ratio is adjusted automatically. In that case, the photo will become distorted due to compression and the stretching required in the adjustment.
Just as the AI image upscaler from VanceAI, you can enhance your images and upgrade your low-resolution pictures via Zyro's AI Upscaler.
PROS
It is highly compatible and easier to use
No need for registration as it is a free app
CONS
Quality may be compromised a little bit
There are limited scale options as it scales image only by 2x
Imglarger.com
It is an AI-Powered image enlarger that increases the image resolution without compromising the quality. Also, it sharpens the blurred photos and enhances the color, hair, lips, and skin with just one click. It is powered by AI noise reduction technology so that you can remove the noise from the pictures taken by your digital camera.
PROS
It enlarges and upscales the photos without affecting the quality
It sharpens the images and dentures them
It converts low definition images to HD
It removes the backgrounds from a batch of photos via one click
For using this, you don't need editing skills
CONS

It is an online tool for improving the quality of images. It significantly increases speed and work quality. Besides, it helps transform small pictures into big ones, thereby preserving the original quality.
PROS
Can upscale image up to 4x
Can remove JPEG artifacts after compressing
Supports image deblurring
Batch processing
CONS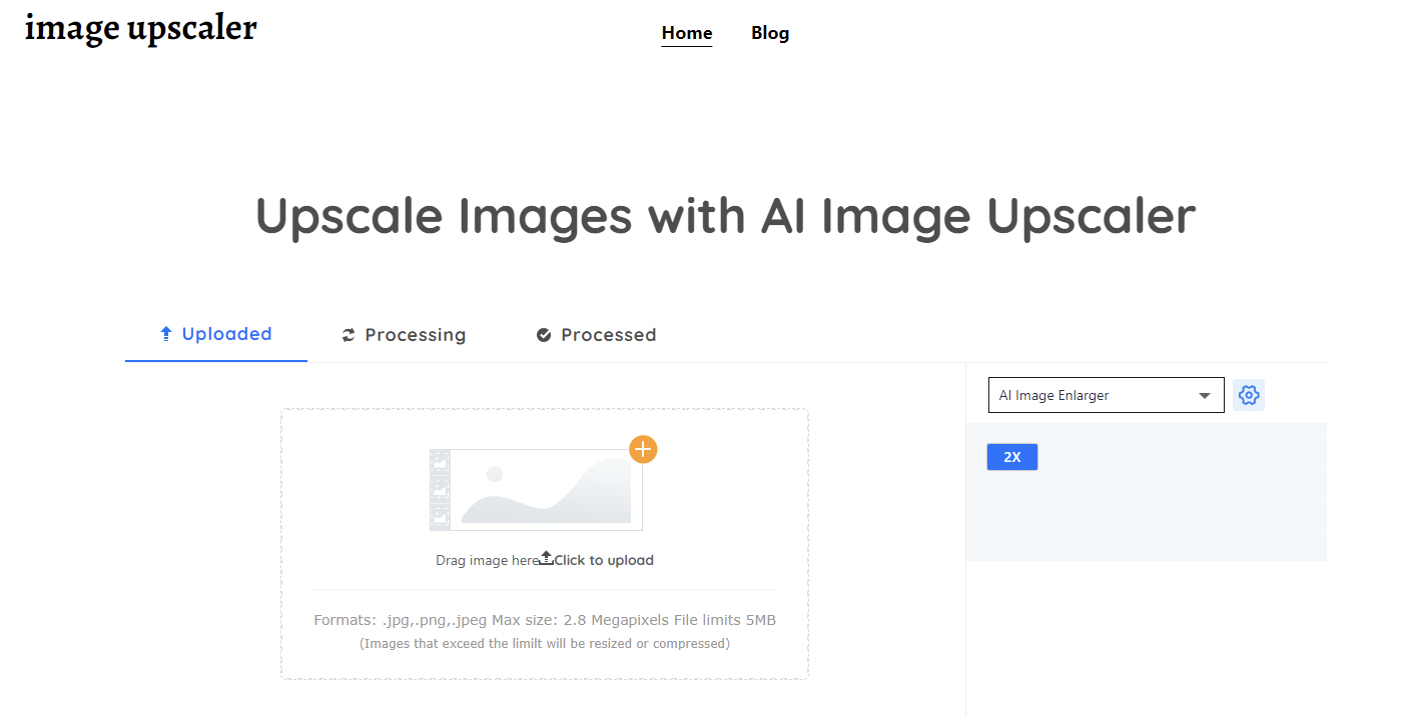 This app helps in enhancing and sharpening the image resolution via AI. You can remove watermarks and store images. Also, it is fast and easy to use.
PROS
Uses modern AI technology
Enhances image resolution automatically without compromising the quality
Removes watermark
Stores images
CONS
This is a free AI-powered image upscaler. It is also used to enhance image resolution and the quality of the photo. It helps in resizing the pictures and illustrations for print, resizing JPGs for professional and personal purposes, and other images for eCommerce.
PROS
Enhances images by maintaining quality
Automated picture resizer
Royalty-free images
Curated collection
CONS
Customer service is not good enough
Some services are over-priced
It is a free AI-powered image upscaler that enables you to upscale your images without paying a single penny. In addition, this software helps you enlarge the image 2x to 4x without compromising the quality. Also, it clears up imperfections in the picture and upscales image resolution.
PROS
It upscales image without affecting the quality
Free of cost
It upscales image up to 4x
CONS
It gives the choice of limited scales
Upscalepics is upscaling software that helps compress images, remove JPEG noise, and increase the resolution.
PROS
Enhances resolution
Removes JPEG noise
Compress images
Remove background and paste custom background
CONS
For further details, also visit Top 15 AI Image Upscaler for 2022 | Make Images Professional with AI Upscaling – TopTen.ai
FAQs
What is AI Upscaling?
AI Upscaling is a technology that helps you to improve traditional upscaling by many counts. Upscaling simply refers to stretching your images onto a larger display. The stretching of the image allows you to decrease the density of pixels and cause pixelation, mainly when the image is of low quality. But this AI Upscaling technology helps to enhance the image size and resolution without losing its quality.
What makes the best image upscaler?
The best image upscaler is capable of increasing the number of pixels while maintaining the image's integrity. In other words, the best image upscaler not only upscales the appearance but also enhances the photo.
Conclusion
Incredibly, many AI companies are developing AI upscaling technology; therefore, we can see many excellent AI upscalers.
The above article discusses the best 10 AI image upscalers you can use for upscaling, improving, and enhancing your image. This software enables you to upscale images 2x, 4x, 8x, or even 16 without compromising the quality.
More significantly, many of them are cheaper or even free of cost to use. Besides, they are easier to use and don't need high editing skills.
---
You may be interested in: 5 Reasons To Enhance Your Email Security