There are a lot of truly fun games on Android mobiles and tablets. Numerous games work with the keyboard and mouse as they do with a touch screen. Several games are Android platform-specific and not open for PC gamers. Amazingly players can now play a large number of games on the PC because of the utilization of emulators.
An emulator is a software that empowers the users to play mobile games on the PC. It provides greater graphic quality over mobiles according to the specifications of the PC. It can also provide the user with additional highlights which original hardware didn't have.
Emulators do not only keep the look, feel, and essence of an android game. They also enhance the user experience. Numerous emulators have just been created and discharged under the General Public License through the open-source condition, taking into consideration wide scale collaboration.
Best Emulators for PC Gaming
Android emulators are used for playing android games and along with this feature we can also use any android application. This means we can use our PC to control any application or android games with a keyboard, mouse, and/or game controllers.
There are so many android emulators which are available in the market but some of the best emulators for PC gaming are the following:
LDPlayer
LDPlayer comes with the stock of Android 5.1 and 7.1. It has a wide range of compatibility in running high-performance and high-graphic mobile games on PC. LDPlayer is a very light and stable android emulator. It is useful for users that have a low specs PC as it takes very little time to load.
LDPlayer is specifically designed for gaming and it is really good for recording gameplay. The interface of the emulator is aesthetic and simple, making it easier to understand and use. The emulator provides options like shake, screen rotation, screenshots, video recording, by default rooted and many more.
The users can switch the screen from landscape to portrait mode and support for the key mapping function is integrated. Users can also activate the controller and customize the controller layout to their liking to play the game.
This emulator is loaded with a built-in play store to download apps and the Multiplayer feature of the emulator allows users to run several apps simultaneously. It is free for users making it the best emulator for PC gaming.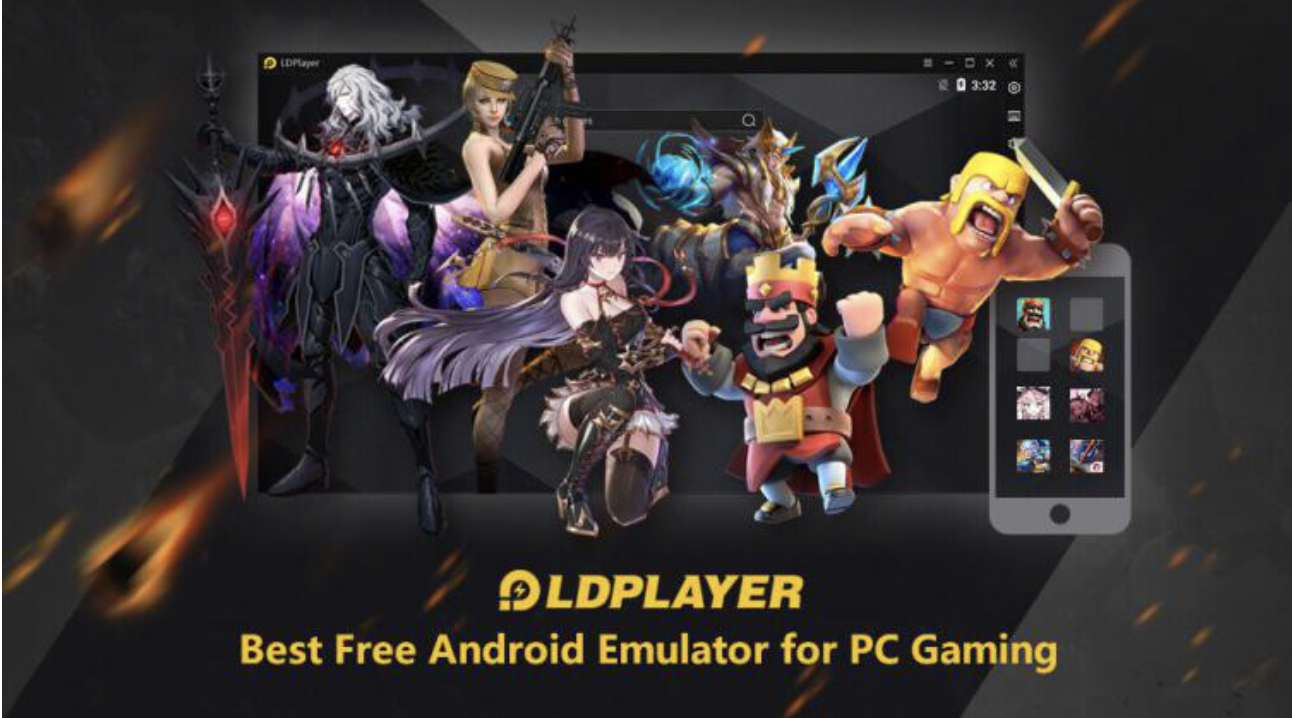 A game you can play on this emulator, for example, is: "War of the Visions: Final Fantasy Brave Exvius". It's a free strategic RPG game distributed by Square Enix for iOS and Android platforms. This game got a lot of attention as it includes characters from pretty much every Final Fantasy game and other numerous Square Enix games. 
The story of the game portrays a war between rival countries in reality as we know it is where legends of the Crystals have been passed down since relic and a minor sparkle of destiny touches off the blazes that would entangle the whole mainland in the struggle.
The great news is that this game can be played on LDPlayer android emulator. Download emulator to play War of the Visions FFBE on PC and get a better experience. After that, you will be ready to enjoy improved game graphics and have the best gaming experience.
BlueStacks
One of the most popular, stable, and best android emulators. Recently it has been updated to BlueStacks 4. Now being highly optimized 6 times faster than the Samsung S9 plus, there has been a lot of improvement in graphics in the new version.
This emulator is designed to target gamers on the app center. It lists the recommended applications, including popular top grossing and trending in the right pane. It enables users to contact freely and get guidance from the help center.
If the user has a low specs PC and if they face lagging problems while using BlueStacks then they can utilize the speed up tips option in BlueStacks. You can run multiple apps at the same time. However, BlueStacks may not run smoothly if the user has an old PC with low specs. It is entirely free, without any limitations but if the user wants to remove ads, the user can go premium and enjoy the ad-free experience.
MEmu Android Emulator
It has the latest version of 7.1.6 which supports android KitKat and Lollipop systems. This emulator supports multiple instances and also supports multiple apps simultaneously. It provides a medium for keyboard, mouse, and gamepad. Basic utility functions are also integrated into it.
The MEmu emulator enables the users to do multi-tasking as it provides the user to open a new window. The interface is nice and the graphics are improved in this emulator.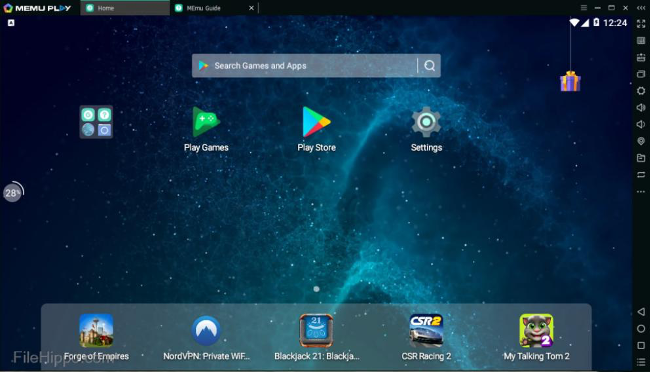 Andy Android Emulator
Been around for many years, it puts Android Nougat on your PCs. Andy emulator has tons of features including users' phones as a controller. Mac OS compatibility, keyboard mapping, and many more.
One of the great features of this emulator is that it is very safe to use compared to any other emulator. It has a built-in antivirus and malware security system. Interface closely resembles the android and the users can customize the UI interface.
Users can use key mapping, microphone, webcam, and recording options. Andy is free for personal use and for the business purpose its pro version is available which starts for $12 per month for a 1-year plan for $99.
Nox Android Emulator
Nox, the latest version 6.6.0.5, is a very stable android emulator compared to other emulators. This is one of the best and most powerful android emulator with so many features inside it. Like any other emulator, it comes with a built-in play store so you can play all of your favorite android games and applications.
Nox is one of the smoothest and fastest android emulators in the market. Nox player has almost all of the useful features which can be selected from the right side including full screen, key set for keyboard control, and multi-drive instances. Shaking options, recording, screen rotation, and many others are also a part of this emulator.
In the settings icon, users can see game settings and can change the frame rates of the games. It enables the user to utilize free root access. It also allows the user to change the theme with the help of a t-shirt icon. Nox is a free emulator and also available for Mac OS users.
Conclusion
There are multiple emulator options for users to choose from, such as Bluestacks, LDPlayer, Nox, and Andy. However, LDPlayer might be the best option for users as it has a simple and cleaner UI than other emulators making it easy to operate.
The minimum system requirements for LDPlayer are minimum 2GB of RAM, DirectX 11, and intel or AMD processor x86 / x86_64. It performs better than other emulators at minimum requirements providing smooth gameplay. Moreover, it has less load time than other emulators making it less annoying and laggy.
The user's memory space is well optimized by LDPlayer, and it occupies less space than other emulators. LDPlayer audio quality is satisfactory. All the features above mentioned surely make LDPlayer one of the best emulators out there in the market.