Playing simulation games on smartphones and tablets is much easier than on any other gaming device. Because it allows players to control all features of the game with just a tap and swipe option through the touch screen of their smartphone.
The simulation game category is one of the expensive but simple game categories in which player have only provided their input in the game and all things in the game happen automatically. However, the input of players decides whether they want to make an end of the game.
So, the decision of players is important in simulation games. In a simulation game players get a chance to simulate anything virtual that they are unable to do in real life like driving heavy vehicles, running their own business, virtual gas stations, cargo simulation, and many more types of real-life activities.
In simulation game categories players will also get subcategories of game genres which are created according to different activities like flight sims, life sims, city-builder sims, transport, and cargo sim, survival sims, and farming sims, sports sims, and many more genres.
Due to huge numbers of subcategories, it is not easy for players to choose the best simulation game which will provide them real-life gaming experience. If you love to play fighting sims then you never miss playing the game Spaceflight Simulator which will you to explore the whole universe from your smartphone and tablet for free.
What are Simulation Games?
Simulation games are video games that help users to participate in different real-world events directly from their smartphones and tablet for free. These games allow them to do all those jobs virtually that they are unable to do in real life.
You can easily become a farmer, make your own desired city, decorate your house, run your own gas station or petrol station, and many more jobs for free. Players have to choose the sim game according to the jobs which he or they perform virtually.
We have mentioned some top-rated simulation games for android gamers that they will enjoy playing in 2022 due to their amazing features and gameplay. However, they can also get tons of other newly released sim games on the internet too.
Top Mobile Simulation Games for Android players in 2022
Euro Truck Evolution Game
This game is best for those players who want to drive a heavy truck like real truck drivers. In this game, players will get a chance to drive more than 20 European trucks with a full customization option. Apart from driving trucks players will also get a chance to earn money in career game modes by running trucks across different countries like Berlin, Prague, Madrid, Rome, Paris, and many more European countries.
Sim City Game
This game allows players to build their beautiful city by playing the role of the city mayor. You have to become the hero of your city by providing all necessary facilities to your citizens on their doorsteps. In this game, all your decisions are more important to keep your citizen happy. You have also the option to make a trade, chat, and do other things with other city mayors to make stronger relationships.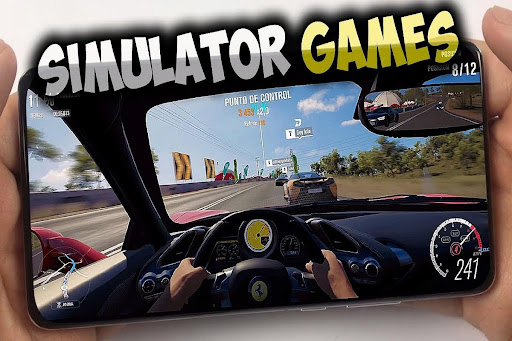 Farming Simulator 20 Game
This game is for those players who want to experience the life of the farmer. If you are one of them then try this new farmer sim game on your device from any official app store. In this game, players will be able to harvest all their desired crops, and vegetables and also raises their own castle with different animals like horses, cow, goats, hen, and many more.
RFS – Real Flight Simulator Game
Friendly most kids and teenagers have a dream to fight an airplane. If you are one of them who want to be an airplane pilot then you must try this new sim fight game on your device. This game allows players to fly an airplane anywhere in the universe with high-definition quality. It also allows players to play the game with other pilots in multiplayer game mode. In this game, players will get full control of planes like real-life pilots.
Players can easily get the link to all the above-mentioned sim games on both official and third-party websites. So, players can easily download them from any official or third-party source for free. However, while downloading them from third-party sources players need to allow all permissions and also enable unknown sources from security settings.
Final Words
Simulation Games are the best source of entertainment for smartphone users which allows them to do all those jobs virtually that they are unable to do in the real world. If you have any dream job which you want to perform virtually then try simulation games and enjoy playing your dream jobs for free also share the sim game category with other players so that more players will enjoy sim games.
---
You may be interested in: Why use business simulations to develop leadership skills?