Great customer service is critical for every business.
It is the backbone of your business, ensuring you build great connections with customers.
In fact, according to an Emplifi report, four out of five customers would leave a business to which they were loyal after three or fewer experiences of poor customer service.
Poor customer service, at its most basic, trickles down to ineffective communication between you and your customer.  
Even so, I recognize that handling all communications can be overwhelming. Every day, call agents must reply to a large number of calls, emails, and SMS messages, which can be overwhelming at times.
There is a solution, however— call center software.
Understanding the communication needs of businesses, a call center software is designed to automate the flow of communication to improve productivity and efficiency.
In this article, I will discuss the best call center software for support and sales teams in 2023, to help you make an informed decision on how to transform customer comms.
Let's get started.
This software provides customer experience tailored to your needs.
Spoke Phone is on the list of best call center software because it helps businesses break away from rigid phone systems.
Personalizing every conversation goes a long way in making customers feel more valued, which is a critical feature you should look for when choosing a company phone system to streamline your communication workflows.
 Spoke Phone accomplishes this by adding a human touch to your automated calls and messages through its ability to integrate several data sources to construct deeper decision logic.
Additionally, the software provides information about clients and their reason for calling, which can be used by your agents to make conversations more contextual and deliver the best experience to your customers.
And it's not that hard.
Spoke Phone simplifies complex information into easy-to-read cards, reducing the time it takes to train your sales team.
I suggest you give Spoke Phone a spin by signing up for a free trial here. By starting a free trial, you'll be able to experience the software and its features firsthand to see how it can improve your business communication workflows. 
2. Dialpad 
Dialpad is a call center platform powered by AI.
With AI enhancement, Dialpad allows you to get the most out of every interaction between your team and customers by providing sentiment analysis, real-time transcription, and live coaching. 
Voice intelligence is perhaps one of the software's most useful features.
It gives agents recommendations while they are speaking to clients thanks to real-time sentiment monitoring. 
For instance, when the customer's tone is flagged as 'negative,' the call agent manager can listen to the call in real-time and intervene as needed. This guarantees that the demands of the consumer are addressed and their queries are answered, resulting in total satisfaction.
Besides this, the software's phone system boasts other essential features necessary for making and receiving calls such as Interactive Voice Response, call forwarding, and call routing.
Sign up for a free 14-day trial with Dialpad, in order to get first-hand experience of how it can improve communication efficiency for both your sales and support teams.
3. Talkdesk 
This software is designed for enterprise-level businesses.
If you are operating a large business, Talkdesk is the best call center software for your support and sales team.
It provides features such as workforce engagement management, internal collaboration tools, and omnichannel support, which are essential in managing several agents and calls.
Managing different communication channels such as social media, email, and text messages, has never been easy. Talkdesk's suite of intelligent solutions allows you to communicate with your clients on their preferred platforms.
But there is more to the software than communication.
Talkdesk integrates customer support tools with business tools such as app integration and workflow automation. Instead of operating different software, you can have all your favorite business tools under one platform. 
If that is not convincing enough, schedule a free demo of Talkdesk today. The demo will provide an idea of how the software works and how it can improve efficiency in customer support and sales.
4. PanTerra Networks 
PanTerra offers a plethora of features essential to a business.
PanTerra is designed to supercharge your operations by providing solutions in communication, cloud migration, and collaboration. 
One of its incredible features is the listen, whisper, and barge capabilities. This is a supervisory function that allows you to listen and follow on every communication without interfering. Additionally, you can communicate with your agents whilst on call without the client hearing. 
What if there is a need to intervene?
Supervisors can join a call as active participants to provide immediate assistance and ensure unparalleled collaboration. 
That is not all. 
PanTerra also provides analytics that can be used to make data-backed management decisions. For instance, a side-by-side comparison between agents can help you track progress.
To see this first hand, you can schedule a 15-minute demo. This way you can experience and find out how the features can enhance customer service in your business.
5. Five9 
This software provides the right tools to deliver individualized customer service.
Five9 can work with businesses of all sizes but is designed for large businesses with a high call volume. 
Thanks to its virtual agent technology that can answer calls, you do not have to employ more call agents when your business receives numerous calls. 
In fact, Five9, through a study, found out that a company servicing 15 million inbound calls per year could save up to $15.8 million from call containment through the intelligent virtual agent system.
Moreover, with digital engagement solutions, your customers can choose how they want to reach out to your business.
The best thing about it is that their previous interaction moves with them regardless of the communication channel.
Click this link to schedule a free demo and get started today.
It will help you get more hands-on experience and find out why Five9 is the best call center software for your business. 
6. DialedIn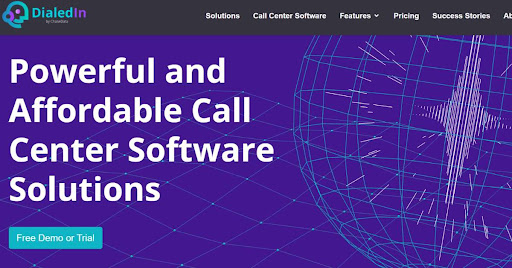 Are you looking for reliable and efficient software?
Then DialedIn is the best call center software for you. It understands the vitality of prompt, personal, and efficient communication in any business. With several features such as call routing, compliance management, and live chat, DialedIn frees your agent from repetitive procedures.
And since different businesses have different needs, it is important to implement flexible software like DialedIn. 
It is easily customizable from beginning to end and ready to deploy fast.
In addition to that, you can get all the metrics on where success is happening and why, thanks to the analytics provided by the software. This can help you optimize productivity, and consequently profits.
Other features include multi-channel communication, third-party integration, and outbound call management.
Don't just take my word for it. Sign up for a free trial today, and experience for yourself how DialedIn can transform how you connect with your customers.
7. CallHippo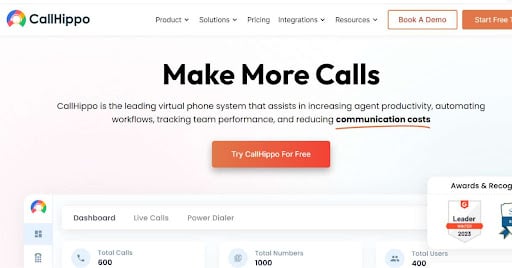 CallHippo reduces communication costs, increases productivity, and automates workflow.
Never miss any opportunity to convert leads to sales with the three CallHippo products—for the support team, for call centers, and the sales team. 
The software enables you to be available throughout with its cloud solution that integrates with your helpdesk and CRM.
Work with all your business tools in one place.
App integration enhances convenience, and this software recognizes that by allowing seamless integration with over 100 business tools and CRM. 
Customers hate waiting in line, and there is no reason to make them wait. Implementing CallHippo into your business significantly reduces wait time thanks to its call routing feature.
In addition to these, CallHippo offers quality tracking, omni-channel communication, and inbound call solutions.
Start a free trial to see the software in action, and find out how CallHippo can help your sales and support team provide the best customer experience.
8. Aircall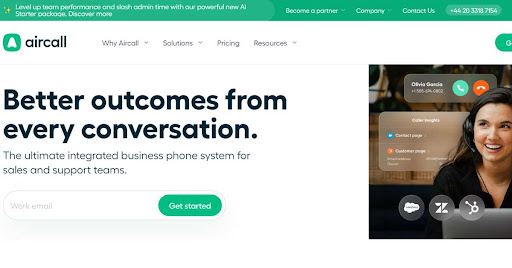 AirCall allows you to get the most out of every conversation.
The software does not only offer call center features but also additions such as analytics, phone system features, and integration. Therefore, you are guaranteed that all your sales and customer support needs will be met by a single software.
Regarding call center features, the software allows you to hold parallel calls, allowing you to be in two places at once. 
This means that you can put one call on hold and start a separate one with a different person. Additionally, you can hold as many calls concurrently with one number while retaining the same quality standard.
And in case you forget any customer details, you can review recordings to confirm, or track the quality of the call. This can be useful in guiding training and making improvements.
I recommend trying out AirCall's free trial for a better understanding of how it works. 
After that, you'll be able to make an informed decision on whether this is the software for your support or sales team, or whether you should be considering other alternatives.
9. 3CX 
This is the ideal call center software for small businesses.
This is particularly because it offers a two-month product trial. 
Among the features you can access are app-free video conferencing, live chat and messaging, and the listen, whisper, and barge features.
The last feature enables you to supervise and train your agents, by being part of the conversation with clients. You burge when you are needed and become an active participant. 
This has been found to be effective in coaching.
Owing to 3CX's pre-configured CRMs such as Zoho, and Microsoft 365, the software simplifies the work for your agents ensuring they take less time fetching customer information. 
When paired with call queue strategies, these functions ensure you never miss any call.
Click here to sign up for 3CX free.
This test drive allows you to experience the software and its features for yourself and see how it can benefit your business.
10. Vonage 
This software delivers high-grade communication tools at affordable rates.
It unifies multiple communication channels to enable you to provide the best experience for your customer, whether via email, call, or text messages. You can also automate responses to comments and FAQs to reduce wait times.
With AI enhancement, Vonage enables self-service, assisting agents during calls. This way, your sales and support team can complete most calls without missing any.
If you are wondering whether the investment is worth it, I am here to tell you that it is.
Their call center software leverages the power of conversational commerce that provides the best experience. And of course, great customer experience is critical to driving sales and building brand loyalty. 
Click the link to schedule a call with an expert at Vonage.
Their team will provide more information on the software and its features. This may give you more insight into how this can be beneficial to your sales and support team.
Conclusion 
Your customers are the most important part of your business
Therefore, giving them the best user experience is critical. 
As your business grows, the more overwhelming it gets to handle a higher call volume. Fortunately, efficient call center software can help you manage all communications.
But before you invest in any software, consider a few factors such as the size of your business, its communication needs, and your desired features, to mention a few. 
However, keep in mind that the best call center software should be able to streamline all your communications. This will ensure prompt and efficient communication to deliver a good customer experience.
For the best experience consider software such as Dialpad, Vonage, and CallHippo. 
Sign up for a free trial today or request a demo to find out how you can enhance customer satisfaction.
---
Interesting Related Article: "5 Key Call Center Metrics Owners Need To Track"