Bitcoin is a virtual currency that uses Cryptocurrency and is regulated by a decentralized authority, unlike government-issued currencies, whereas Cryptocurrency refers to the technology that serves as a medium for facilitating the safe and secure conduct of various financial transactions.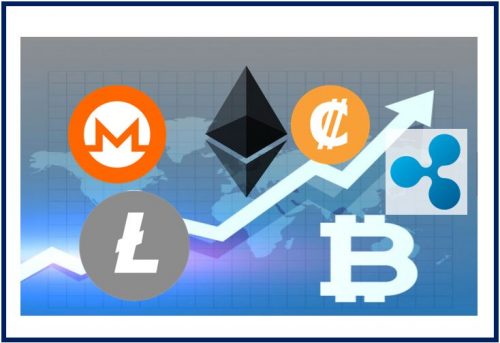 While Bitcoin is not an officially recognized form of payment in all countries, it is used for various transactions by people all over the world. Since it is not physically present, it must be extremely safe and stable, and Blockchain is the best way to do this. As a distributed ledger, Blockchain provides a low-cost, safe, and stable environment for peer-to-peer transactions. It makes the information available to the public, allowing everyone to view and see the financial transactions that have occurred.
Learn that you need to know about cryptocurrency exchange:
Cryptocurrency exchanges are similar to stock exchanges. It provides a forum for buyers and sellers to trade various priced assets based on current market prices. Typically, exchanges have both traditional fiat-to-crypto transactions and crypto-to-crypto trades.
Crypto-currency exchanges in India come in a variety of shapes and sizes.
Platforms that bind buyers and sellers are referred to as trading platforms.
Brokers are platforms that offer cryptocurrencies at a price that the broker determines—these function similarly to Forex service providers.
Platforms that allow for direct peer-to-peer trading are known as direct trading platforms. Users can swap currencies anywhere globally, and the seller and buyer can agree on a price.
Currency exchange benefits in India include:
The growth of cell phone internet access, the introduction of Aadhaar authentication and e-KYC, Jan Dhan accounts, and other factors have aided India's digitization. Furthermore, the main drivers for digitizing payments and financial services have been internet payments and point-of-sale devices.
A cryptocurrency-driven economy is essentially a decentralized economy. As a result, in a blockchain economy, most of the time and money that would otherwise be spent securing third-party sanctions would be unnecessary. The time and effort spent on settlements would no longer be needed when purchasing a home, for example.
Cryptocurrency exchange requirement:
A cryptocurrency exchange must follow the laws of the country to be able to function and operate. These rules and laws vary based on the country, but they all obey the same rules regarding consumer security.
In most countries, two of these are critical:
AML (anti-money laundering) legislation.
Know your customer (KYC) laws are in place.
AML laws exist to prohibit any illicit money-related activity from becoming legitimate. KYC laws protect existing customers, the company, and the credibility of a business transaction by ensuring that a forum, such as an exchange, knows who they are dealing with. This is similar to getting a credit score, in which banks trust an individual because they have developed credibility.
Bitcoin's Expansion:
MicroStrategy had spent $ 1,095 million by the end of January 2021, accumulating 0.38 percent of the circulation supply of 71,079 BTC or Bitcoin. The business hosted a webinar in early February that detailed a plan for integrating Bitcoin into corporate reserves. MicroStrategy has raised $ 900 million to expand its BTC offerings.
In the year 2020, Grayscale, an asset management firm for institutional investors, aggressively collects Bitcoin. From $ 1.8 billion at the start of the year to $ 17.5 billion in early January, Bitcoin Trust has grown its assets under management by 872%.
Bitcoin prices soared to a new high of $ 43,000 on February 8. It was predicted by several experts of economic sectors across the globe.
How to transfer BTC:
For BTC transfer, a mobile application is there that allows you to send and receive data. You will instantly send and receive bitcoins if you have a bitcoin wallet. It's a digital wallet that allows you to pay for services with bitcoins.
Owners of Bitcoin:
The Bitcoin Network is not under anyone's influence. It is a type of technology that includes things like the cloud, emails, and apps. The network is controlled by all bitcoin users all over the world.
The market for Bitcoin:
The economic markets are not open all day, but the bitcoin markets are open 24×7. Bitcoin's price will change every second. You can trade bitcoins 24 hours a day, 7 days a week.
---
Interesting Related Article: "The Future of Bitcoin and Cryptocurrency Money"