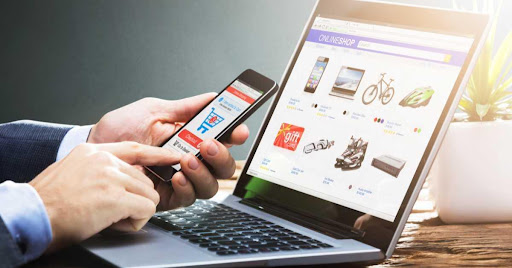 Are you missing out on easy sales on your eCommerce store?
Running an eCommerce business is no less hassle than a physically located business. On the contrary, it's even more difficult to offer a great customer experience and engagement on online platforms.
With more competition than ever before, running a successful eCommerce business requires more than just selling products to your ideal customers.
The most important aspect is how you interact with your buyers online.
With eCommerce software platforms, you can guide your visitors through a better customer journey and help them make better purchasing decisions. 
This will not only help you never lose a sale but increase it instead. Interestingly, Invesp reports that 49% of customers bought a product they did not intend to buy because they received a personalized product recommendation.
In this article, we'll dive deep into the 10 best eCommerce software and solutions for small businesses in 2024.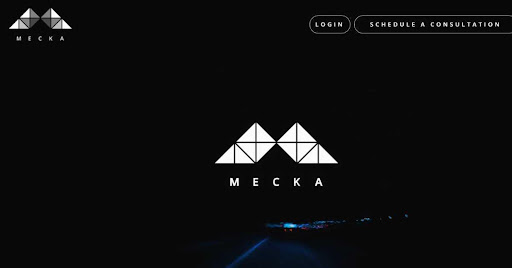 Mecka is a SaaS solution for auto parts retailers, wholesalers, and manufacturers.
Unlike other eCommerce platforms, Mecka allows you to streamline your operations with automated solutions.  You also get access to ACES and PIES catalogs and updates in real-time. No need to manually change or tweak anything, making it one of the best eCommerce software.
In addition to selling on marketplaces, you can build a "Mecka Shop" and sell products via multiple integrated eCommerce channels.
Mecka consists of five major components — retail eCommerce and CMS, wholesale eCommerce portal, marketplace publishing tools, catalog creation and publishing tools, and business intelligence and analytics.
With Mecka, inventory status, logistics, order, and catalog data are seamlessly shared digitally with companies within authorization-based supply chains, just like in the real world.
Want to try Mecka for yourself? Schedule a free demo to get in touch with them.
Mecka specializes in auto parts and services, making it an ideal choice for you if you have a company in the automotive market.
CS-Cart Multi-Vendor is a robust marketplace builder, catering to small businesses. 
Its vendor management system streamlines onboarding, providing vendors with essential sales tools. The user-friendly CMS allows effortless content creation and storefront customization, ensuring a personalized marketplace experience.
CS-Cart shines in its adaptability, whether launching MVPs or seamlessly integrating with existing business ecosystems. 
The platform's quick time-to-market, confirmed by a three-month launch timeframe in CS-Cart customer surveys, is attributed to its rich built-in functionality and a vast add-on market. 
With over 2,000 ready add-ons available, businesses can effortlessly enhance their CS-Cart-based marketplace with additional features and integrations, all without the need for coding.
Moreover, the open code of CS-Cart adds a layer of appeal, enabling extensive customization and modification to meet specific business requirements. 
In essence, CS-Cart Multi-Vendor presents a blend of efficiency, adaptability, and open customization, making it a pragmatic eCommerce solution with rapid deployment, robust flexibility, and an extensive feature set for a comprehensive marketplace experience.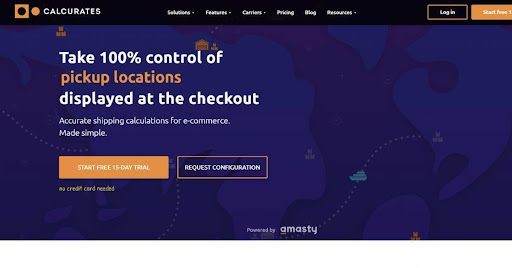 Calcurates is an eCommerce shipping and delivery optimization software.
It makes shipping easier and more cost-effective by setting up accurate rate calculations and displaying the right shipping methods at checkout.
You can also configure custom delivery date calculations or get estimates from major shipping companies. For overseas shipping, you can receive duties and tax estimations beforehand so that you can add that to the shipping rates.
Calcurates offers algorithmic volumetric weights that enable you to increase the accuracy of shipping rates. This makes it one of the best eCommerce software.
On top of that, you get condition-based shipping rules and restrictions for more control over the shipping options. Smart packaging helps you pick the best packaging method suited for each order. 
Ready to take Calcurates for a spin? Schedule a free demo and see its features for yourself.
Calcurates deals with eCommerce product shipping, making it a great pick if you feel that shipping is the difficult part of your business.
Involve is an AI-powered lead generation platform.
Involve helps you attract and engage visitors using captivating quizzes, forms, and calculators. Your customers can create personalized results, customized product and service recommendations, and tailored price quotes.
By creating personalized, interactive forms, you can collect visitor emails and phone numbers by embedding them on your website.
What makes Involve one of the best eCommerce software is that you can create engaging customer surveys, measure Net Promoter Score, run employee assessments, and embed feedback forms in your website or app. This makes it much easier to get audience insights and make informed decisions.
If you're interested in generating more qualified leads for your company, try the free plan of Involve to get firsthand experience of its features.
Unlike other eCommerce store form builders, Involve provides more professional templates, complete customization, and most importantly, AI-driven insights, making it a top contender in this category.
Img.vision is a static image URL hosting platform for eCommerce marketplaces.
You can upload your images from local devices or the cloud (Dropbox, Google Drive) and host and manage them on your site, auctions, forums, or anywhere else online. You can also bulk-share images through image galleries.
Img.vision doesn't randomize image links after you upload them. This allows you to easily generate the image links yourself in Excel or Sheets, making it one of the best eCommerce software for image hosting. 
It integrates with the most popular eCommerce platforms such as eBay, Walmart, Bonanza, Shopify, Zalando, Google Merchant Center, etc.
Interested in better image hosting for your online shop? Start a 14-day free trial of Img.vision to see how it can help your business.
With Img.vision, you can host high-quality images at an affordable price, making it a better deal for small and medium businesses.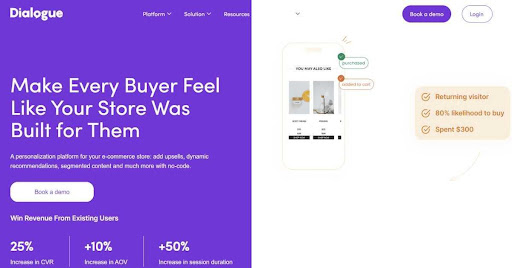 Dialogue is an eCommerce store personalization software.
It allows you to configure and set up upsells, dynamic recommendations, segmented content, and much more without the need to code.
Dialogue offers generative AI support. With AI, you can create mini-tutorials and product stories that will engage your customers, resulting in more sales.
Different categories such as whether the customer is new or not, cart value, abandoned cart, time and day, location, etc enable you to create more personalized product recommendations for your customers.
For customers who are ready to buy from you, you can create smart "Frequently bought together" bundles for them and increase your average order value. 
If you're interested in Dialogue, schedule a free demo to see how it can turn your visitors into loyal customers.
Dialogue takes a unique approach to shopping, making it a fun and engaging experience and so, we've included it in this list of the best eCommerce software.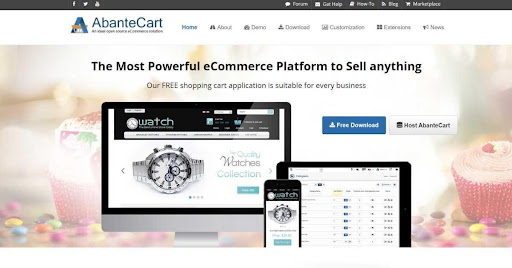 AbanteCart is an open-source eCommerce platform with free shopping carts.
It allows you to quickly set up your eCommerce store without having to rely on other apps or services because it has all the features you need. There's no limitation to what you can do. It supports an unlimited number of products, customers, orders, etc, for no additional cost, making it one of the best eCommerce software.
Besides physical products, you can also sell digital content or products due to  AbanteCart providing all the tools for e-products management and fulfillment.
You can manage multiple stores from a single admin dashboard. All stories will have separate settings, themes, products, categories, customers, etc.
Looking to level up your eCommerce store? Download AbanteCart for free and experience its features by yourself.
AbanteCart is especially a great choice for businesses just starting and needing a feature-packed affordable eCommerce solution.
Core dna is an all-in-one eCommerce and content management system.
Its modern headless architecture and hybrid tools allow you to easily connect to different systems, create sales workflows, and share information across marketing channels.
Core dna is not just another eCommerce store builder. It's an all-in-one solution for creating and scaling your business with marketing, promotions, and content. Whether you need a B2B, B2C, or a multi-site system, Core dna offers them all.
You can create unlimited segments of your products, pricing, shipping, and many other things to offer a personalized shopping experience for your buyers.
It provides an advanced customer portal for personalized catalogs, order management, tracking, alerts, and quick ordering. Want to try out Core dna in your business? Schedule a free demo to see how it changes your eCommerce store.
Core dna focuses more on a better digital experience for you and your customers, making it one of the best eCommerce software in this aspect.
Channelize is a live shopping platform.
It enables you to integrate livestream shopping into your websites and apps quickly so you can boost the add-to-cart rates of your products.
Whether you need to do product promotions, engage your buyers, create brand awareness, increase sales, or build a community, Channelize helps you in all these tasks.
Your audience can directly add your products to the cart without leaving the live stream. It also lets them interact with you through live chat and reactions, making it one of the best eCommerce software.
It also integrates with popular eCommerce platforms like Shopify, WooCommerce, Magento, Prestashop, Wix, and Shoplazza.
If you're interested in adding live shopping to your eCommerce business strategy, start with Channelize's free plan and then jump to a paid plan later on.
Channelize makes it easier to connect to your customers on a personal level, making it a great choice if engagement is crucial for your business.
SeoSamba is a search engine optimization service software.
SeoSamba's marketing operating systems allow you to centralize marketing, shared catalog, and inventory for any number of web stores no matter where they're hosted.
The point-and-click website builder makes adding and updating any type of online content a breeze. For example, you can create smart product lists without tweaking the vital design and SEO code.
Moreover, SeoSamba helps you with eCommerce automation.
From powerful design capabilities, and customer service functionalities to cost-efficient merchandising features (couponing, group pricing, email and text remarketing, and ad retargeting), SeoSamba has the right tool for you.
If you'd like to test drive SeoSamba, consider scheduling a free demo of the platform and see how it handles the marketing needs of your eCommerce business.
For eCommerce stores that are in need of organic traffic and search engine marketing, SeoSamba is one of the best eCommerce software in the market.
Conclusion
Retaining your customers and selling more is getting harder in the eCommerce world.
As customer expectations increase, many companies lose buyers over bitter shopping experiences and less engaging shopping processes.
In fact, the Baymard Institute reports that on average, 70.19% of online shopping carts are abandoned, illustrating the need to optimize user experiences to drive conversions.
By adding a more personalized experience for your shoppers and handling abandoned carts with automated strategies, you could drive more sales without spending more on ads and marketing.
So here's how you can take your eCommerce business to the next level. From this list of the best eCommerce software, pick the one that best fits your needs.
If you need an all-in-one eCommerce solution with advanced features and modern design, then CS-Cary will be right for you.
For the automotive industry, Mecka will be the best choice for you no matter your business type. But if you need an advanced solution that can take care of all the shipping tasks on your behalf, go with Calcurates.
---
Interesting Related Article: "Ecommerce Techniques that Work to Increase Your Online Sales"