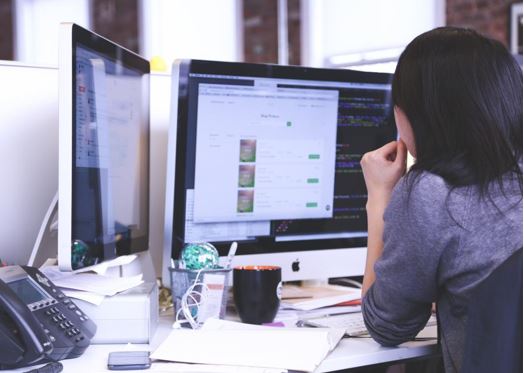 As an owner of a business we like to keep things running smooth, there is always something new that can help us achieve that and keep our employees happy.
Employee Management App is just that, this allows us to keep our employees more engaged and informed without interrupting any workflow. Keeping your employees engaged helps your company to be more productive and with that, your company can grow.
We as bosses know that something as simple as receiving a message can help reduce any frustration an employee might have, helping your employees understand their benefits make for a happier and more productive workplace.
This app can help you keep track of next year's production schedule, connect employees to HR and help create a rock-solid company culture that improves employee retention faster and easier
Many of the tools you already use can also be integrated with Blink so your employees will spend less time between different software, making it all.
Employee Management App is all of the things we need to run a smooth operation without any issues, keeps the most important information in your organization easily accessible, so your employees never have to chase down what they need to succeed.
Can an employee app become the way we communicate with each other, you are able to reach your employees in the field with the one-stop communications hub, and this can be integrated into other apps so your team is ready to log in to one app, not 50. They can stay up to date and stay connected, Why not commit to using tools that actually empower your employees. Employees can find what they need, when they need it, whether it's a shared file or next month's calendar – no emails required.
If your workers want to make the most of their skills and strengths, this app helps them to do that, this is unlike any other employee apps, this keeps all information flowing in all directions, not just one.  Getting information to your employee fast and right then and there,
Another great feature is that they can share any and all of their input, opinions and customer insights this helps them to share with each other and of course you as the management, staff feedback can be the most invaluable asset when you're planning for your employees and company's future.
This app is not just any other app, with basic features; it's an information repository as well as a combined messaging tool. A perfect place to store and sort and access all you need, it's a hub for paper-based processes through a powerful micro-app, using this saves so much time.
This intranet feature is one piece of a fully customizable mobile dashboard, designed employees to fully engaged so they can work smarter and be so much more productive, And they have personalized messaging feeds that exist side by side with all the tools and updates as well as documents and so much more. A lot of what's accomplished in meetings and email threads can be checked off more quickly and more efficiently with Blink.
This app is a traditional robust, enough to meet all communications and all engagement goals and makes a better solution, for businesses to reach and engage a mobile workforce because we are all computer savvy in one way or another, This mobile app is simple and easy to use. It has all the intranet features you are familiar with plus so much more.
Blink will manage and deliver a proof of concept with your team and working closely with your frontline workers. We have experience working with unions and a wide variety of users. Always on the move? Staff can admit crucial notices, access the documents and share images from their mobile phone.
Easy to get everyone on the same page, a branded employee fuels a passionate and always have a consistent experience, customers and employees happy is the key to a great workplace.
You can have the best content in the world, but if you're not delivering it in the way people want, they won't engage. Exchange your legacy intranet with an up-to-date employee app and portal today
This app will help keep your workplace running smoothly and efficiently.