It will not be wrong to think of iPhone and fax as the two opposite poles. One is the most recent and advanced technology while the other is considered by many as a thing of the past. Fax is still in use by millions all around the world.
Many freelancers, official companies and professionals use fax for their daily official communications. Faxing still has a lot of admirers and users all around the globe. And the primary reason for its lasting is the security advantages that the fax provides.
The only thing that has changed with the passage of time is the way – way of sending and receiving faxes. New ways have been developed to deliver your faxes and these new ways have brought ease and comfort with them.
Fax and iPhone linked up
Among these new ways is 'faxing through iPhone'. Yes, faxing has a new and present taste now. iPhone has now emerged at the place of the fax machine. You do not need to be in your office or home to fax, you just need your iPhone and you can fax from anywhere anytime.
All that fuss and hassle of big and costly fax machines, buying paper and toner for the fax machine to work, and the long phone lines have now gone. Taking its place is your handset – iPhone.
But it's not like that your iPhone will suddenly start working as a fax machine on its own. It needs a go-between fax service to translate its data into a fax and also convert fax into iPhone compatible format at the time of receiving faxes.
Now you will be wondering what part does the intermediary fax service play. Well, it is simple. The fax service acts just like an interpreter. It interprets the data of the two platforms.
But it will not be secure to go with any of the fax services. Mostly, people choose fax to communicate because of its security purposes, therefore they must give some time in looking for the most secure fax service.
In that case, you are at the exact place. Here we will guide you about the top 5 best apps to use for faxing through iPhone.
CocoFax
CocoFax is the best place if you are looking for answers to questions like how to send fax from iPhone? CocoFax is one of the top best fax apps that you can use on your iPhone to send and receive faxes.
CocoFax is highly recognized and praised by PC World, Forbes, PCMag, iGeeksBlog, Life Hacker, Toms Guide, New York Times, TechRadar and Top 10 Reviews. When we talk about the services, CocoFax provides some of the best and excellent features and services.
Coming towards quality, CocoFax has the best one. For CocoFax, quality is everything. Hence, it provides the best and quality faxing services that you can ever get.
Not only iPhone, CocoFax renders its amazing works on many other devices including laptops, MacBooks, tablets, computers and also smartphones. If we talk about the ways to fax, CocoFax allows faxing through many different ways on each of the devices.
Why CocoFax covers the Top Spot
Talking about CocoFax's amazing features is an endless topic. Click here to go to CocoFax, you can find more about it on the website.
To make its customers feel at home, CocoFax offers its fax services totally free for a month through the

30 day free trial

. In this free period, you can check it out. This will help you in opting for the best and suitable subscription plan for yourself.

As you have read above, there are

more than one ways

and methods to send a fax through CocoFax. Through this feature, anyone can use CocoFax anywhere they like. More methods allow more number of people to benefit from the unique services of CocoFax. You can choose the method that suits you the most.

An app is judged by the number of its customers. If we talk about CocoFax, it has a

huge user base

, which means a large number of people use it. And something that is used so widely must have some benefits too.

Customer care and support is also a criterion for judging an organization or company. Many big companies lack behind in this field and so, gradually they move towards failure. However, CocoFax is not like them. It has a strict and

excellent customer care policy

and hence has a team of professionals that are present 24/7 to handle the queries and complaints of the customers

Adding on, CocoFax also provides totally

free fax numbers

. You can choose your fax number yourself without paying a cent. This is definitely a relief. But that fax number is not permanent. The moment you choose a subscription plan, the fax number becomes permanent and you can use it forever.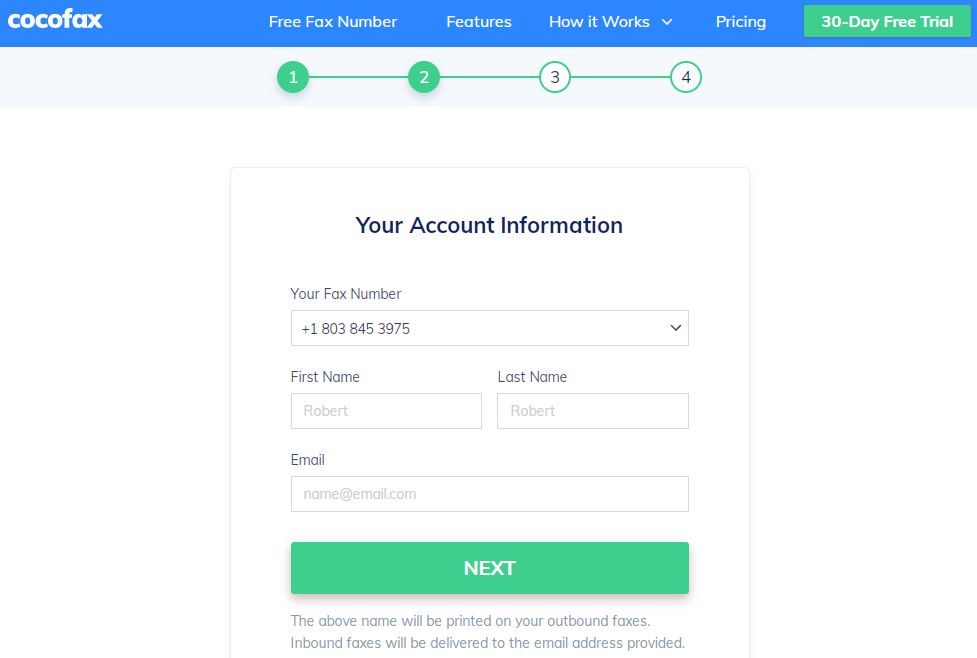 MaxEmail Fax
Secondly, comes the MaxEmail Fax app. It is a good fax app that allows transferring faxes through mobile phones. When compared to CocoFax, MaxEmail Fax does not have a huge user base.
No fax app can be as perfect as CocoFax. Talking about MaxEmail Fax, it has an interface not as convenient and easy-to-use. Other than that, it's a decent fax app to try out.
RingCentral
RingCentral is also one of the main names when it comes to online fax services. It provides the facility to send faxes without the need for a fax machine. It offers its fax services on the iPhone.
If we take a look at its interface, it's more easy and convenient than MaxEmail. Here too, CocoFax turns out to be a better choice because of its notifying features and services. Also, some of the services that CocoFax offers you for free, you would have to pay for them if you are using RingCentral
eFax
eFax is another name in the online faxing world. It offers to send and receive faxes online on many devices including the iPhone.
The downside is that its customer care services are not as good and fast as CocoFax. Also, it might come out to be more pricey.
JotNot Fax
JotNot Fax does a good job of sending and receiving faxes through the cellphones. It is a good and reliable app that offers to fax without all the bother of fax machines, paper, and toner, etc.
JotNot Fax is designed specifically for smartphones. It does not go further than that. So if you are looking for an app that works on all of your devices, then JotNot Fax might not be the right choice for you.
Conclusion
We have laid down the top 5 faxing apps that you can use to fax through iPhone. Now, it is up to you to choose the right and suitable one. We recommend you to choose the one that is above all other apps – CocoFax.
___________________________________________
Interesting related article: "What is an Application (App)?"