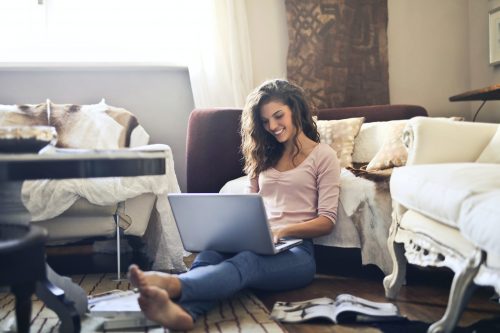 The pandemic has changed lives worldwide. While the economy is robust many people find themselves looking for alternative income streams. Being forced to remain home for highly long periods that reoccur sporadically often results in unemployment, lost wages, bankrupt businesses, and limited job opportunities. Starting a home-based business has allowed many workers the chance to regain their financial footing.
Home-based businesses are giving new meaning to work-life balance. Single-parent and two-parent households now have options that allow them to choose between working from home or back at the office. Moms can drop the kids at school or daycare, come home, start working and still be on time to pick the kids up from school.
Many home-based businesses require little to no skills and are created with zero-dollar investment. Here's a list of five startups that you can start from home without any investment capital:
Sell handcrafted items on Etsy.
Sell preowned or new items on eBay or Amazon.
Publish your book on Amazon for free.
Freelance blogging on content mills or creating your websites.
These work-from-home ideas are simple and easy to learn. They require a moderate amount of effort and, with time, can earn high dollar incomes. Freelancing allows you to set your price based on market values, set your hours, and have lots more time for yourself, family, and friends.
If you have a particular set of skills, you have many high-paying home-based business options. You can keep your day job while getting started building your empire. Online courses are top-rated, especially in coding, tech support, WordPress management, and more. If you're an experienced accountant or bookkeeper, you can create an online course to help small business owners keep good financial records.
Internet-based threats keep private citizens and business owners on edge. Cyber-security monitoring is in high demand, and many companies provide work from home jobs. Weak or reused passwords have been named key culprits in cyber break-ins, and if you're experienced with cyber-security technologies, there is a vital need for your expertise. Cyber-security experts can find work from home contracts in the government and private sectors.
Have you ever wanted to be on tv, center stage as a comedian or Ted Talk Host? Becoming a Youtuber or Content Creator is practically making millionaires overnight. Just check out YouTube channels such as Jimmy' MrBeast' Donaldson, who had over 200 million views in under thirty days. Katie Morton's channel focuses on mental health and wellness and has grown to over 967k subscribers.
Inventor 101 shares everyday life hacks and has grown his channel from 50k to over one million subscribers in approximately two years. Content creators like these are on YouTube, Instagram, Facebook, and Twitter. There's plenty of room for more, so if you see yourself with your own YouTube show, then just press record.
Home-based businesses are the wave of the future that's creating six and seven-figure incomes for those who are willing to do the work. Enjoy the freedom of working from home in your pj's, drinking your favorite coffee without interruption, that is, until the kids come home.
---
Interesting Related Article: "A Guide to Legally Starting a Successful Home Business"