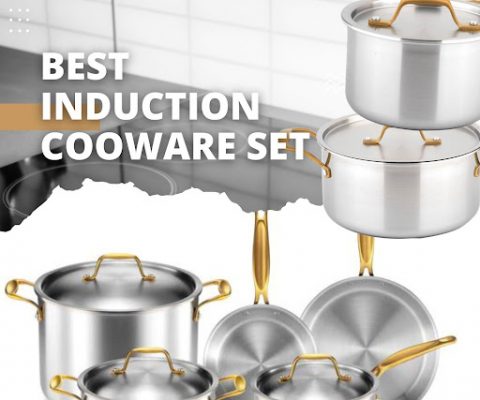 Induction cooking reduces your energy consumption by 45 percent, so you save money on electricity, and your food cooks faster.
But for your cookware to conduct heat, it has to be magnetic since induction burners rely on magnetic fields to heat your pots and pans.
This post will look at the 10 best induction cookware sets in 2022. We'll also go through the features that stood out to us and how they'll benefit your cooking experience. So if you're shopping for an induction cookware set, don't worry; we've got you covered.
1. Best Overall Set: Legend 5-Ply Stainless Steel Cookware Set 
The Legend 5-ply stainless steel set is the best all-around induction set because it heats evenly and quickly while offering high side walls that prevent splatter.
Legend 5-Ply Stainless Steel Cookware Set | MultiPly SuperStainless 14-Piece
This induction cookware set contains:
A 1.5, three, and five-quart saucepan

An eight, 10, and 12-inch frying pan

A five and eight-quart Dutch oven
What stood out about this set is how fast it heats up. Your frying and saucepans become warm within a few seconds, which is handy if you're on the go and looking to prepare a quick meal.
You'll also be happy to know that the Legend induction set is dishwasher-friendly, so you won't have to hand-wash it once you're finished.
Pros
The flared lid handles are easy to grip

You can pop it in the dishwasher for easy cleaning

The handles are riveted, which provides extra strength and longer pot and pan life
Cons 
The lids aren't clear, so watching your food is difficult.
2. Best Budget-Friendly Set: Cook N Home 12-Piece Cookware Set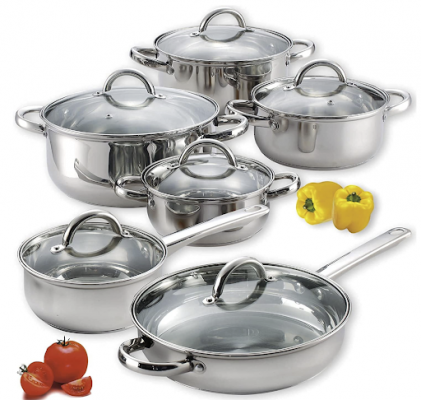 Opt for the Home N Cook induction set if you're on a budget, as it's more affordable than alternatives like the Legend.
Amazon.com: Cook N Home 12-Piece Stainless Steel Cookware Set, Silver 
The Cook N Home cookware set provides:
One 10-inch saute pan

Three double-loop handled casserole pans

A 1.5-quart saucepan

A 5.5-quart stockpot
Even though it's wallet-friendly, the manufacturers still made it using top-quality stainless steel, which lasts several years.
The pieces are also light compared to other sets on this list, making it a practical option if you cook for long hours because your hands won't hurt.
The only drawback is that the saute pan has a few hotspots and doesn't heat as evenly as the Cuisinart.
Pros
You can find it for under $60, so you won't have to break the bank

The lids are clear, which allows you to watch your food

It's heatproof up to 500 degrees Fahrenheit, perfect for oven-roasting chicken and vegetables
Cons 
Repeated dishwasher use can dull the shiny surface.
3. Best Non-Stick Set: Legend Nonstick Hard Anodized Cookware Set
If you're looking for a heavy-duty induction set that offers a non-stick coating that you don't have to recoat every few months, then the Legend hard-anodized set is a good choice.
Legend Slick Healthier Nonstick Hard Anodized Cookware Set | 10-Piece
These are the pieces you'll find in the Legend non-stick induction set:
A 1.5-quart and 2.5-quart saucepan with lids

A four-quart sauté pan with lid

Eight and 10-inch frying pans 

A 5-quart stock pot with a lid
The hard-anodized surface is twice as durable as regular stainless steel. It's also resistant to temperatures of 400 degrees Fahrenheit, so you can pop it in the oven to prepare roasts and other high-temperature meals.
Pros
The lifetime warranty will replace your pieces if anything happens to them

It comes in different colors like nutmeg, brown, red, black, and merlot 

The non-stick coating lasts one year before its effectiveness starts to drop
Cons 
Stainless steel lasts longer.
Buy it here on amazon or buy it directly on Legends website.
4. Best Budget Non-Stick Set: T-Fal Pro Induction Set
If you're always on the go and require a set that you can pop in the dishwasher without it wearing down, consider the T-Fal Pro 12-piece set.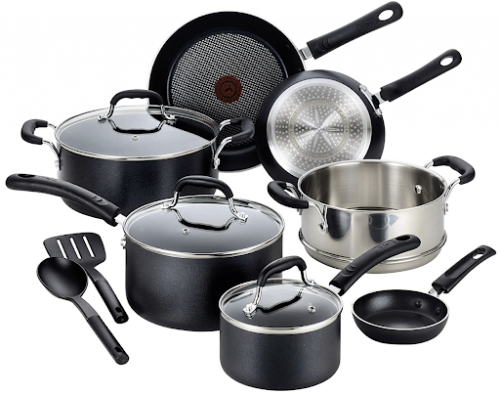 T-fal Professional Nonstick Dishwasher Safe Cookware Set, 12-Piece, Black 
In this induction set, you'll find:
An eight and 10.5-inch frying pan

A one and three-quart saucepan with a lid

A five-quart covered Dutch oven

Four measuring spoons
The frying pans offer techno release, which allows heat to travel under your food, giving it a more even cook while ensuring the cleanup process is seamless.
You'll notice that any fat or oil simply rolls off the surface. So if you don't have a dishwasher, cleaning these pans and pots shouldn't take longer than a minute.
Pros 
The Thermo-Spot heat indicator ensures you always know the exact temperature of your meals. 

Its non-stick coating is PFOA-free.

The outside is also non-stick, which makes clean-up easy
Cons 
The lightweight cookware is less durable and can warp over time

It heats food too fast
5. Best Ceramic Set: Blue Diamond Cookware 7-Piece Set
If you're a ceramic cookware fan but need one compatible with your induction burner, opt for the Blue Diamond Cookware 7-piece set.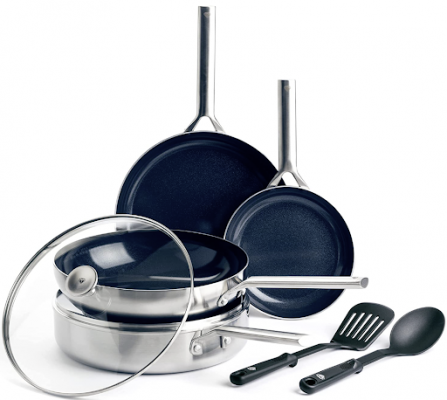 Blue Diamond Cookware Tri-Ply Stainless Steel Ceramic Nonstick, 7 Piece Cookware
This set contains the following items:
A seven and 9.5-inch skillet

A two and three-quart saucepan

One stainless steel steamer

A five-quart stockpot

Four glass lids

Three multi-purpose cooking utensils
We like that the Blue Diamond set is free from lead, cadmium, PFAS, and PFOA, so you have peace of mind knowing that zero toxic chemicals are seeping into your meals.
The sleek design also contributes to its popularity since the blue interior and stainless steel exterior can match existing kitchen pieces.
Pros
The rack hole makes storage seamless.

It's dishwasher-friendly

It's well-designed because the pans spread heat evenly across your food
Cons 
We noticed that the metal handles tend to get hot after prolonged use
6. Best Induction Cookware Sets | From Budget Friendly to High-End
But if you prefer copper sets, consider the Anolon Nouvelle set because it's oven-safe for up to 500 degrees and has dual-riveted handles, giving your pots and pans added strength.
Anolon Nouvelle Stainless Steel Cookware Pots and Pans Set, 10 Piece 
Here are the pieces you'll find in this induction cookware set:
A covered 1.25 and 2.5-quart saucepan

One 6.5-quart stockpot with a lid

An eight and 10.5-inch frying pan

A three-quart saucepan
The base uses aluminum, allowing for superior heat control. So you can be sure there are zero hotspots, making it a better option than Cuisinart if you cook steaks regularly.
The only customer complaints we found say it's too heavy. But top-quality copper cookware is supposed to be heavy as it has to withstand high temperatures for decades without significant wear.
Pros
It's small compared to other options so storage is easy even if you have a small kitchen

It won't burn your food since the pots and pans don't heat up quickly

The handles and lid stay cool when cooking
Cons 
It takes longer than usual for these pieces to heat up

The handles are large so the saucepan can tip over if it doesn't contain anything

Copper dosen't clean well
7. Best Budget Stainless Steel Set: Tramontina Tri-Ply Clad Cookware Set
Although it's a bit costly, the Tramontina 12-piece cooking set offers a mirror finish and a design resembling commercial kitchen cookware. 
This is handy if you have guests over and would like to impress them with your set or you want to give your kitchen a more professional look.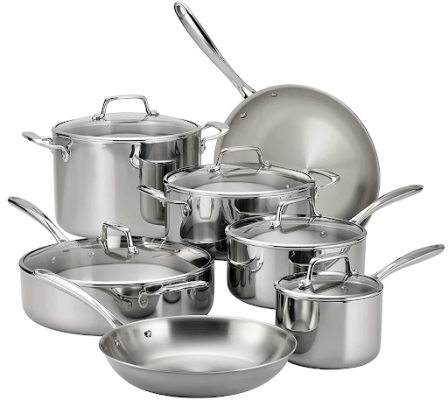 Tramontina Stainless Steel Tri-Ply Clad 12-Piece Cookware Set
In this induction cookware set, you'll find:
Eight and 10-inch frying pans

A deep six-quart saute pan

Two and three-quart saucepans

An eight-quart stockpot
But what stands out about the Tramontina set is the lifetime warranty. Tramontina is so confident in their product that if anything happens to it, they'll replace it within days.
This makes the Tramontina Tri-Ply kitchen set perfect if you never want to purchase another cookware set again.
Pros
The stainless steel is durable and can withstand temperatures of 500 degrees Fahrenheit

Tramontina has a lifetime warranty so you don't have to worry about breakage

The mirror polish gives it a professional look
Cons 
Washing it in the dishwasher tends to wear out the shine
8. Best High-End Set: Legend Stainless Steel 5-Ply Copper Core
If money isn't an issue, consider the Legend stainless steel 5-ply set. The manufacturer produced it by bonding thousands of copper nano-layers to the stainless steel pieces, resulting in a material that's over four times stronger than regular stainless steel.
Legend Stainless Steel Copper Core | 14-Piece Cookware Set
The Legend copper core 14-piece set contains:
An eight-quart stockpot

An eight, 10, and 12-inch frying pan

A one and two-quart saucepan

One three-quart casserole pan

A three-quart sauté
Although it's a durable home-based option, it's designed for restaurant use. So if you own, manage, or work in a commercial kitchen, you won't have to worry about breaking or wearing down your cookware.
But it offers more than just strength.
The Legend set uses triple-bonded copper core bases, providing 35 percent better conductivity than regular stainless steel, resulting in faster cooking times. This helps you withstand high-pressure situations when the restaurant is busy and you must prepare several meals simultaneously.
Pros
The triple-bonded bases allow you to prepare meals faster

It's oven and grill safe to 1050 degrees Fahrenheit

The manufacturer provides a lifetime warranty
Cons
It's quite costly and might not be a practical option for hobbyist cooks.
You can buy this either at Legend's website or on Amazon.
3 factors to look out for when shopping for an induction set
Consider these elements when shopping for an induction cookware set:
Materials used 

Set variety

Maintenance 
Materials used
Material is the biggest factor to look out for when shopping for an induction cookware set. It must first be magnetic, so it'll work with your induction burner and have durable properties.
So stick to materials like:
Cast iron

Stainless steel over aluminum

Enamel on metal

Ceramic

Copper 
They are highly magnetic and will last decades. You won't have to buy a new kitchen set every few years.
This makes glass an impractical cookware material as it isn't magnetic and will break if it falls. You also want to avoid aluminum, copper, and ceramic if they aren't bonded to another material. 
The aluminum, copper, and ceramic cookware sets listed above contain magnetic layers in the base which transfers heat seamlessly.
Set Variety
Another factor to watch out for is the variety of pieces within your set.
The primary reason why people buy sets is that it's far cheaper than individual pieces. However, if your set doesn't have the items that you need, you'll have to purchase add-ons, which can set you back hundreds of dollars.
So instead, look for a set with frying pans, saucepans, stock pots, sauce pots, and a few utensils.
Maintenance 
Lastly, read customer reviews and find out how easy the set is to clean and maintain. Even if it provides durability and fast heating, it might not be worth it if you have to apply a coating of non-stick spray after every use.
Before buying, you also want to find out if the pots and pans are dishwasher-friendly so you won't have to slave over the sink after standing in front of a hot stove for hours.
Final thoughts on the best induction cookware set
Choosing an induction cookware set directly impacts your cooking experience.
So for the best induction cooking experience, consider the options listed above. And if you're looking for a set at your local grocery store, watch out for factors like material used, set variety, and maintenance.
---
Interesting Related Article: "The Kitchen's Guide to Essential Cooking Tools & Utensils"