iOS is known for its security, simplicity, and smoothness. But when your iPhone is stuck due to a system problem, it usually takes a longer time than the Android system to go ahead. For many iOS users, the devices must keep plenty of data and files for their daily study and work. So system problems also mean the risk of losing all data on the iOS device. Other than backing up your files, is there any simple way to fix iOS bugs and avoid data loss when the iOS system doesn't work?
A third-party iOS system recovery app is usually the first choice.  Some programs, however, are not safe to use as they may do harm to your data. Some only offer limited features that can not deal with different system problems. And some are too complicated and need technical skills. 
If you are looking for a reliable iOS system recovery program, you have landed in the right place. In this post, we will review a program with a high reputation named Passvers iOS System Recovery. It stands out from the others for its comprehensive features, easy operation, safety, and efficiency. Please continue to read and see whether it is suitable for you.
Advantages of Passvers iOS System Recovery
Passvers iOS System Recovery is powerful to resolve iOS system-related issues and get your iPhone back to normal straight from your computer. It boasts various features:
Deal with 50+ iOS system problems including black screen, update failure, etc.
Passvers iOS System Recovery can recover multiple OS problems quickly and safely whether your iPhone is disabled or black for no reason. Apart from hardware issues, other system problems or app errors can almost be supported.
3 repairing modes to fix quickly or deeply.
Passvers iOS System Recovery offers three modes to ensure recovery efficiency and success rate, namely Free Quick Fix, Standard Mode, and Advanced Mode. For simple and basic update problems like the iPhone being stuck in updating, Free Quick Fix can free deal with them and get your iOS back to normal. If you want to fix more and have a deeper scan, try the Standard and Advanced Modes. We recommend you to try Free first because Advanced Mode will cause data loss.
No technical knowledge is required.
Passvers iOS System is easy to use. Even if you have no technical skills, you can simply follow the instructions and fix iOS system problems independently. The tool has an intuitive UI, which is suitable for both advanced users and non-techies. What you need to do is just connect iPhone to PC and select a mode to fix. With only three steps, your problems will be solved. In most situations, using this software will prevent you from deleting data on your device unless you use Advanced Mode.
Restore iOS System without iTunes.
Passvers iOS System Recovery can help you factory reset a disabled iPhone and easily get access to it again without using iTunes. What's more, if your iPhone is stuck on the upgrading page or system errors arise after the upgrade, Passvers can do you a favor. 
Compatible with iPhone 14 and the latest iOS 16.
It doesn't matter whether you're using an old or the latest iPhone as Passvers works on almost all iPhone models, and is compatible with the latest iOS 16 system.
Is it Safe to use Passvers iOS System Recovery?
Passvers is a reliable and powerful iOS system recovery tool that is 100% safe to use. It is legitimate that it does no harm to your data (exclude Advanced Mode) or extracts your privacy. Different from the online recovery tool, Passvers iOS System Recovery will not pop up ads or malware when it is running. 
Tutorial on Passvers iOS System Recovery
This is a simple tutorial. As Passvers iOS System Recovery is user-friendly, in this part, you'll learn how to fix your iPhone with this handy tool. 
Step 1. Download and launch Passvers iOS System Recovery
Free download and run this app on your computer. Then click "Start" on the main page.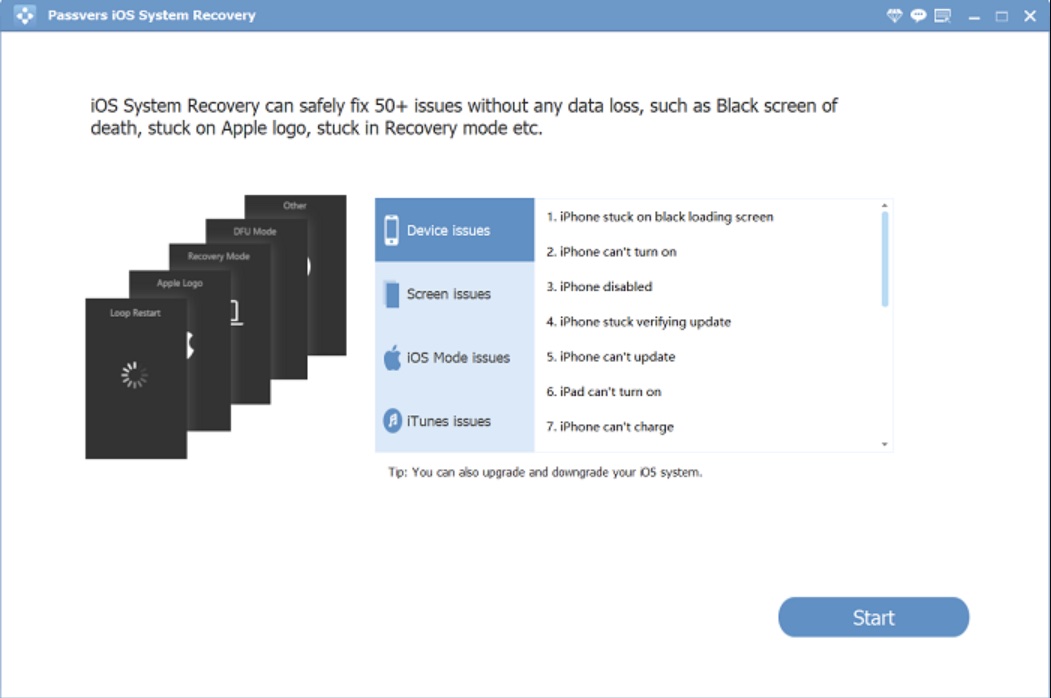 Step 2. Connect iPhone with OS problem to computer
Next, use a USB cable to connect iPhone to PC. Then wait for a moment and the program will detect your device. When your iPhone is detected, choose "Free Quick Fix" to get your iPhone back to normal.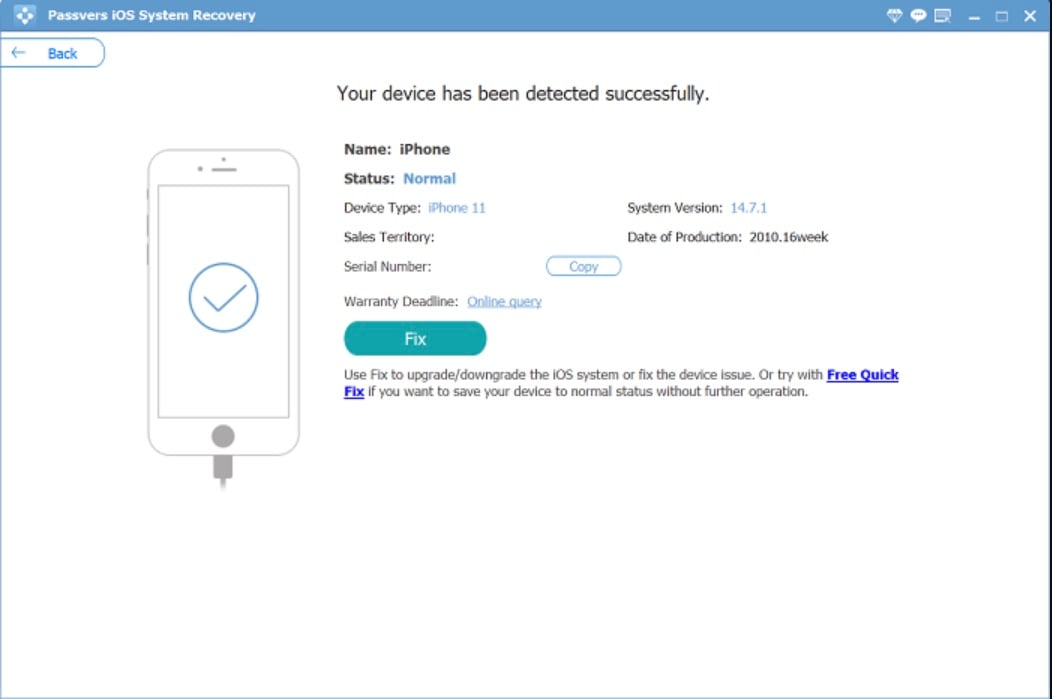 Note: If your problem is still there, try Standard Mode and Advanced Mode to scan deeper and repair your iPhone. It should be mentioned that Advanced Mode will erase all data, so if you don't want to lose data, select Standard Mode. Or if you have already backed up data on your device, you can also go to Advanced Mode.
Step 3. Put iPhone into Recovery Mode
Follow the instructions in the program and put your iPhone into recovery mode. According to your iPhone model, the method of hard reset differs. Check your device model carefully.
Step 4. Download Firmware
In this step, the program will detect your iPhone again and show you the model information. Then click "Next" to download the firmware. If your device model and iOS version are unable to be detected, just select them manually.
Step 5. Finish repairing iPhone
When the download is complete, wait for a few seconds and turn on your iPhone. It is repaired now.
System Requirements for Passvers iPhone Unlocker
Passvers iOS System Recovery has broad compatibility. It can work on almost all iPhone models and is compatible with Windows and Mac systems.
Supported Systems
Windows 11/10/8.1/8/7
Mac OS X 10.7 or above (macOS Big Sur/macOS Monterey)
Devices
iPhone: iPhone 4 and above (iPhone 14 included)
iPad: All models of iPad Pro, iPad Air, iPad Mini, and iPad
iPod: iPod Touch 1-7
iOS: iOS 16 (Windows & Mac supported) and former versions
Price of Passvers iOS System Recovery
Passvers iOS System Recovery offers both free and premium modes. You can choose one according to your OS problem. 
Features for the free version
Free Quick Fix is a totally free mode that is applicable to common iOS update problems like iPhone failing to update. This free version will not cause any data loss. Feel free to try it.
Premium
If you want to have a deeper scan and resolve more iOS system problems, you can upgrade it and try Standard/Advanced Mode. These are three available licenses provided by Passvers iOS System Recovery. 
For Windows and Mac Users
One-Month License: $34.95 (6 Devices, 1PC)
One-Year License:$39.95 (6 Devices, 1PC)
Lifetime License: $59.95 (6 Devices, 1PC)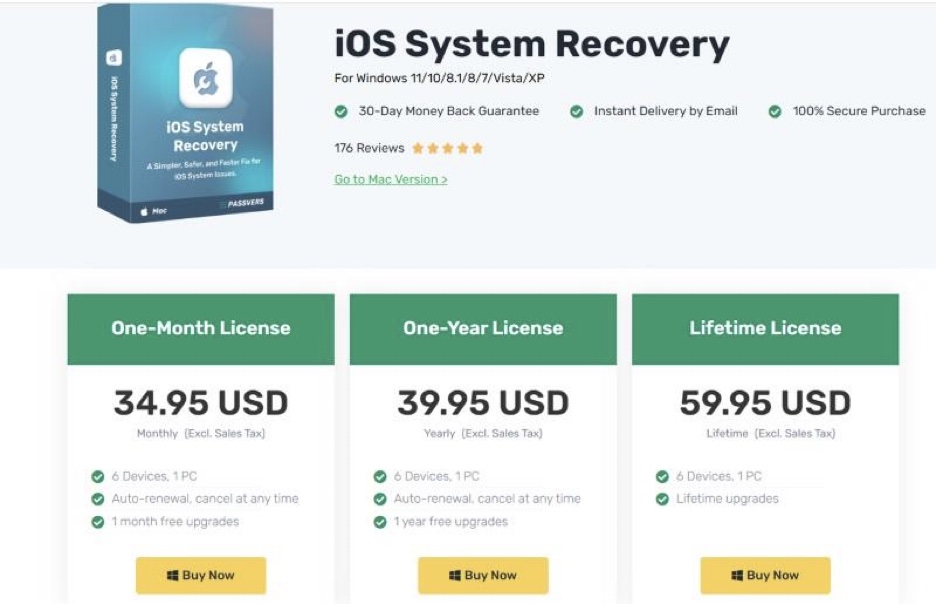 Pros and Cons of Passvers iOS System Recovery
From the above review, we can see that Passvers iOS System Recovery has many outstanding features that are worthy of a try.
Pros:
Three modes are offered to fix iPhones to increase efficiency and success rate.
compatible with Mac and Windows.
Easy to use and recover iPhone to normal with three steps.
Restore the disabled iPhone with no data loss.
Cons: 
Free Quick Fix Mode is free to use but has limited features.

It can resolve iOS system problems only.
Bottom Line
In general, though Passvers iOS System Recovery is not the perfect tool, it is still one of the top-ranked applications for resolving iOS system problems. The primary highlight of this program is that it offers three modes to fix iPhones according to different OS problems. With both free and advanced repair options, users can freely pick up the one they need. What's more, the tool is so intuitive that it does not require users to have any technical skills. Within three simple steps, users can resolve system issues with their devices independently.
---
About Passvers
Founded in 2019, Passvers focuses on providing high-quality password unlocking and system-repairing products and services. Its main products include iPhone Unlocker, iOS System Recovery, PDF Unlocker, etc. As a customer-oriented company, by far, Passvers have solved tech problems for 5.9 million users worldwide. Its mission is to meet users' needs and continuously adhere to R&D to maintain product updates. 
Contact Information
Official website: https://passvers.com/ios-system-recovery/
Contact email: [email protected]
---
Interesting Related Article: "How to Sell Your Used iPhone Online"