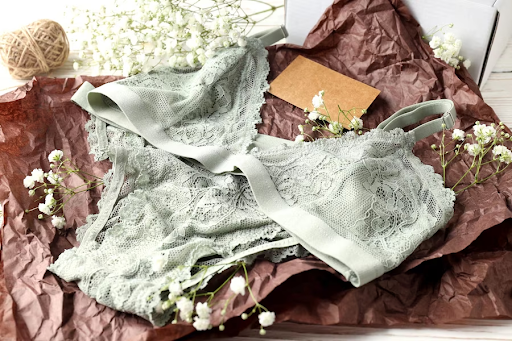 How to find your dream fabric for your underwear.
When shopping, our eyes are normally our guide for choosing what to buy. We imagine that lacy bras and pretty panties will look stunning on us. The decorative aspects grab all our attention. 
But lingerie is more than that. Underwear should not just be pretty but also comfortable and functional. 
In this article, we will discuss different lingerie fabrics and how to use them. When you find what you fancy, visit Empress Mimi and shop for the item you like.
Research
Before clicking on the purchase button of a lingerie item that you like, do some research or analysis. Sure, it sounds odd, and you may feel like nobody does it. It can be true. But if you are looking for the best lingerie fabric, you need to hit the books. Luckily, you can find everything in a split second online. 
There are many factors that you should consider before purchasing your Mimi underwear.
Options
There are numerous options for undergarments. All are made from various fabrics and work for different occasions. Some, for example panties, are mostly made of silk or cotton. Other lingerie items, like bodysuits or shapewears, are often made of nylon or spandex. 
This information is vital since fabrics can behave differently in different weather conditions. Let's take a common bra fabric as an example – polyester. On hot days, this material can make you sweat. You will feel utter discomfort. A game changer would be a nylon-based bodysuit, a lacy bralette, or a cotton bra. 
Comfort
Whatever the occasion for buying new lingerie, you always need to feel comfortable. After all, lingerie fabric is your second skin. 
For complete beginners, we recommend taking lingerie shopping slowly. It'd be better to start your journey with a simple neutral or plastic lacy set. Trust us, it is a winner in every situation. And as your taste, shopping experience, and appetite progress, do not restrict yourself any longer. Go for fancy lingerie! Perhaps a garter set or a silk gown. 
Body type 
Lingerie does not come in one-size-fits-all. You always need to shop for your individual body type. For instance, for ladies with a smaller bust, we would recommend buying a half-cup or padded bra with lace or ruffles. These elegant details will add some volume to the look and will look amazing on petite women.
For ladies with curvy forms, we cannot recommend enough investing in lingerie that will accentuate the figure. Full-cup bras could be your staple for a formal look, while a light sheer chemise with just the right amount of cleavage could be an elegant addition to your romantic outfit. 
Sporty girls are always forgotten. Sure, they always buy sports bras. But who said they cannot be flirty and feminine? Lace bralettes with a V-shaped neckline will do the trick. 
Season
Fabric for underwear highly depends on the season. For colder months, bodysuits can be suitable for layering. 
In spring, you may want to play around with romantic outfits. Go with stockings and a suspender belt. They will add an air of mystery to your look. 
In summer, you need to make sure that your body breathes. Mesh and cotton can beat the heat. Also, remember to have fun with colors and be creative! 
To continue with your research, examine the lingerie you have already in your wardrobe. Make two lists, one for the items that you already have and one for those you wish to have. Ask bold questions and do not limit yourself to what you already own. 
Having a hard time coming up with ideas? Do window shopping or browsing. Just knowing what options are available out there is a good start. 
Further down the road, we advise making a swatch book with fabric pieces. Taking notes on what lingerie fabrics you like will save you time shopping. You can add pictures to your book. The more you research, the faster you will find your ideal lingerie fabric. 
Where to shop
Thankfully, now we have more choices than in the past. Let's take a look at them:
Local shops

. It's always nice to shop in real life. Regardless of whether it is a big or a small store or even a chain of shops, go there. In a physical shop, you can take a direct look at the products and touch the fabrics, talk to the shop assistant, and decide what you need and what you don't. 

Online shops

. There are apparel shops that sell lingerie made from a vast variety of fabrics. In such places, you can come across many luxurious, stretchy, woven and knitted, and even silk fabrics. You can always ask for samples of your preferred fabrics in apparel stores. 

Special online stores

. These are more professional and always have unique and rare fabrics in stock. 
Shopping
When your research is finished, it's time for shopping. Always keep in mind what fabric, outfit option, occasion, and season you are shopping for. But, prior to that, be flexible and make necessary adjustments to your list as you go. 
When in a shop, use methods that work for you. Either grab a measuring tape to see if the lingerie fits you or do a stretch test. Also, you could do a skin test. Place the fabric on a sensitive area, for example your neck. This way you can check how your skin feels and reacts to different types of fabric. Feel free to ask the shop assistant for information or help. 
Types of fabrics
There are plenty of different fabrics that can be used for lingerie. Let's take a look at some rather conventional choices and some bolder choices. 
Fibers 
Fibers are a fundamental element of lingerie. You can find spandex, nylon, cotton, linen, and many other fibers. 
Spandex

. A type of stretchy fabric. If you want shapewear, go with spandex. 

Nylon

. A strong, elastic fabric that has been used for lingerie for decades now. It is easy to care for and rather durable. 

Cotton. A soft staple in any wardrobe. Cotton lingerie represents a huge part of everyday outfits. 
Linen

. Linen is a good lingerie choice for colder seasons. If you want to have more durable pieces, shop for a blend, such as a blend of linen and polyester. 

Silk

. A luxurious fabric that comes in diverse colors. Silk is used to create delicate pieces.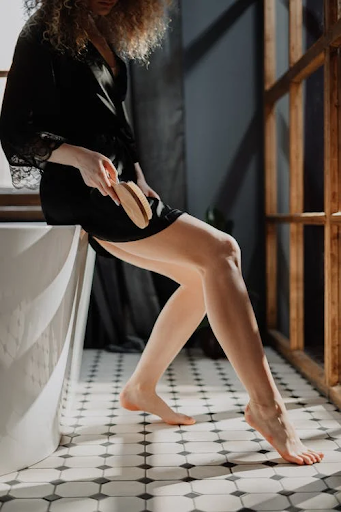 Technical fabrics

. Technical fabrics are used for active wear. They are breathable and have a good stretch. 
Knit
Lingerie can be made even from knit fabrics. Some lingerie items can be fully knitted, while others are a blend of different fibers. 
Nylon tricot

. It is very common to see tricot in lingerie as an outer fabric or a lining. It is durable, thin, and reasonably priced. 

Light double knit

. Light double knits are thick and sturdy fabrics. Combined with cotton, they make for a lightweight apparel. 

Stretch lace

. Stretch lace is a good material for bra cups and bands. For more support, stretch lace can be blended with other materials. 

Mesh

. Mesh is a breathable material for panties. Also, it is light and delicate, which is perfect for that intimate area. 

Stretch velvet

. A relatively new fabric that could be a great addition to your lingerie collection. Stretch velvet is amazing for robes, slips, and leggings. 
Woven 
Woven fabrics come with just enough stretch to create lightweight lingerie. 
Organza

. A light, sheer, and durable fabric that creates volume but does not bulk. 

Chiffon

. A delicate and light fabric that is widely used to make nightwear and robes.

China silk

. A rather affordable fabric choice for slips. 

Charmeuse

. A luxurious fabric, beloved by many designers for its shiny and liquid appearance. Many designer bras are made of charmeuse. 

Satin

. Satin, just like charmeuse, comes in different types. But it is usually used in bras as a garment to provide more support. 

Batiste

. Batiste is a wonderful fabric for lacy, embroidery, or see-through designs. Batiste is made from cotton and can be found in linen. Opacity is guaranteed with batiste. 

Lace

. Lace can be soft and fine but also scratchy. Be careful when shopping for lace and carefully check the location of this fabric on the lingerie item you are considering buying. 
Wrap up
When planning lingerie shopping or a project to make your own lingerie, keep in mind the little details that can make your experience better. Follow our guide if you are looking for advice. And be creative!
---
Interesting Related Article: "How to Choose the Right Fabrics for Dressmaking"