Launching your first Magento ecommerce store can be a daunting task, especially if you are unfamiliar with all the web terminologies and lingos. Many individuals simply shed the idea because going through the phase of buying a domain, setting up a server, launching a new ecommerce store, and then maintaining it is simply not their cup of tea.
But what if they still want to? They have the option to either use a managed or an unmanaged hosting server for their Magento ecommerce store. If they choose an unmanaged host, that's where the actual issue starts. If they have the budget, they hire a system administrator to look into things and fix them accordingly. However, if they don't have the budget they must carry out the job themselves, diverting their attention from the actual cause.
I have a friend who is an SEO expert by profession. He decided to start his own Magento SEO agency, but when he planned everything about the new agency, the only factor that concerned him was 'how to set up his business online.' As his Magento agency would not only deal with the SEO of the clients' sites, but also host their websites, dealing with the management of the Magento ecommerce stores – especially when they were on an unmanaged host – wasn't his cup of tea. So, he let go of the idea.
Can You Start Magento Store with an Unmanaged Hosting?
When starting your first ecommerce store, you will need a decent ecommerce platform and a hosting solution. We will be using Magento hosting platform as it is free, scalable, and comes with numerous features.
On the other hand, an unmanaged hosting solution is not managed by the hosting provider. The hosting provider will simply provide you with a server and it will be your responsibility to add Linux, Apache, MySQL, PHP (LAMP) stack or MongoDB, Express.js, AngularJS, Node.js (MEAN) stack on it and then reroute the domain. Also, you will have to install a Content Management System (CMS) or a framework to get things going.
This means if you are starting a Magento ecommerce store from scratch, most of your time will be spent on managing the server-side of the website instead of the actual business.
On the other hand, if you get a managed hosting solution for your website, you will get all the support that you need to launch your website or application online. Simply put, your hosting provider will work as your chauffeur, managing server instance, upgrading it, securing it, and doing everything else necessary under-the-hood.
Here is the difference between a managed and unmanaged hosting solution.
| | | |
| --- | --- | --- |
|  Points | Unmanaged Hosting | Managed Hosting |
| Difference | Completely unmanaged server instance. The hosting company will not provide any kind of support | Completely managed hosting server and the support for migration, installation of new software, error debugging is taken care of by the hosting service |
| Pros | Self-managed, root-level access, affordable | Worry-free management, easy migrations, complete backups, 24/7 support, fast, secure |
| Cons | Debugging is hard, high-security risks, difficult to manage, slow speed | Expensive, lack of root-level access |
Problems of an Unmanaged Hosting (Explained)
Unmanaged hosting may appear to be easy to manage and user-friendly, but it isn't. Learn why an unmanaged hosting is much more costly than a managed hosting solution.
Debugging is Hard
With an unmanaged hosting solution, you don't get a control panel like CPanel, or Plesk or any other panel for that purpose. You will have to start with a barebone server and Command Line Interface (CLI) commands. If you are not a techie, starting with an unmanaged host can become a nightmare.
High-Security Risk
Barebone servers are easy to crack because of the lack of security layers protecting it. That's why for first-time unmanaged server users, it can get difficult to get everything done right.
Difficult Management
Think about it. What will you be doing with the server? Will you be managing it or will you be actually focusing on your work? These are tough questions to answer. You must make a conscious decision.
Lack of Backups
Backups are like emergency kits. You may need them at any time if any emergency strikes. But creating server backups takes time. And you have to repeat this process daily.
Time Consuming
On average, an unmanaged hosting server will take around two to three hours of your day, every day. So, make sure you have a helping hand overseeing your actual business. Because you are going to be stuck for a long time.
Costs More (Long Term)
And finally, if you are tired of managing your server every day, you will need a server administrator to manage it for you. The cost of getting a server administrator is around $50 per hour. Now multiply this cost by 30 days and you know what's better for you.
What is the Solution? A Managed Magento Hosting Cloud
The solution is to get a managed hosting cloud for your website. Allowing you complete freedom to manage your server. You will have more time to work on your website and actually focus on its growth. Learn more about how a managed hosting cloud solution will help you.
A managed hosting solution is worry-free. This means you can use it any way you want and you will have full control. Although some managed hosting platforms will restrict root-level access that is fine, unless you are a developer who wants to get access to the root server configurations.
Managed hosting also covers the migration costs. You will get one FREE migration if you are on Cloudways managed hosting platform. Apart from the first free migration, you can migrate your website with just a single click with the migration add-ons provided.
Finally, the best part. You can easily get backups of your website from the hosting provider. They will schedule automated backups through a cron job, and you don't have to move a muscle. If you are an agency, a digital business owner, or an ecommerce store, a managed cloud hosting solution is the best choice for you.
Launching Your First Magento Server Instance
Cloudways has made it easier for users to launch their Magento ecommerce sites with just a few clicks. Unlike unmanaged hosting, you can launch a managed server with Cloudways through the Graphical User Interface (GUI) platform. Here is how to do that.
First, sign up for Cloudways. It will take only 30 seconds.
Once your account is created, click on the 'Launch Server' button to launch your first server. You will get the following dashboard.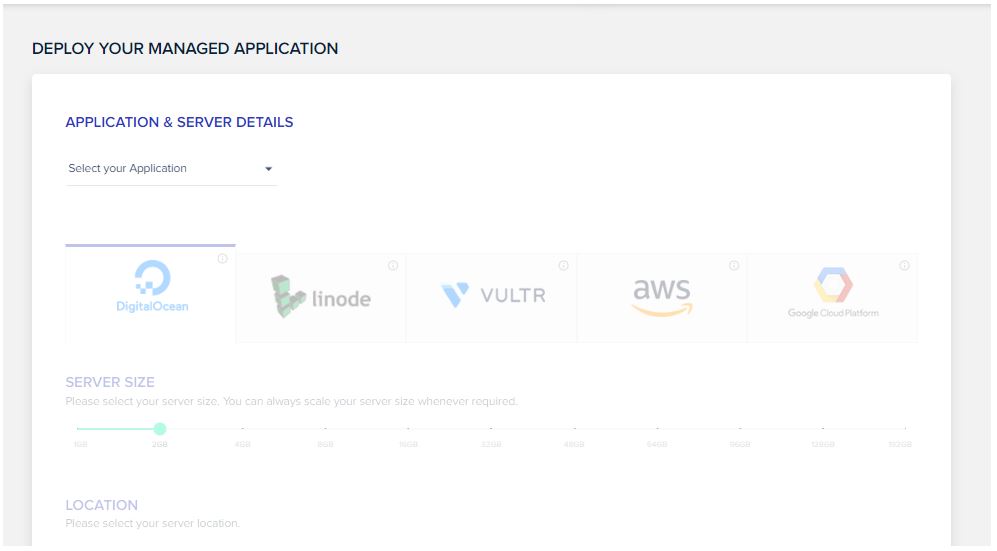 Now, select your Magento application from the dropdown menu, then add its description.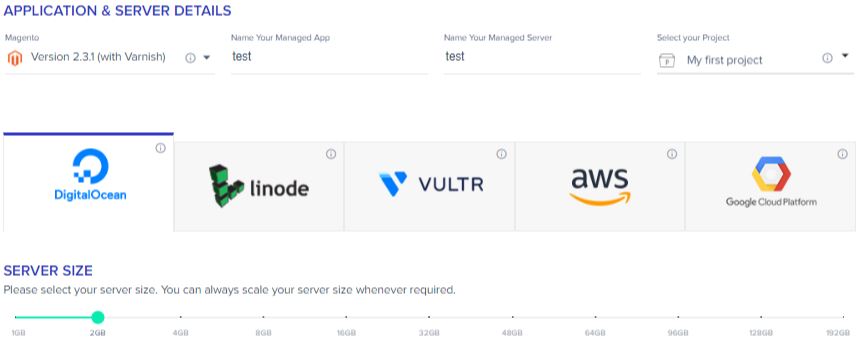 Now, select from DigitalOcean, Linode, Vultr, AWS, or GCP to launch your first server. Select the server size as well.
Select the location of your server. You can have your server in Europe, Asia, the US, and even Asia-Pacific.
Once all settings are configured according to your needs, launch your first server.
The best advantage of Cloudways is that it uses the 'Pay As You Go' model. This means you only have to pay for the resources you use the server, or for the time your server remains active. Read more about this payment model.
Final Words
We hope that you are now well aware of the difference between managed and unmanaged web hosting. We have also provided you the best option to choose for your digital business. This means you are ready to take your business from the idea stage to an actual business. So, what are you waiting for? Get started!
PS: Cloudways managed hosting offers a 3-day free trial for anyone who wants to launch their server on a managed host.
Author Bio
Imran Thayani is an SEO specialist with more than 6 years of experience in promoting and marketing brands in the digital world. He loves to read and share his digital marketing experience with the rest of the community. In his spare time, he enjoys traveling to exotic places, plays badminton, and goes swimming. LinkedIn
_____________________________
Interesting relevant article: "What is e-commerce?"