Forex managed accounts are offered by the majority of modern brokers. It is an excellent way of using an individual manager's service and brokerage company services. It is the ability of not using false signals or not taking wrong actions for many novice traders.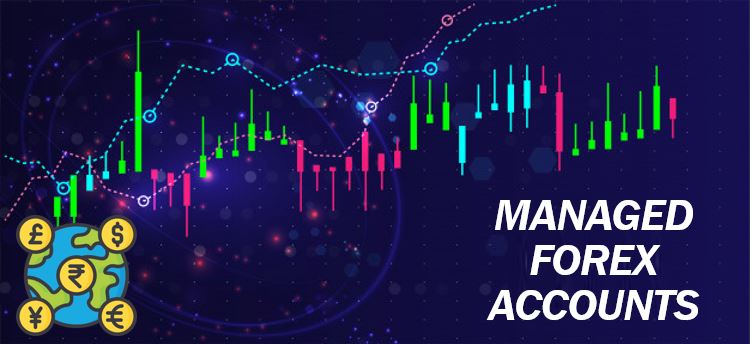 These accounts help in diversifying risks as your financial portfolio is divided by brokers into various assets you are compensated for the possibility of erroneous actions. You are also allowed to choose the type of strategy by many brokers. Currently, many companies offer the best managed accounts. You need to go through all conditions to choose the ideal one for you.
What is a Forex managed account?
A managed account is owned by an institution or an investor, but a professional money manager oversees it. The money manager can access the account to make decisions following the client's goals and objectives. In forex managed accounts, the trading decisions are made with the client's capital value, expected goals, and risk tolerance in mind.
Types of Forex managed accounts
Individual Account: On this account, decisions are made in an individual account according to the client's requests. The minimum deposit for this account is $10,000.
Pooled Accounts: These accounts deal with more than one investor. The usual minimum deposit is $2,000.
PAMM Accounts: PAMM accounts are like pooled accounts but they are automated. Thus, these accounts provide the opportunity of copy trading. PAMM accounts are an extra source of income alongside trading on the real account.
Reasons why you should use managed account services
Disciplined procedure
Professionals know well when it is the best time for entering and exiting a trade. Rather than opening filler traders, staying out of the market for some time is a lot better and they know this. They follow a disciplined guideline and make sure to achieve maximum results for the clients.
Experience of experts
Thanks to the expert professionals, a client is guaranteed a great experience after finding a manager. The manager helps them to achieve their financial goals by aligning with their risk appetite.
Monitoring trading activities
Everyone that trades is not a full-time trader. Some of them are business people and some are employees with their job. So, they cannot keep an eye on their accounts all the time. With managed accounts, however, they only need to fund their account and monitor it occasionally because the professional manager is always present to oversee the trading activities.
Emotionless trading
If you are affected by your emotions easily every time a profit or loss occurs, then it can be problematic. Most people make this mistake and take decisions influenced by their feelings. However, professional managers know the importance of eliminating emotions and depend on pure logic to open and close positions. So, traders that cannot handle the emotional stress should use managed accounts.
The Best Forex Managed Accounts In 2020
With the best investment advisors, you can make money online effortless. You may choose the most suitable investment plan for trading from these top picks of forex managed accounts.
FXTM
Established in 2011, FXTM is a well-known broker that is regulated by FCA, FSC, and CySEC. Apart from using managed accounts, you can also count on convenient options. It helps in analysing, as well as receiving seed investments.
Account creation and trust management have many options. Managers help the traders to choose the best investment format so they can receive money with minimum risk. Generally, it is the ideal option for novice traders that want to earn money without trading actively.
ROFX
One of the innovative companies offering robots for automated trading, ROFX was founded in 2009. The company has come up with the most profitable options for its traders by using managed accounts and offering guaranteed loss coverage.
The software analyses the market automatically and finds you the most attractive point to enter the market. So, you do not require special knowledge of trading. It is a very reliable broker that is the best one in the market if you like machine algorithms and flavoured trading.
CNC Markets
CNC Markets is in the market since 1989 and has become a reputable company over time. The company is regulated by FCA and ASIC at present. It offers several trading instruments for traders. You can use a managed account here or trade with your own account.
Regardless of the option, you are provided with a high-quality platform with analytical tools that can choose a specific strategy for your trade. So, there are no risks of losing investment. With the huge number of trading tools, you can increase profits by creating your strategy.
PFD
Established in 1999, PFD is one of the best-known brokers in the world. This company offers managed billboards at low fees so you can use them for choosing your strategy. The trader can train on a demo account after registering or choose a managed account to start investing immediately. You can find the investment opportunity starting from $1 here.
FP Markets
FP Markets has started its journey in 2005 and it has become a successful broker for its beneficial leverage. Regulated by US regulatory authorities, the company offers the opportunity of trading over 45 currency pairs to its traders. Apart from several trading assets, the traders are provided with a convenient platform to create their trading strategies, as well as convenient tools to choose an activity vector. By creating a managed account, traders also receive additional dividends.
Final thoughts
Regardless of the broker you pick, it is crucial to understand what a managed account is. Before you invest your money, find yourself the safest option with the best conditions. With the managed account, you can earn money in the market successfully. Remember to go through all the reviews of the brokers before choosing. Both the pros and cons need to be considered to pick the best option. Analyse the company, as well as its activities so you understand better how to invest money.
Video – What is a Trader?
---
---
Interesting related article: "What is a Trader?"