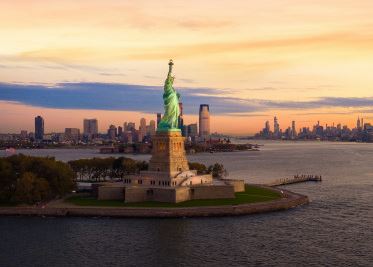 For many, a job in New York City is a dream come true. The big city has plenty of opportunities and culture to offer, and it's easy to see why so many people want to live there. Especially if you work in finance, fashion, or media, the allure of NYC is hard to resist. However, finding an affordable place to live can be a challenge. Unless you're content with living in a tiny apartment or sharing a room with several other people, you'll need to look outside of Manhattan.
The Garden State is located just across the Hudson River from NYC and it is a destination for many NYC commuters because the state has a preferable cost of living for many. Not only is real estate cheaper, but groceries, transportation, and other everyday expenses are also more affordable when compared to NYC. Here are a few of the best places in New Jersey to live:
Jersey City
This city is located in Hudson County and it is just a 40-minute commute to Manhattan during rush hour. Living in this area also gives you multiple points of entry into New York including the PATH train or the ferry, which takes under 10 minutes.
While Jersey City also has its fair share of expensive real estate, you'll have a much easier time finding an affordable place to live there compared to Manhattan. The city also has great nightlife and plenty of cultural attractions, making it a desirable place to live for many NYC commuters.
Union City
While there is no PATH train access, there is direct access to the Lincoln Tunnel from Union City. This makes it another great place to live for those who want to be close to Manhattan but don't want to deal with the hassle of living in the city itself.
Union City is also much more affordable than Jersey City, making it a desirable option for those looking for an affordable place to live. As the "Havana of the Hudson", the city has plenty of restaurants and cultural attractions as well due to its large Hispanic and Latin American communities, making it a great place to live if you're looking for something a little different than the typical NYC commuter suburb.
Hoboken
This city is located in Hudson County and it's just a short walk or bike ride to Manhattan. It's also one of the most expensive places to live in New Jersey, but with its close proximity to Manhattan, high-paying jobs, and great nightlife, it's no surprise that Hoboken is so popular with NYC commuters.
If you're looking for a more affordable option than Hoboken, consider moving to one of the surrounding suburbs like Weehawken or West New York. Both of these towns are just a few minutes from the Lincoln Tunnel and they offer plenty of great housing options at a fraction of the cost of Hoboken.
Newark
This city is located in Essex County and it's the most affordable option for those looking to live in New Jersey while still being close to Manhattan. Newark is also home to Rutgers University-Newark, making it a great place for students who want to be close to NYC without having to pay the high rents of Manhattan.
While there are plenty of great things about living in Newark, it's important to note that the city has its share of problems. The crime rate is high and the public schools are not as good as those in some of the other cities on this list. However, if you're willing to overlook these issues, Newark can be a great place to live for NYC commuters.
These are just a few of the best places in New Jersey to live if you're an NYC commuter. Each of these cities has its own unique benefits and drawbacks, so be sure to do your research before deciding which one is right for you. No matter which city you choose, make sure to take advantage of all that New Jersey has to offer, from its great restaurants and nightlife to its beautiful beaches and parks.
---
Interesting Related Article: "What is a commuter?"