An Outlook PST file recovery software is designed to help users recover lost, deleted or corrupted data from their Microsoft Outlook Personal Storage Table (PST) files. It can be used when the PST file has been damaged due to unexpected system shutdowns, power failures, virus attack, media corruption, and other reasons. The third party tool scans the PST file for any errors and recovers the data from it in an organized manner.
The importance of choosing the right Outlook PST recovery software to restore lost emails, contacts, and other data cannot be overstated. For 2023, when selecting a tool to recover mailbox items effectively,Stellar Repair for Outlook is emerging as the most reliable choice for users.
While Scanpst.exe is a viable and Microsoft's inbuilt solution for minor PST corruption, it's not equipped to handle drastic damage or many large PST file in one go – making specialized software the better option when faced with serious scenarios.
Stellar Repair for Outlook Overview
With an easy-to-navigate user interface and powerful recovery algorithms, Stellar Repair for Outlook reliably recovers inaccessible or corrupted email items from Outlook Data Files(.pst), something that many other solutions simply can't do. The software can quickly detect and repair any type of damage to your Outlook data file without requiring any specialized technical knowledge or experience. You can also use it to split large PST files into multiple smaller PSTs, which further increases its convenience by reducing their overall size and preventing them from becoming too bloated.
Stellar Repair for Outlook is also highly secure and ensures full privacy protection while recovering your data. It doesn't leave behind any traces of your personal information in the recovered files, which adds an extra layer of security to the whole process. Moreover, it is capable of restoring emails with attachments in their original format while preserving all header information such as To, From, Subject etc., along with contact details like names, phone numbers etc. All these features make Stellar Repair for Outlook one of the best tools available for Outlook PST repair.
It's worth noting that Stellar Repair for Outlook also provides several advanced options for more experienced users who want to customize their recovery process even further. For example, you can choose from a range of options such as "Recover Deleted Items" or "Find Lost Folders" to recover only specified folders or items. Apart from that, you can also perform granular search operations on recovered emails by keyword or date range to quickly locate specific messages within large collections of emails.
System requirements for Stellar Repair for Outlook:
| | |
| --- | --- |
| Processor: | Intel-compatible (x86, x64) |
| Memory: | 4 GB minimum (8 GB recommended) |
| Hard Disk: | 250 MB for installation files |
| Operating System: | Windows 11, 10, 8.1, 8, 7 |
Notable Benefits of Stellar Repair for Outlook
Repair corrupt PSTs – Malicious viruses and malware infections can wreak havoc on large Outlook data files, rendering them irreparable. Fortunately, Stellar PST file recovery software is designed to be a powerful tool that retrieves mailbox contents even after corruption has occurred due the virus or network storage of your PST file.
Preview of the Recoverable Data – The Outlook email recovery software makes the tedious task of recovering data a breeze with its tree-like preview feature. Not only does it show you mailbox items in an organized way, but also provides insight into emails' body text and hyperlinks hidden within them as well as calendars, tasks, journals or contacts that may have been lost otherwise.
Multi-format support – Stellar's PST recovery tool allows you to restore individual emails in your preferred format, including, but not limited to: PST, EML, MSG, RTF and HTML. Enjoy the convenience of accessing them using Outlook Express and Microsoft Outlook!
Ability to apply filters – Stellar has powerful filtering capabilities. Users can customize their search and salvaging process by including or excluding specific items such as Junk, Deleted Items or emails from email addresses of choice – creating a unique archiving experience in the popular PST, MSG, EML, RTF HTML and PDF formats.
Other notable features 
Supports MS Outlook 2019, 2016, 2013, 2010, and other older versions.

View messages

and mailbox items

in a

tree-like

format

Save and load scan results saved with DAT file extension.

Ability to repair PST files larger than 2GB

(even larger than 50 GB)

.
How to use Stellar Repair for Outlook?
Stellar Repair for Outlook offers a reliable solution to repair corrupt PST and recover the mailbox data quickly. To begin simply select the Outlook Data File(.pst), and it will start scanning and repairing the PST file. The time taken by this process is dependent upon size/corrupt levels. Stellar's intuitive interface ensures you get back up & running rapidly without any hassle.
Simple steps to use the software:
1. Download and install the software. On launching the software, a simple interface will appear with two main options— "List Profiles" or "Choose Manually".
2. Instantly locate all your Outlook data files with 'List Profiles' or 'Profile List'. If you know the location of PST file, you can browse by selecting 'Choose Manually'. Simply select the file which you need to repair and click on 'Repair' button.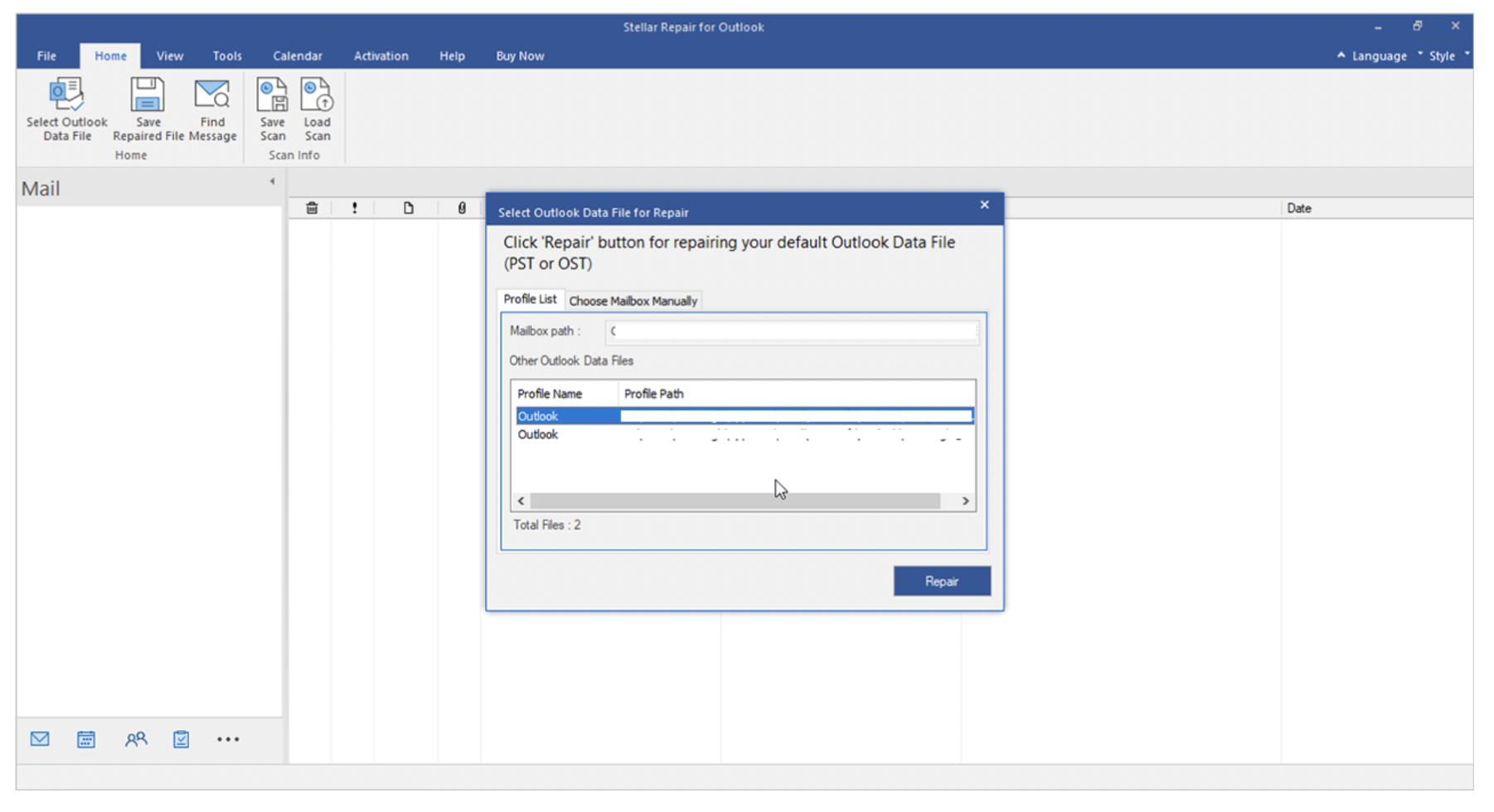 3. The software provides lightning-quick scanning and repairs Outlook data files, delivering results in a flash. Dependent upon size/corrupt levels, scanning time may vary.
4. Once the scan is complete, you'll be able to preview your restored Outlook mailbox items in the Left pane. Simply select individual folders and click 'Save Repaired File' located on the Home tab of top ribbon for further processing. A pop-up screen will appear with file format options – choose PST and click browse to select the location to save repaired file. Click 'OK' to save the recovered data as a new PST file.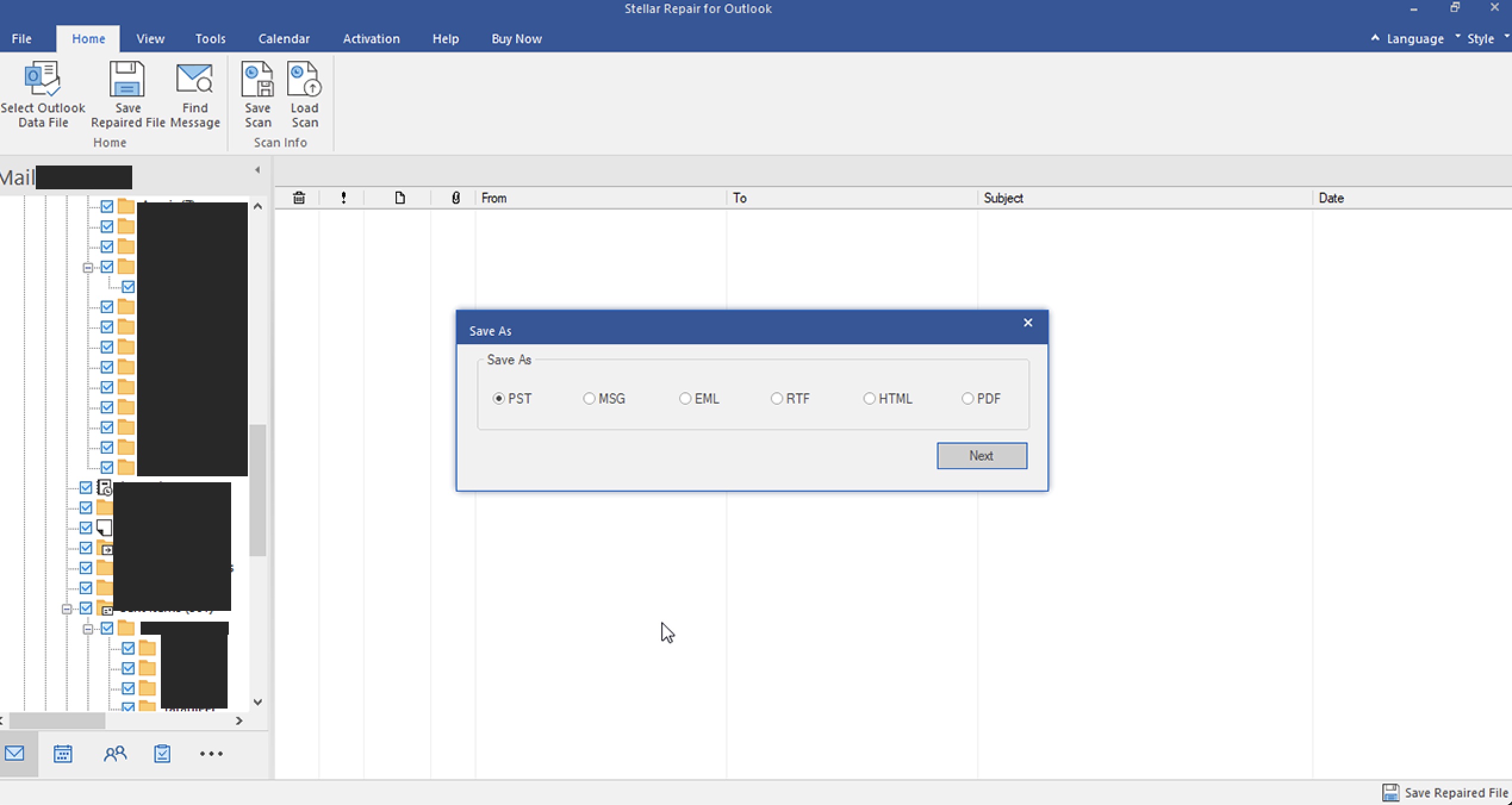 Final Thoughts
In conclusion, if you are looking for a reliable solution for Outlook PST recovery in 2023 then look no further than Stellar Repair for Outlook. With its intuitive user interface and powerful algorithms for detecting and repairing damaged files quickly and securely, it is undoubtedly one of the best choices out there today.
Don't be stuck in an endless loop of PST repair nightmares – Stellar Repair for Outlook is the perfect solution to navigate tedious and complex scenarios where scanpst.exe just doesn't cut it anymore! With years spent devoted towards creating ever-improving options, this software stands out with effortless usability combined with powerful features; a must have tool for any professional utilizing Microsoft Outlook.