This generation marks that every individual shares some presence (direct or indirect) on the internet. This makes it easy to locate anyone with the help of a proper online search. Advanced people search engines are designed for advanced search.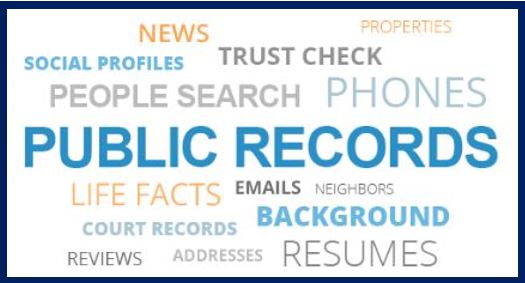 How can the search engines yield fruitful results?
The advanced people search engines dig deep into all kind of available online records. It helps to look for people available online and using different parameters. The people search engines use advanced parameters to get access to Public Records Deep Search.
The top search engine guarantees an advanced search of public records.
Getting easy access to trace an individual
Radaris lets an individual find other people across the world by name, address or phone number. The engine is one of the best of its kind. It delivers detailed and free results. Searches that can be found include person's current address, age, wireless and landline phone numbers, previous workplace, towns, relatives, email, associated names, property ownership, criminal records and possible associates. This property makes this an advanced search engine than some other sites.
Advanced results at a glance
It works best intending to find people. It delivers a thorough search. For a specialized advanced search, you can get access to another site via this engine to buy the full report. What people like the most in this search engine is the availability of lots of free results, where the last name is not required.
The advanced search feature also gives access to person's job information, education history, government watch list records, death records, social media images, videos, registered domains, dating profiles, online interests, blog posts, and many other documents. The access to such vital information is made with the help of a set of protocols and algorithms to dive deep into the web and dig them out.
The search engine uses the positioning feature to locate information regarding the current location and possible relatives. Results are accurate and accessible instantly. The best part is the fruitful and necessary information available.
Employing multiple ways to search the information
The search engine allows the search for usernames. It gets you the access the platform of social networking communities. The astonishing amount of information available lets you go for an advanced search. You can dig up information on someone who is using only a username.
This platform employs the use of just name and phone number for searching public records. This feature makes it easy to get the availability of primary results. It pulls data from other sites to give the maximum information with the use of useful search refining tools.
Getting the trace of a person's family
The search engine is a perfect search engine that gives you access to details for free, person's aliases, family members, age, and several digits of a phone number. You will get instant access to full name, current address, prior residences, phone numbers, relatives, neighbours, property records, aliases, age, bankruptcies, marriage and divorce records, judgments, and liens. Relatively inexpensive reports with access to significant results make it the best.
The search engine works the best for Criminal records
Criminal records search with this advanced people search engine let you access the criminal record using necessary information. You can get access to information ranging from basic traffic violations to jail sentences. The access can be made to sex offender records, and other vital information, public records, property records, criminal background and other details. The use of advanced search parameters gives access to recorded illegal activity.
Criminal records available on this search engine includes traffic offences, court records, judgements, felonies, misdemeanours,  bankruptcies, relatives,  assets, arrest records, phone numbers, online profiles, weapons permits, sexual offences, mugshots, and address information.
Conclusion
With access to the people search engine, you can get the complete information of a person. This handpicked search engine makes use of different databases. You can get fruitful results with the best choice according to your preferences. If you are new to learn using this people search engine, then try it out for yourself and get the fruitful results with the objective of gathering information.
____________________________________________________
Interesting related article: "What is Search Engine Optimization?"