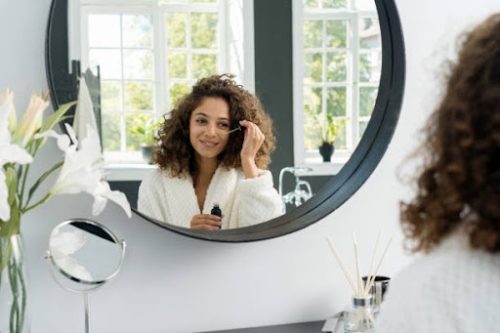 It's no secret that your skin is the most important feature on your body. What you put in it, what you put on it, and how often you take care of it all play a role in how healthy and happy your skin will be for years to come. But with so many products out there, which are the best?
The best products for your skincare routine are ones that you can use daily to get the freshest, cleanest skin possible.
Here are the 10 best products for your skincare routine:
1. Facial Wands
First on our list of best products for a skincare routine is a facial wand. These wands are being used by top dermatologists and red-carpet celebrities alike because of their superior ability to exfoliate, hydrate, rejuvenate, and tone the skin. In just three minutes per day, you can experience radiant, youthful-looking skin that will have people asking what your secret is.
2. Red Light Therapy Wand
The red-light therapy wand uses red and near-infrared wavelengths of light to stimulate collagen production in the skin as well as reduce the appearance of fine lines, wrinkles, redness, and other signs of aging. According to careandcream.com, the red-light therapy wand helps make your skin feel firmer and elastic while also improving redness and skin conditions such as rosacea.The red-light therapy wand helps make your skin feel firmer and elastic while also improving redness and skin conditions such as rosacea.
3. Neck Wand Massager
Another top pick for the best products in your skincare routine is a neck wand massager. These massagers can be used to help reduce redness, puffiness, and under-eye circles while also providing pain relief from sore muscles and joints. They are ideal for anyone who works at a desk all day or has a job that requires them to sit down constantly throughout the day.
4. Aromatherapy Essential Oils
Adding aromatherapy essential oils will give you an all-natural way to enjoy clean, clear skin. Plus, they also provide benefits like stress relief, immune system support, and more. They are easy to use in your facial steamers or in the compartments of your facial wands.
5. Facial Steamers
Facial steamers will open up pores in your face and leave it feeling refreshed and rejuvenated. Best of all, they can be used with natural essential oils for a full aromatherapy experience that fits into any skincare routine without breaking the bank or using harsh chemicals on delicate skin.
6. Coconut Oil by Body Merry
Coconut oil is great for treating and preventing acne while also helping with redness, dryness, and inflammation. When used consistently it can help you achieve a more youthful glow by protecting your skin from pollutants and free radicals.
7. Vitamin C Serum for Skin Care
Many people have reported greatly reduced fine lines and wrinkles after using vitamin C serum for skincare over a period of time. This all-natural product is easy on your wallet too compared to some other creams out there that do not deliver half as much.
8. Vitamin E Oil
Vitamin E oil is a natural moisturizer that will help you achieve a radiant glow and a more even skin tone. By penetrating deep into your pores it can also reduce scars, stretch marks, age spots, and other types of blemishes as well as stimulate the production of collagen to promote firmer skin formation over time.
9. Rose Water by InstaNatural for Skin Care 
Rosewater is great as a toner as it helps to balance the pH level in your skin which can cause acne if it is either too acidic or too alkaline. It also helps tighten pores which reduce the appearance of wrinkles and fine lines while also improving elasticity and firmness in your skin.
10. Aromatherapy Neck Pillow
An aromatherapy neck pillow is perfect for relaxing and unwinding after a long day out or after spending hours hunched over at your desk. It has the added benefit of also providing relief from migraines, sinus problems, pain in your muscles and joints while also helping you achieve a more restful sleep while you recover from the day's stress.
We hope these picks help make shopping easier for you when looking to revamp or change up your skincare routine.
---
Interesting Related Article: "5 Beauty and Skincare Trends That Are Shaping 2021"