If you value warm, rich, and natural analog sound, the turntable that costs under $1000 can be a great option that won't make you break the bank. Of course, the vinyl player for such a price definitely can't be called the cheapest. However, considering today's prices on high-quality turntables, the $1000 unit is a great mid-priced alternative between budget and premium models.
After reading this guideline you will understand better how to choose the best turntable under $1000, and how to choose only the best products for you. It is important to look around and compare the different options. Websites such as has-sound.com van provide more information on the best turntables.
If you want a unit with an audiophile sound quality, you would have research more in-depth. Although with these 7 models presented below, it won't be necessary.
Reloop AMS-RP- 8000
The current model is a hybrid torque turntable with upper-torque, quartz-driven direct-drive, and MIDI controller which appears to be especially convenient for DJs. Moreover, there is also a bunch of other features that will come in handy for most DJs. For example, 8 backlit drum pads and 4 performance modes (can be combined) that allow for sampling, mixing, etc.
Thanks to the inbuilt USB port, you can save all your samples on a flash drive, smartphone, etc. In terms of sound quality, this model offers a lot of dynamics and energy, while the motor produces minimal noise.
U-Turn Audio Orbit Special Turntable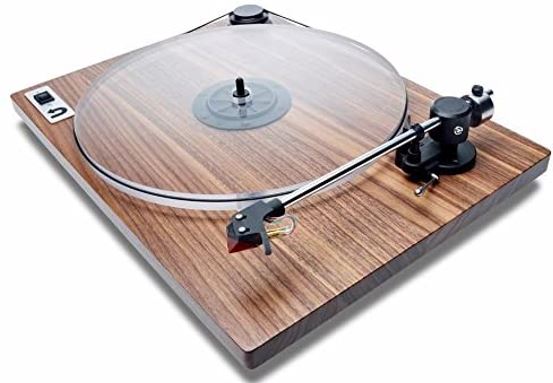 This turntable has a very authentic look that will probably please most retro-style lovers: the transparent platter is located on the walnut base. It also has a minimalist functionality and is fully manual which is great for beginner vinyl enthusiasts. In addition to that, this turntable also has a built-in Pluto preamp and can be connected directly to powered speakers or amplifier. Thanks to the Ortofon 2M Red cartridge, the sound, provided by this vinyl player, are non-colored, open, and dynamic.
Pioneer PLX1000
The PLX1000 is another turntable designed for DJing with a standard DJ table design. It has a direct drive and superior noise isolation which means that the sound provided by this turntable is exceptionally clean and precise. Its plinth is made of heavy die-cast and dampening materials.
The platter feels very convenient for DJ scratching. The rubber-insulated tonearm eliminates the howling effects. All the controls are shaped differently and are backlighted with LED lighting, so you could easily work in complete darkness.
Denon DJ VL12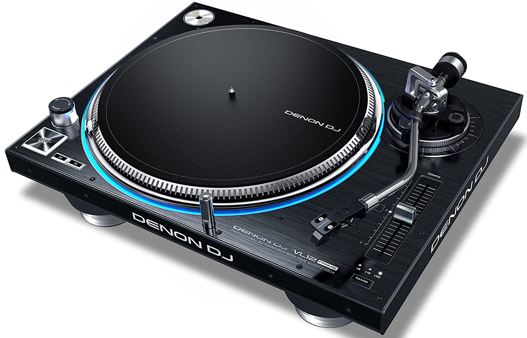 If the previous turntables for DJing in this list were quite simple, this one is a professional, multifunctional model. It has a True Quartz lock and stands on 4 isolation feet that eliminate unwanted vibrations and feedback. The disk has an RGB LED backlight which looks very cool. The motor has an isolated design and Low and High torque settings. The S-shaped tonearm works perfectly for accurate tracking, while the pitch can be adjusted in a range of ±8%, 16%, 50%.
Pro-Ject SB
This model from Pro-Ject has a simple setup and operation, so it will be suitable for amateurs. It provides the user with different playback speeds and a tonearm with an anti-skating mechanism, so you shouldn't worry about skipping. Despite the fact that it's equipped with a high-quality heavy acrylic platter, this turntable is still lightweight, weighing 13 pounds, so it's also portable. The carbon tonearm is equipped with an Ortofon 2M Red cartridge which provides superior precision.
Rega Planar 2 RB220
This turntable features Rega's time-proven technologies, combined with modern and advanced ones, providing rhythmic and accurate sound. This way, it comes equipped with a glass platter and carbon MM cartridge, attached to RB220 tonearm. It also uses manual switching instead of an automatic one.
However, the anti-skating mechanism is automatic. The arm is made of aluminum and has a built-in shell and regulated counterweight. The motor confidently works on both 3-1/3 and 45 RPM. Being equipped with a passive cooling system, the motor ensures that the turntable will work without overheating for long hours.
Audio-Technica AT-LP7
The present turntable is a fully manual, belt-driven model with elegant all-black matte design. It works at two standard speeds 33-1/3 and 45 RPM. In order to maintain the platter rotation speed as accurately as possible, the manufacturer managed to equip this turntable with a speed-sensor system. It also has an exquisite J-shaped tonearm and a built-in switchable phono pre-amp.
---
Interesting related article: "Audio set up for your living room."