Is bad warehouse management increasing your overall business costs?
From poor inventory management, messy layouts, and redundant processes, to unsatisfactory order management, seasoned demands, quality control, and traceability problems, warehouse management can prove to be daunting for both online and offline shops.
Having to deal with so many problems at the same time can significantly decrease your operational efficiency, speed, and overall team productivity and in turn, decrease revenue.
Did you know that McKinsey & Company reports that around $385 billion was spent worldwide on warehouse costs in 2019?
What's more shocking is that this doesn't include any added expense of mistakes and errors.
To avoid all these issues, you must have a system in place that will handle all kinds of warehousing tasks so you can focus more on serving your customers better and ensuring more qualified sales.
In this article, we'll cover 10+ best warehouse management software for small businesses in 2023.
Da Vinci supports e-commerce operations with functionality like the algorithm-based Cartonization, which allows you to pack your cartons in the most efficient way possible. 
You can automatically generate the correct labels (small parcel & UCC-128) and documents like packing lists & carton contents.
Da Vinci WMS also provides a robust Waving module to efficiently group orders and products by a variety of filters, and a Scan Pack module to provide verified carton pack outs to increase accuracy and efficiency.
You can pick and pack multiple orders simultaneously through the advanced cart-picking feature for fast and accurate order fulfillment. 
You can also configure specific putaway rules for your warehouse inventory with the advanced system logic
Want to take Da Vinci WMS for a spin and see if it can transform your warehouse workflows? Schedule a free demo of Da Vinci WMS to get a taste of its features.
Da Vinci WMS can single-handedly maintain all your warehouse operations due to its advanced automation and configurable systems, making it a top choice in this market.
SKUSavvy is a mobile warehouse management system that leverages a first of its kind 3D visual warehouse layout to help high-volume DTC merchants organize their inventory and fulfill orders faster.
This unified system lets you handle all sorts of warehousing tasks including inventory management, bin locations, purchasing and forecasting, order fulfillment, shipping, and resource utilization, etc.
The 3D visual warehouse builder allows you to recreate your exact warehouse layout and bin positions to know exactly where ever item is at all times. 
SKUSavvy makes warehouse management simple thanks to its mobile design, visual guidance, and sleek UI for modern brands as well as automated workflows and intelligent pick routing.
You can create purchase orders, manage order channels, replenish stock, and move inventory from one warehouse to another automatically and from within one system.
Ready to take SKUSavvy for a spin? 
Try it for free for up to 50 orders and then pay only for the orders coming through the system in a unique volume-based pricing model that is perfectly suited to the size of your business.
Logistics For Hire is a logistics service company for eCommerce shop owners.
It provides a suite of services and software to launch, grow, and stabilize your eCommerce business.
From setting up a store, building a website, and creating product catalogs, to wholesale distribution, and warehouse optimization, Logistics For Hire takes care of everything.
A great thing about them is that they also offer growth services including SEO, Social Media and Marketing, and Google Ad optimization.
But that's not all.
The included software, Commercblitz, enables you to effortlessly sync inventory across your sales channels in real time. Furthermore, it routes and standardizes dropshipping inventories and streamlines reporting, making it one of the best warehouse management software.
Interested in trying out Logistics For Hire yourself? Schedule a meeting with them to see if it fits your business.
Out of many options, Logistics For Hire offers services on top of the software, making it a great choice for your business if you're also looking for technical manpower.
Datapel is a warehouse management system for better inventory control.
It helps you manage inventory and orders with automated systems. The Datapel inventory management system allows you to locate stock items across multiple warehouses and bins. You can also track movement and the levels of your stock via the cloud.
With user action audit trails, reports, and interactive dashboards, you have full control over your warehouse workers and their workflows.
Datapel also lets you handle return requests and goods. You can ensure only qualified customers can return items within the RMA time window. This lets you avoid any product switching for expired and faulty products.
Integration with accounting, shipping, and eCommerce software enables you to extend Datapel's functionality and streamline your warehouse operations.
If you're interested in using Datapel, schedule a free personalized demo and see how it can make your warehouse operations easier to manage.
Datapel's advanced stock item management and order fulfillment system make it one of the best warehouse management software.
Digital Express is a logistics, transportation, and fleet management software.
Digital Express, through their Cristal Software, allows complete traceability of your shipping from its withdrawal to delivery. Logistics and travel coordination companies can track complete and consolidated trips with control of expenses, advances, and settlements to contracted drivers.
Its warehouse management system enables you to manage your own and third-party products by batch, expiration, and FIFO. 
No matter what you need to have complete control over your warehouses and manage the availability of inventory and stocks, Digital Express can help you with that, making it one of the best warehouse management systems.
The powerful valuation tool allows valuation by all service quantifiers by scales, fixed, with surpluses, minimums, and combined. 
If you want to deploy Digital Express in your business, contact their support team to learn more about the software.
Having a centralized system for warehouses, logistics, trips, and fleets, Digital Express can be a worthwhile investment. It's also to integrate with your own ERP, works great with Oracle ERP, SAP and Dynamics.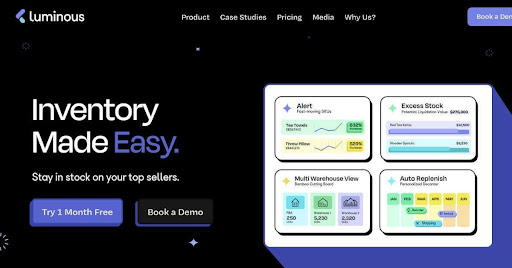 Luminous is an inventory management tool for modern eCommerce operators.
It comes from a team experienced and expert in eCommerce supply chain management and operations.
No matter what kind of business you're running — wholesale or business-to-business, Luminous streamlines your warehousing with its B2B portal and invoicing tool by syncing with your inventory.
With automation-driven warehouse and inventory management coupled with accurate forecasting, Luminous can save you many hours and tons of resources.
It also makes Electronic Data Interchange (EDI) as easy as fulfilling a regular order.
Luminous integrates with a wide range of software and systems including eCommerce software, accounting software, shipping software, marketing software, CRM software, and more. Such integration makes it one of the best warehouse management software.
Interested in transforming your supply chain management? Schedule a free demo of Luminous and experience its features firsthand.
Luminous's simplicity in inventory management and order fulfillment on top of its affordable pricing makes it a great choice for small businesses.
Leanafy is a warehousing system with innovative and automation solutions.
What makes Leanafy one of the best warehouse management software is it automates your warehouse workflow processes with collaboration functionality and real-time updates.
The role-based access control lets you create custom permission groups to assign to particular users. 
You have the option to track items using built-in attributes like creation date, expiration date, lot number, revision number, serial number, and tag number. You can also create custom attributes per your needs.
Moreover, you can give your clients access to a dashboard to see inventory status, open orders, shipment status, and other updates.
Want to apply Leanafy's lean processing to your warehouse? Sign up for a free demo to see Leanafy in action.
Leanafy's unique approach to warehouse management and operational precisions, regardless of the size of your warehouse makes it a top contender in this category.
Icicle is an enterprise resource planning solution for food manufacturing.
With Icicle ERP, you can manage food safety, compliance, production, traceability and more with advanced planning and costing features to ensure food businesses protect profitability.
Whether you need to track ingredients, products, packaging, materials, or parts with lot codes. Icicle's inventory management handles all of them. Not only that but you can also manage the flow of inventory through multiple inventory locations within your business, as well as manage multiple facilities.
It provides you with smart purchasing suggestions so that your procurement team can order ingredients and materials according to production and sales analytics, making it one of the best warehouse management software.
In addition, GS1-compliant barcode software features boost your logistics and traceability capabilities. With automated expiration management features, you can maximize shelf life and reduce item waste to protect your bottom line.
If you'd like to amplify your success and scale your business seamlessly, consider scheduling a free demo of Icicle ERP to see how it works.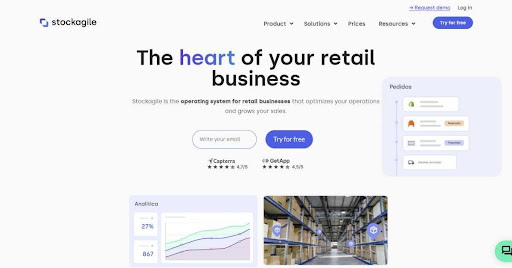 Stockagile specializes in retail business operations, including warehouse management.
With advanced features to help you in every aspect of your warehouse management, Stockagile simplifies your operations, reduces your delivery times, and optimizes your stock.
Stockagile helps you optimize your order preparation by creating routing rules to assign the best location to automatically fulfill orders. 
With a digitalized record of the products collected, you can speed up the work of the operators and avoid errors, making Stockagile one of the best warehouse management software.
It also lets you synchronize the stock in all your sales channels. Each time you perform an action that affects the inventory, the stock will be updated instantly.​
If you're interested in using Stockagile as your business operating system, schedule a free demo to see its features live.
Stockagile is an ideal solution for small retail businesses that need a single platform to manage inventory and sales.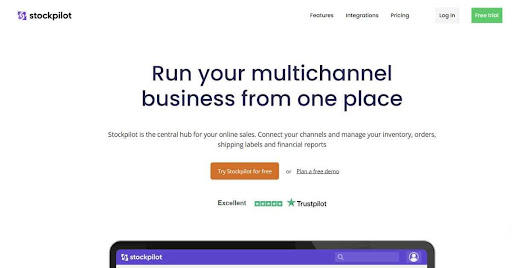 Stockpilot is a central hub for online businesses and brands.
It combines all your sales channels into a single platform so that you can easily manage multiple channels and sell through the most used and well-known webshops and marketplaces.
Where Stockpilot shines the most is having an easy-to-use and efficient WMS that contains all inventory levels, fulfillment of different sales channels, product info, reports, and more. That makes it one of the best warehouse management software.
The innovative inventory management system makes sure you're updated about supply levels and can gain insights into product management.
By integrating with major shipping companies, Stockpilot enables you to receive, process, and ship all orders with automatic shipping labels.
If you'd like to use Stockpilot yourself, schedule a free demo and see how it can centralize your warehouse management.
Stockpilot streamlines your online sales by integrating all sales channels and automating many of the logistics processes and hence, got included in this list.
Conclusion
Warehouse management can be a difficult task for small businesses.
Not having a streamlined process to manage inventories, laborers, stocks, etc will only result in less efficiency and eat up your profit.
A warehouse management system will save you from that. In fact, extensiv's Logistics Warehouse Benchmark Report shows that 26% of warehouse management system users report massive time savings.
By adopting a WMS for your business, you could manage all warehouse activities from a single platform and never miss a sale due to inventory or stocking issues.
So here's your best bet. Go through this list of the best warehouse management software and pick the one best suited for your business.
If an all-rounder warehouse management solution with advanced algorithmic features is what you're looking for, then Da Vinci WMS will fit all your demands.
If you're a small business looking for a solution to plan your warehouse before deploying, go with SKUSavvy.
Need a software platform as well as a team of service providers to set up your business from scratch?Then Logistics For Hire is your ideal solution.
---
Interesting Related Article: "Enhancing Workplace Productivity with Smart Facility Management Solutions"