Finding good mascara is tricky, especially when you're also adding water into the equation. Nobody wants to go by the pool and end up with mascara running down their face.
Are you planning a dive into the ocean or spend the day by the pool?  Applying waterproof mascara that doesn't budge seems like an excellent idea, right? But is it easy to find good waterproof mascara?
Why would anyone use waterproof mascara?
It's pretty obvious why regular mascara isn't going to handle a day by the pool. You may think that you can have a shot with the water-resistant formula, but you shouldn't take the plunge. Water-resistant mascara may work when you go to the gym or watch some romantic movie, but it's not going to stay on when you get underwater. You need to get a waterproof mascara, nine times out of ten. However, some water-resistant formulas handle some swimming sessions.
What's so particular about waterproof mascara?
Waterproof mascara is typically thicker and more drying on your lashes. It's able to lock out moisture, rending it to be capable of keeping water away from the lashes.
Even if waterproof mascara may dry out your lashes (most formulas do), some options include conditioning ingredients. Coconut oil and rose oil are only some of the components you want in your waterproof mascara so that its drying effects aren't significant. The conditioning ingredients are going to reduce the risk for your lashes to brittle/break. Another trick is to apply some Vaseline on your lashes before applying the mascara. It's a great DIY way to prevent your lashes from drying out.
Is waterproof mascara difficult to remove?
Now that you found the best waterproof mascara, you may have to deal with another problem. How can you remove it without damaging your lashes?
It's essential to take the mascara off without causing eye irritation. As the formula is thicker than in the case of standard formulas, removing the waterproof mascara has to follow some specific steps.
You may need to look for an eye makeup remover, oil-based cleansing balm, or micellar water to safely get it out from your lashes. Use a cotton pad and some makeup remover, wiping the makeup with gentle moves.
Can you find the right mascara for you without trying it on?
Finding waterproof mascara that doesn't damage your lashes isn't complicated. Selecting waterproof mascara that also makes your lashes look nice, is yet challenging.
With the majority of mascaras tightly wrapped with plastic and cardboard, taking a look at your waterproof mascara is impossible, nine times out of ten.
If you're lucky enough, you may find a store that allows you to try on mascara thanks to the disposable spoolies. However, you don't know if any buyer before you have double-dipped it into the tube or not. Side note- double-dipping isn't sanitary, and it increases the risk of growing bacteria.
Coming back to our hypothetical scenario, you now have an idea about the formula. However, you may not experience the entire effect since you're not using the wand of your waterproof mascara. And the wand of your mascara can mean the world for the final results.
Taking a look at the wand is a great way to get a sense about how your lashes are going to be after applying it. The brush styles and the various curves lead to different looks for your lashes.
Let's see some of the essential styles of wands for waterproof mascara. The more you know about the forms, the easier is going to be to select the right one for your lashes:
If you want to coat every single hair (thin strands on the inner corners of the eyes), the skinny wands are the best choice. Since the brush is narrow, you'll be able to swipe mascara on the bottom lashes without ruining your appearance.
Skinny wands are an ideal choice for anyone with straight lashes too.
When you need to build up the mascara, the precision tip is fundamental. You can go right in the inner and bottom lashes with the pointed tip. It's great for separating the lashes, with the more significant end building product on the rest.
Anyone using waterproof mascara until now knows that the risk for clumps is quite high due to the thickness of the formula. However, a mascara with a pointed brush isn't going to cause clumps.
We all like a bit of drama in our lives, any now and then. An applicator with arches on both sides is going to help you lift the hairs on the outer corners, for a more dramatic appearance. The stiff bristles may also increase the impact of the waterproof formula. Is dark and intense mascara your thing? Look for this type of brush on your waterproof formula for best looks even when swimming.
Do we have any recommendations?
Without going through the details, we only give you some hints about some of the best options to try when heading to the ocean.
If you're not considering a waterproof mascara, but a water-resistant one instead, you should try the Blinc – Tubing Mascara Original, Extreme Longwear. Even if it's not a waterproof formula for this one, it's still a water-resistant formula that lasts all day long. You can swim, cry, or go to the gym. You only need to apply one layer for a beautiful look that holds throughout the entire day. The tubes are going to stick to your lashes, with no risk for clump, flake, or run even if you're rubbing your eyes. It's a safe option for sensitive eyes or sensitive skin. You can also remove it with some hot water.
Anyone shopping on a thin wallet is going to appreciate the COVERGIRL Lash Blast Volume Waterproof Mascara Very Black. Apart from the low price, the mascara brings plenty of good things to the table. It comes with a black color that compliments all skin type and eye colors. It gives your lashes a beautiful volume and doesn't get clumpy. It's buildable and touchable, without smearing throughout your swimming activity. The brush separates your lashes nice, and one with sparse lashes is going to like its effects on volume. It's also rather easy to remove with eye makeup remover.
When you want your lashes to look amazing on a swimming day,  you should check the 3D Fiber Lash Mascara by Simply Naked Beauty. The 3D Fiber Mascara gives length and volume and eliminates the need to install fake lashes. It's easy to apply, and it's not drying nor too thick. You may wear it all day long when swimming. It's made with organic, hypoallergenic, and natural ingredients, and it's 100% cruelty-free.
If you're looking for a waterproof mascara that never moves, you should take a leap of faith with the Hypnose Drama Waterproof Full Impact Volume Mascara. Even if the price may seem steep, the mascara doesn't run, smudge, nor smear no matter how long you stay in the water. Forget about swimming- you can also wear it when scuba diving, without worrying about it running. You should look for the right eye remover, though!
We know that the price of GANILU 4D Silk Fiber Lash Mascara – Long-lasting & Waterproof is going to throw some off, but the mascara is worth every single penny. The mascara includes a thin film making technique which is going to give your lashes an excellent length and curves. It's easy to apply, with no risk for smudging, clumping, or flaking. It's waterproof, and it's made with non-toxic ingredients too.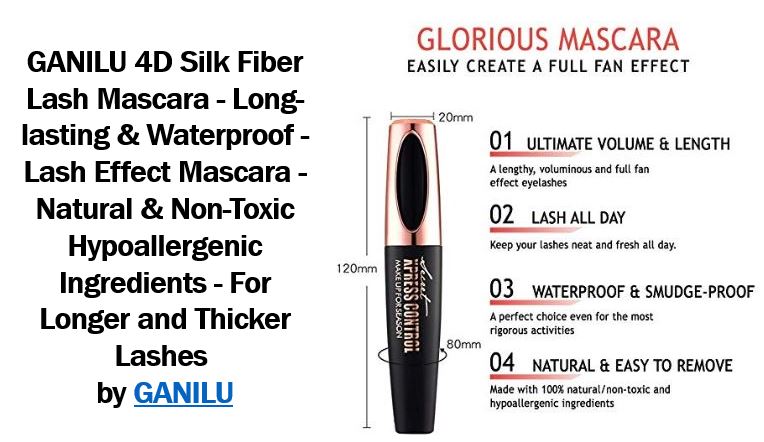 One last piece of advice before you go shopping!
Finding a waterproof mascara isn't going to be mission impossible, especially if you know what to look for. Keep in mind to buy a good eye makeup remover too, and to take good care of your lashes when using waterproof mascara. No matter how great the formula is, the risk for it to dry out your lashes is also to be considered!
Further reading