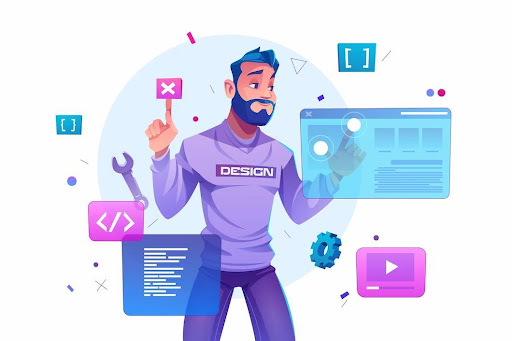 Any entrepreneur in the modern world makes orders for website development. However, even though you are not a specialist in the field of IT, it's worth understanding a couple of questions to get the desired result. You need to know the basics to decide what a marketer or agency will offer you. Below we will tell you the essential stages of starting a project, how an entrepreneur can decide on a website design, and what products you need. Only some people know, however, that there is a WordPress entrepreneur theme on the market to get a fast and high-quality appearance for sections. You get excellent variants on TemplateMonster. You ask, why is appearance so important? Let's consider this question below and also learn how to start creating a website for a new business.
Stages Of Creating A Website
Even though there are only a few such steps, they require a competent approach. Now you are laying the foundation of your business. The simplicity of your work and even team cohesion depends on which product you choose for the website's functioning. And let's not mention that the look and speed of the site affect the growth of the number of clients. These are obvious things.
So, the process of creating a website is something like this:
Hosting selection.

Purchase of a domain name.

Selecting a content management system (admin panel for editing and creating a page).

Acquisition of a beautiful template.

Purchase of additional

plugins

.
Let's consider these stages in more detail.
Hosting
Often, directors agree to any proposed option from a programmer or marketer. However, think about the main tasks for your project and describe them to a specialist. Then he may select the best option for you. For instance, if you plan to create a simple showcase or a presentation site where a large flow of visitors won't be, there will be no load and the like, then the hosting choice will be simple. We advise you to discover these options at the link before buying. There are solutions to different problems. In addition, you can ask the consultant to help you.
Domain
At this stage, you start building your brand. Choosing a name is essential for large projects or companies planning to conquer the market. It must meet the following criteria:
Easy to remember.

To be short.

Contain at most 2-3 words. Ideally, it's one word.

Don't contain too many characters.
The more straightforward the message, the faster it becomes remembered. For example, if your business is related to the entertainment industry or goods for leisure, it's easy to make funny and ironic brand names. For bloggers, it is self-evident to select a domain that describes the subject of the articles.
CMS
There are a number of the world's most famous content management systems – Magento, PrestaShop, Shopify, and Joomla. However, WordPress is the easiest to manage and the most powerful. This admin panel allows you to create your blog or present goods and services online.
The advantages are free, easy management, many online instructions, and many entrepreneur WordPress themes for different businesses.
What Is A WordPress Entrepreneur Theme?
The software, examples of which you can see on TemplateMonster, are ready-made designs for the needs of various firms. They quickly and efficiently change your website, making it modern, stylish, and profitable. Now you are not ashamed to show your project or blog to a potential audience. At the same time, the finished appearance is only some of what buyers receive. There are several useful functions that you get in addition:
Responsive layout. This point means that your sections begin to adjust to the size of the gadget on which the user opened them.

Drop-down menu. It adds modernity to the appearance and helps potential customers find the section they need faster.

Installation in 1 click. This function allows even non-specialists to cope with this goal.

Search engine friendly. After installing the template, your site is perceived better by Google and Yahoo.

Retina Ready. Modern gadgets have special screens with increased pixel density. If the pictures on the site don't adapt to these screens, they look like a big blurred spot.

Team members. Your pride is with specialists in the company's staff. This section helps to beautifully and impressively present the company's best employees.

Google map.

Sample content. Web developers have filled text blocks with arbitrary parameters so that you can quickly find them and fill them with your original text. This thing reduces the time it takes to fill pages with content.

Instruction. The documentation is extensive, detailed, and properly structured. You quickly find the right section. Thanks to the fact that the web developer writes manuals as simply as possible, you may even try to edit a site's appearance yourself.
As you see, deciding is essential and valuable in many ways. So let's find out how to choose a suitable WordPress entrepreneur theme for small and large businesses.
Rules For Selecting A WordPress Entrepreneur Theme
Remember, this purchase has a long-term perspective. So, only if web design trends change radically will you buy a new look for the site. Then the purchase of a new template is inevitable because you need to have the appearance of a modern and developing company.
In general, there are two rules for choosing a WordPress entrepreneur theme:
Detailed study and testing of the demo version.

Learning the characteristics.
The most important technical component we already described above. Please make sure that functions are in the description of the template you have chosen. Also, check whether the new layout is compatible with your CMS-updated version.
As for viewing the demo, it's essential to pay attention to the following points:
The overall style should match your brand and product vision. For example, if you didn't like the lo at first glance and many of its components could be better, you should discover another.

Some points are editable. For instance, changing the colors to be more compatible with corporate ones is appropriate. It's also possible to change a couple of blocks in places or choose fonts. However, keep calm while editing. The web developers created a WordPress entrepreneur theme, not just like that. The specialists were based on many years of practice and knew what the blocks should be and in what order they should arrange.
Now let's start looking at the most successful world examples for imitation. Thus, you learn the current trends in web design and what you can borrow from successful businesses.
TOP 3 Examples of Sites
Let's discover the representatives of different industries and how exactly they made their websites:
Sony Music

. If your activity is related to music or video, then there is nothing better than taking an example from the most popular resource. It would help if you had built-in video players or integration with YouTube, a stylish and relaxed appearance, a neutral color scheme, and social networks. All this is at Sony Music. When buying a WordPress entrepreneur theme, pay attention to these points.

Techcrunch

. This blog about technology uses another color scheme and the arrangement of information. If we see centering in the previous example, but here the blocks shift to the left. This Techcrunch doesn't use a traditional black-and-white color scheme. Instead, we see the presence of green font. This minor emphasis on color makes the design unique. Otherwise, there are no extra details — all emphasis on valuable articles.

Stereo

. This web agency is clearly distinguished by creativity. Everything here is unusual, starting with the cursor and ending with social network icons at the bottom of the main page. Whether it is worth approaching the design so creatively is up to you. Perhaps the web developers overdid it with some elements and made an utterly unconventional website model. However, their imaginations are open. You may apply to similar technologies and practices, but only some of them at once.
Excellent WordPress Entrepreneur Theme
What is the ideal template? Below we present a couple of examples that are successful in our opinion:
Startup

. This layout is trendy on TemplateMonster. Look how many people bought it! His genius lies in simplicity, logic, consistency, and special effects. But, of course, no one wants to present their company boringly. That's why the developers added some dynamics to the animated effects.

Assetiss

. The product is bright, dynamic, and versatile. With such layouts, the user presents himself as an interior designer, advertising agency, IT company, bank, and metallurgical plant. Bright colors make the appearance memorable and positive. If you need precisely such a message, then choose Assetiss.

MODULOR

. It's great that the template is compatible with two Page builders and MailChimp. These integrations allow you to send newsletters to your potential audience after expanding your contact base. You won't find a more clean and modern design. There are a lot of blocks for placing the pictures. Therefore, if your project needs to be presented as clearly as possible with the help of images, then MODULOR copes with the task perfectly.
You can see the complete list on TemplateMonster by clicking on the link.
Conclusions
When planning a new project, familiarize yourself with and learn the basic things you need. Then, armed with knowledge, you competently control the work of your contractors or full-time marketer. Please read the articles here, there, and here to learn more.
Useful Video
Watch even more news.
WordPress Entrepreneur Theme FAQ
How to download entrepreneurial themes?
Most often, the process looks like this: throw it into the basket, write the contacts, where it is necessary to send and pay. You will receive a letter with the file as soon as possible. Then, click on the file and select Save.
How to install and configure entrepreneur themes?
All these questions have detailed descriptions in the instructions. In addition, when shopping at TemplateMonster, you always receive a detailed manual on settings and installation. This plus is another one to order on such proven marketplaces.
How to get a discount on the entrepreneur theme?
Often, significant marketplaces such as TemplateMonster have sales. See offers with discounts on the link. There are many additional benefits.
Why is the paid entrepreneur WordPress theme better than the free one?
They are more fashionable and look modern. You also get a lot of settings and editing options, adaptive sections, and an SEO-friendly site as a result.