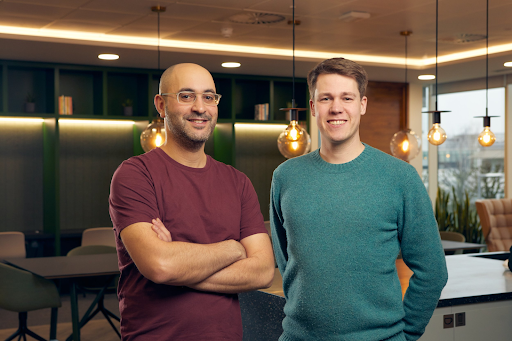 To encourage the use of electric vehicles, a program has been developed in the UK for businesses to buy electric cars more cheaply. The Electric Car Scheme project helps small businesses benefit from this program. Below Tom Eilon, the co-founder and COO, reveals the hows and whys, touching on the topics of software development outsourcing to Ukraine and the lessons he learned from this business.
Too many barriers for small businesses
Previous to The Electric Car Scheme, I worked in a company called Funding Circle. It did small business lending, so I got to understand the challenges for small businesses in receiving financial services. 
In general, these businesses are very underserved because they're small. The fact that they're small means they're quite difficult to serve, meaning they're expensive to deal with. And for the same reason, you're not generally able to sell them at a very high value, so they're mostly neglected by the financial service industry. 
When I left that company, I was interested in what was going to be the next 'big thing'. That's when I came across the transition to electric cars. In the UK, the government offers specific support for businesses to help employees get into electric vehicles through effective reduction of taxes, so I looked at all the benefits and support that people were getting to access electric cars. 
The incentive itself is a powerful, high-value one. But again, this is kind of a financial service that is just being offered to large corporates. I tried to call the suppliers and the first question always was, "Do you have more than a thousand employees?"
Most people in the country work in small businesses. How can we encourage all those people to transition to electric vehicles if they can't use the incentive? There were a lot of barriers, which meant that the policy set by the government did not have the expected impact. And that was a good reason to get involved.
All in all, not only I found the 'big thing' but also had a good understanding of the pains of that client group.
Communication is number one
We're an Internet-based business, as our time suggests. Back in 2020, I went on Google looking for a website development agency to build a website for The Electric Car Scheme. I knew what I was looking for—the one with a dev center in Eastern Europe, that had a broad skill set, and was medium size. It also needed to have good references and communicate well. I reached out to probably ten different companies, spoke with five, and got down to the last two. Eventually, Anadea won.
I think it's the communication that affected my final decision. That was the best. It was a real understanding of my needs and then playing that back to me saying what I needed, like "Here's how we're going to achieve, and here are concerns." 
We started with a small piece of work and then built from there into a permanent team. We did an initial project, which was around six weeks, and that was a good time to establish norms of communication. I was on my own at the time, besides, I had another job. It's now that The Electric Car Scheme is fifty people; back then, it was only me and I was busy. So I wasn't very communicative, which I think was difficult for the team. But we got into a rhythm and made it work for all.
Choosing Eastern Europe was a combination of factors. First, time zone which was pretty easy to coordinate. Second, those countries are generally known to have skilled people. Then, a good level of English. And the services are certainly cheaper than in Western Europe.
Ukraine, 2022, and business as usual
Although we've never once regretted our choice, 2022 has been tough since Russia invaded Ukraine. That was a really concerning time not just for the people that we'd already established relationships with, but for our business. We were thinking what was going to happen and how could this continue to work. A couple of key team members were in Ukraine and we obviously were really concerned for their safety. 
First off, we offered support in terms of anything we could do to be helpful, like visas or anything, but none of that transpired. There was no work done in this first week, but in the following already, it was nearly business as usual!.. The concerns and the background and talks about safety remained, but there was lots of work happening, almost like nothing occurred… Well, that was remarkable. It was within one or two weeks that it felt quite normal again. I commend the team for that, I'm sure it was very stressful.
You can get more things done with a smaller team
We've worked with an outsourced team for a couple of years now and there was a lot to learn from. There are a few things to focus on and I think communication is number one. It's about the level of English and whether developers hear and comprehend your needs. 
Having a cross-skill set in an agency is number two. The team needs to understand the business and the project needs. And then it's always useful to have a broad, kind of a deeper bench as we'd say in the UK; this means many people who have a good skill set that can be relied on or changed into the project if needed.
Then, I think that sometimes, you can get more things done with a small team than with a larger team. A few senior-level people are able to do more than a bunch of juniors. It works well for us and all changes are made really quickly. In a year, we might add one person, but overall, I hope the team stays stable, which will help us keep our fast pace.
My other suggestion would be to try to make it cost-efficient. For example, for smaller tasks like design, we've used a part-time designer instead of a 40-hours-per-week. In other words, all workers but the key ones can work part-time and this won't result in a poorer quality project.
Doing our thing in the smartest way possible
Now, we're trying to grow fast. It's about doing the same in the smartest way possible to maintain growth and get to the stage where we can fund ourselves for further growth. In terms of technology, we're very happy with where we are. We have a small team—in the UK, we have a CTO and one senior developer, several developers from Anadea, and occasionally use design resources, and that's working very well.
---
You may be interested in: Starting a business in Kyiv, Ukraine