The increasing demand for healthcare has been seen to touch the ceiling. The pandemic gave it a booster ride in 2020 and since then the average demand of healthcare that was used to be before is seen to be hiked up insanely. And hence with it, rising healthcare challenges. Some of the biggest problems in healthcare today have seemed to take up ugly faces. All we need to do is have a proper understanding of the same and find the best possible ways to address those. 
The healthcare sector is one of the most hiked industries in the US. We all know selling and marketing in this sector are always challenging. With the growing number of companies, healthcare establishments, and competitors it's always tough to find your place to stand. One as a company or an organization needs to go through a whole lot of challenges to meet the ongoing demands of the industry and outperform your competitors.
In this blog, We at Ampliz are going to put light on some of the major healthcare problems in the US. Being the US , one of the most advanced countries and one of the biggest marketplaces for healthcare companies, it also comes with a whole lot of challenges that one needs to overcome to establish as a successful healthcare provider company or business. Let's talk about some of those challenges that every healthcare provider faces and hence needs to take care of before stepping into the healthcare business.
So, what are they? Let's explore. 
Understanding the Local Competitors and Finding Strategies to Outperform Them. 
One of the foremost biggest problems in healthcare today is creating a name of your own among your existing top-performing competitors. The very first thing one needs to do is identify their competitors and understand and analyze their operations in the region. Perform adequate research on their products and services. 
Research the top-selling products and services and what are the solutions they are trying to provide with those products/services. Have a look at the price quotes they offer. Find out whom they sell to and who are their top customers. By analyzing all these one can conclude an understanding of the market.
Now it's your turn to come up with similar or better products with better price quotes and target the high buying demographics. All this will help you to establish your footsteps firmly in the market and develop a strong foothold. In this way, you can overcome one of the major healthcare problems in the US. 
Building Trust with the Customers 
The second biggest problem and the most important aspect of outperforming your competitor is building trust with your customers. If you can do this, then no doubt, you are the king. 
To do this efficiently, one needs to dedicate their research to understand the needs and demands of the customers. Here one needs to identify what are the major problems the customers are facing and what are the best solutions they can come up with to address those problems.
Conduct research, do seminars, perform meetings, organize online/offline events, and understand your customers, their needs, demands, and problems in detail. Try to gain your customer trust by providing the best quality products and services with premium price quotes that address their issues in a big way.  
Maintain the quality of your offerings to keep building customer loyalty and gain their trust for the long run. Among the other problems, this is one of the most important and sometimes unnoticed healthcare problems in the US, and if handled correctly, can be the highest revenue-generating factor as well.
Connecting with the Right Experts 
One of the most important and challenging aspects of operating a healthcare business in the US is connecting with the right experts to explore new possibilities. It's important to reach out to experts who can help you in exploring new markets, new sets of audiences, new business ideas, and a lot more. You can leverage this data to outperform in this ruthless competition in the healthcare industry. 
Here, experts like Ampliz steps in. Ampliz's Healthcare Intelligence is known for solving these biggest problems in healthcare today in a great way. It has a huge collection of validated and high potential databases that serves the healthcare industry entirely. 
Here you can get access to the databases like real-time healthcare metrics, customer analytics, prescription data, top healthcare decision-makers contact list, top healthcare database, and a lot more.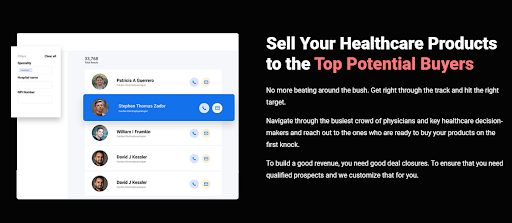 You can leverage this to extend your outreach to the huge healthcare market out there in the US. This will help you in executing new ideas, establishing new business opportunities, attracting new customers, and a lot more than in turn contributes to the growth of your business. 
Providing clear, accurate, relevant information
One of the less talked about but one of the biggest healthcare problems in the US is having access to and delivering validated, and potential information. This brings a huge gap between the decision-makers and business owners, or business owners and the customers.
This gap obviously trunks down to be ugly for businesses to operate in the healthcare market of the United States. All you need is clear, accurate, and efficient healthcare information that serves the purpose of the healthcare businesses.
Data experts like Ampliz help them in accessing the same. The newly launched healthcare intelligence platform comes with high-end intelligence and huge database records that can serve the deepest thrust of data query for any businesses out there in the US.
So to address these biggest healthcare problems in the US, one needs to reach out to the best healthcare platforms like Ampliz and try to explore its top-notch healthcare databases to their maximum possibilities. So leverage these data, redesign your strategies and enter the market smartly. 
For any help regarding the healthcare database, feel free to write to us at [email protected] and get in touch with the best healthcare data experts who can help you solve your queries in the most efficient way.
About the Author:
Prabhakar Alok is an SEO Specialist at Ampliz. He has been also featured as the best digital marketer in India to follow at Software Suggest Website. He has 5+ years of experience in the SEO Industry. Prabhakar has also written 100+ blog posts.
---
Interesting Related Article: "Five Challenges Facing the Healthcare Industry in 2021"