Email marketing is the holy grail of hitting the right chord with your customers. The personal vibe which emails carry is something that a social media post could never attain. Emails are personal. They are there in your inbox because someone thought about you and tried to deliver some information to you. And that brings me to today's talking point: Birthday emails.
Well, given how personal email marketing can get with your recipients, sending them birthday emails is your best shot to leverage this emotion and strengthen (or create) the relation with your subscribers (who might not be your existing customers.) But when you have one nail to hit in the entire year, how do you hit it on the head? That's what we'll learn today as I bring you the most important tips to create such birthdays emails which would leave your recipients feeling 'blessed'. Let's get started!
Deals and discounts
Well, this is the obvious one. Nothing is better than sending your recipients a 'birthday gift' on their special day. This practice would not only boost your brand loyalty and brand value but would also fetch some indirect sales. If the deal is irresistible, then you can also practice word-of-mouth marketing.
Puma did just that in the example mentioned below. They sent their subscribers flat 20% off on their next purchase with Puma. You must also observe how the design language of the entire email is in-line with the messaging and the theme, which brings me to my next point.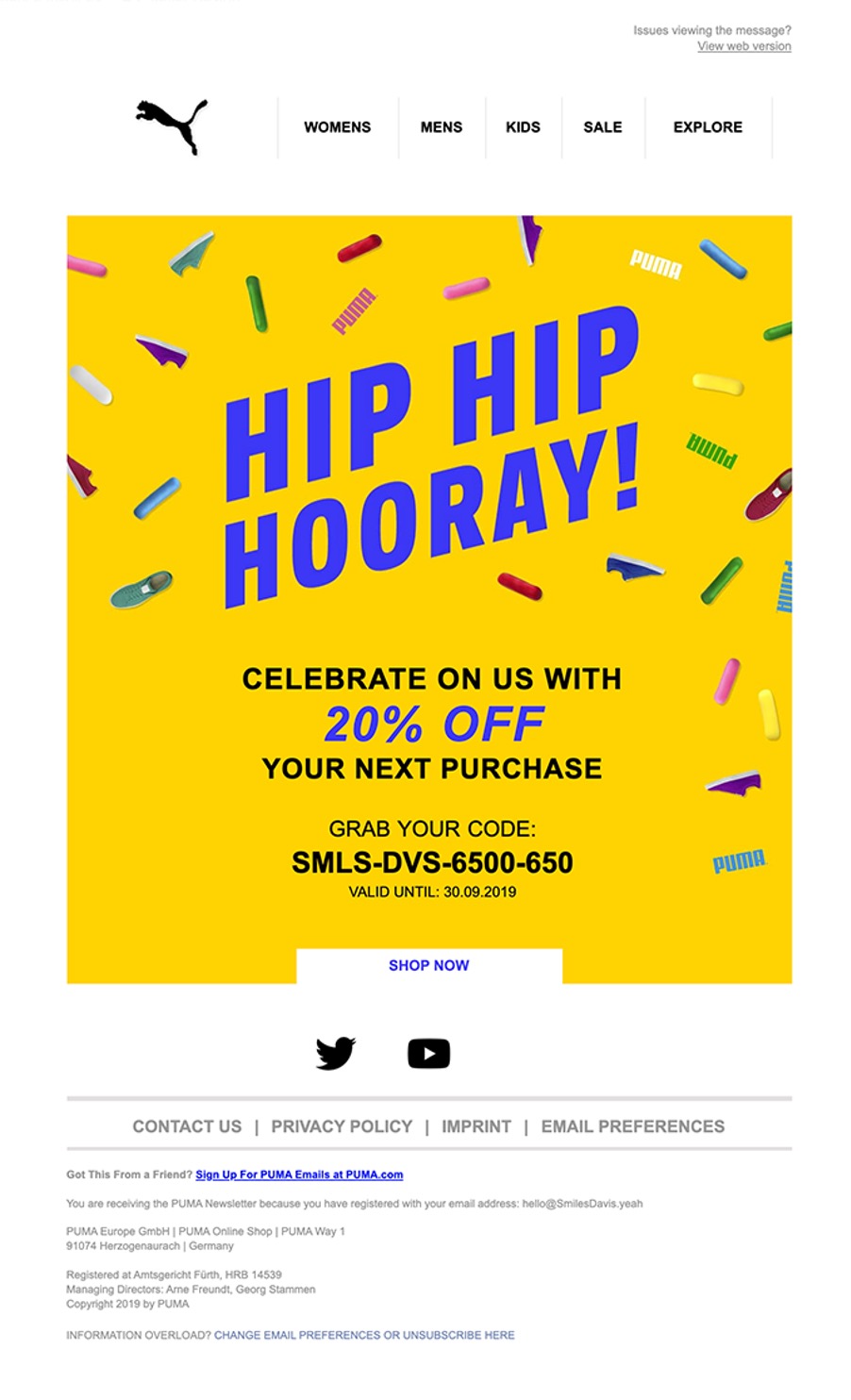 Source: Really Good Emails
Visual appeal
You see, birthdays are all about celebrations, so why send bland emails to your subscribers on their special day? The design should be uplifting and seek happiness. You can take a detour from your 'usual' visual branding elements and use things like pastel shades and illustrations. I am not marketing pastel colors here, but they do radiate a sense of calm and positivity. However, do note that you should not wander far away from your brand identity while trying to be too different. This might hamper your brand identity.
The below-mentioned email from Nike is the perfect example of what I am trying to say. The pastel colors used in the mail go well with the overall theme, but Nike has made sure that they maintain their strong branding as well. The balloon illustration celebrates the birthday, but the shoes instantly make the connection of what Nike is all about.
Source: Really Good Emails
Here's another professional email examples from Intuit Mint. Just one look at it and you will definitely feel all the more special on your birthday. Have a look!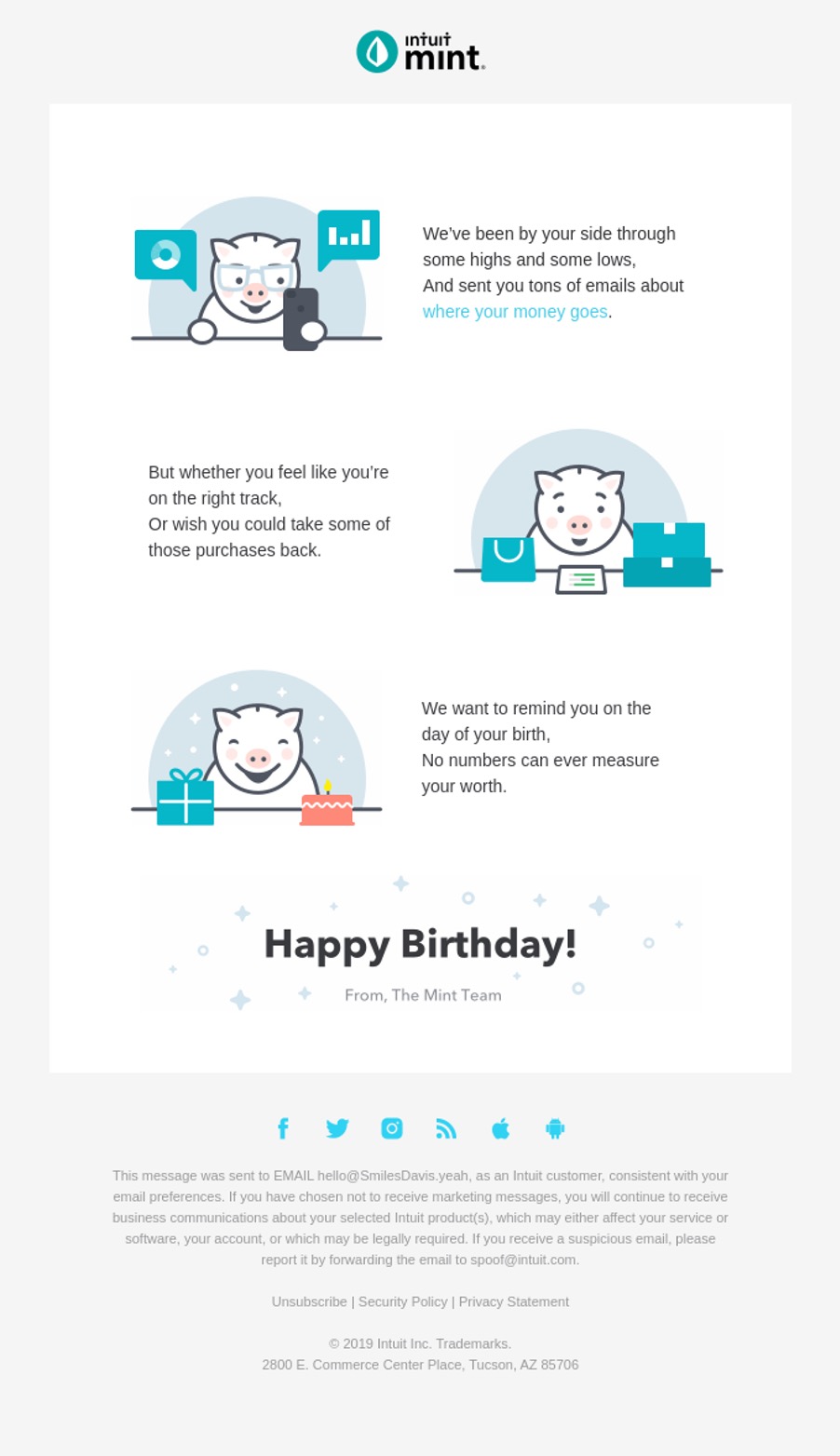 Source: Really Good Emails 
Take a look at another email by Nike that uses an interesting GIF in their birthday email.
Still having trouble while picking the shades and choosing the right visual elements for birthday emails? Well, you can always fall back onto professional services like Mailchimp email specialists or Marketo certified experts. They are the best in the business. Such services would not only help craft birthday email masterpieces but can also elevate the overall appeal of your email marketing campaign.
Calls-to-action
You did everything right: featured a truly irresistible deal and bundled with oh-so-lovely looking email, but what's next? You need to get something out of it, right? Hence, all your email (even the birthday specials) should have a clear and well-defined CTA. By well-defined, I do not mean an elaborated essay, but it should be a clear directive to the subscribers of what they are expected to do next. It can either be registering for the deal or simply adding it to the cart, but there needs to be something to give closure to your email.
Once you have zeroed down on the CTA, follow the usual CTA best practices such as giving it a contrast color, keeping it crisp, using action verbs, etc. This is what Subway has meticulously achieved in their email mentioned below.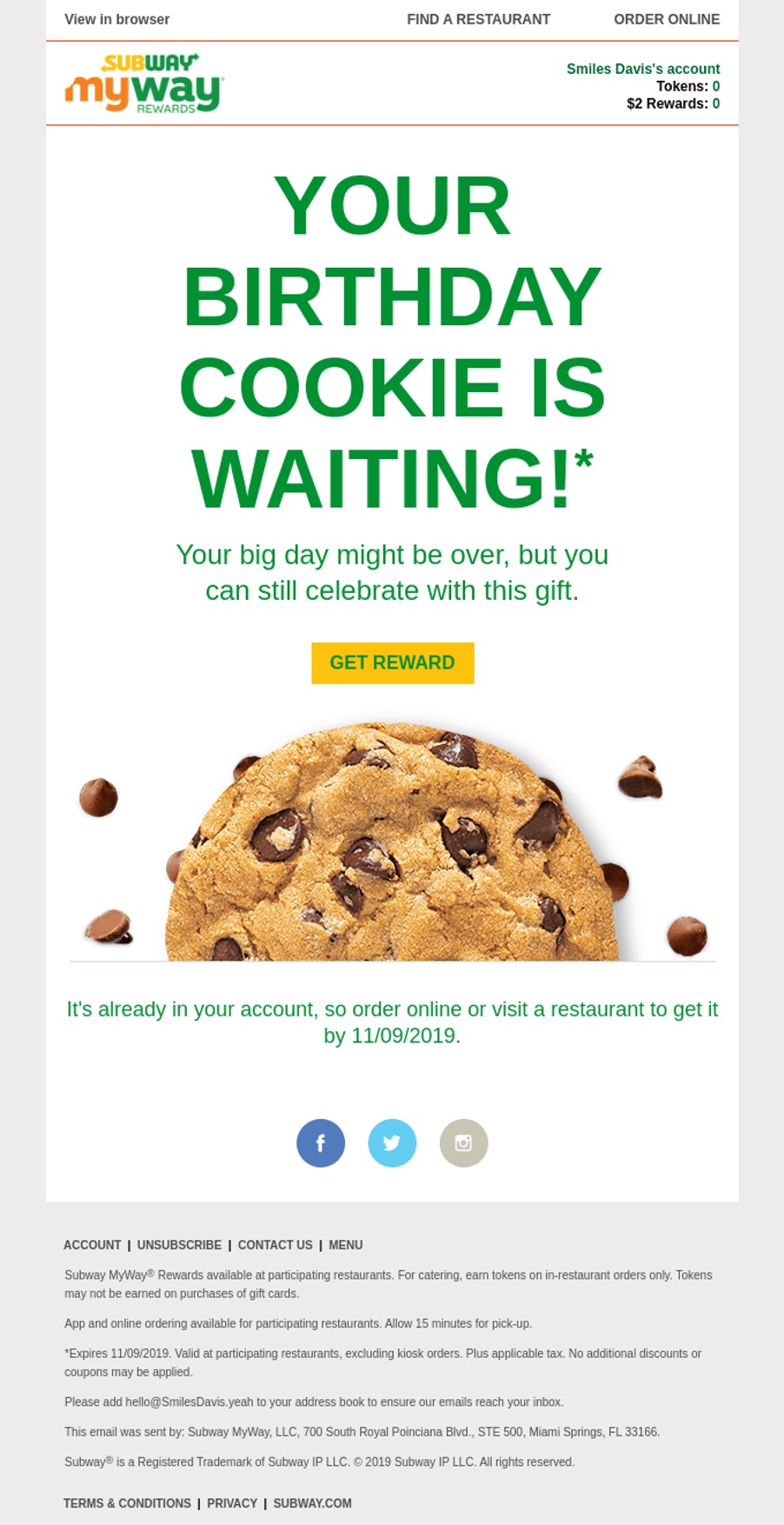 Source: Really Good Emails
One easy way to achieve a well-crafted email is by using email templates meticulously crafted by professionals. Services like Pardot email templates or Salesforce email templates would make your job much easier and give that visual oomph to your email marketing campaigns.
Personal and direct communication
I feel that one common thing that's wrong almost everywhere is the lack of 'human touch' to branding. Nowadays, brands feel more mechanical and, eventually, vague. Make sure the birthday emails you shoot do not sound like that. As I said initially, it's a very personal affair, and hence, you need to direct while addressing your recipient.
I suggest that you include your recipient's first name in the email copy. This would lay a more humane and intimate conversation, thereby creating a more profound impact on their minds. Here's an excellent example from runtastic.
Source: Really Good Emails
Wrapping up
The beauty of birthday emails is that they can be leveraged by any brand, irrespective of the industry or the recipient demographics. They have proven to be highly fruitful for enhancing brand value and brand loyalty in the past. So, using the tactics mentioned above, craft the perfect email for your subscribers and let the numbers do the talking.
Author Bio
Kevin, the Head of Marketing at Email Uplers – one of the fastest-growing email marketing company, specializes in crafting beautiful email templates, PSD to HTML email conversion and free HTML Email Templates. He loves gadgets, bikes, jazz, and breathes email marketing. He is a brand magician who loves to engage & share insights with fellow marketers.
---
Interesting Related Article: "What Does Digital Marketing Do for My Brand?"