A BMW 1bn dollar US investment has been announced, aimed at boosting production by 50% in the US, increasing the workforce, and introducing the new X4 SUV. The new sports utility vehicle (SUV) will be built at the Spartanburg, South Carolina plant, where production capacity is to be ramped up.
The South Carolina plant, which is expected to be able to produce 450,000 vehicles annually by 2016 compared to 300,000 today, will also make a new X7 SUV. According to BMW, the US plant will be its largest worldwide.
BMW aims to reduce its dependence on the tenuous European markets, which in 2013 accounted for 44% of total sales. The new red X7 was unveiled before workers and dignitaries, including Penny Pritzker, the US Commerce Secretary, at a special ceremony on Friday commemorating 20 years of production in the United States.
Update, July 4, 2013: BMW announced a $1 billion investment in the city of San Luis Potosi in Mexico. The new plant will have a capacity of 150,000 cars per year. Mexico is part of NAFTA, which means that goods can be exported to the United States without having to pay tariffs.
Americans buying SUV's again
US consumers are starting to buy cars again at nearly pre-crisis levels, something most European markets are not expected to do for many years. BMW wants to cash in on the US growing market by raising production of new models there.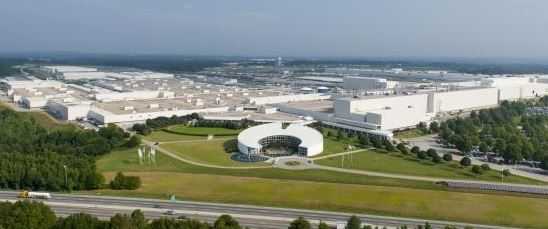 The BMW Spartanburg, South Carolina plant will produce 450,000 cars per year and employ 8,800 workers.
Chairman of the Board of Management of BMW AG, Norbert Reithofer, said BMW is expanding capacity at its US plant "To meet strong global demand for our BMW X models, we will invest a total of one billion U.S. dollars in our Spartanburg plant by 2016. This will increase annual production capacity by 50% up to 450,000 vehicles from 300,000 currently."
"With the BMW X7, we are developing another, larger X model, which we will produce at our U.S. plant."
Reithofer said his company believes the X7 will sell well in China and the United States – two markets BMW cannot ignore.
During the financial crisis a previous X7 generation project was mothballed because it was thought demand would be low and it might be the wrong time to sell a gas-guzzler.
SUV sales have increased over the last few years, and accounted for 32% of all US car sales in 2013, compared to 19% fifteen years ago.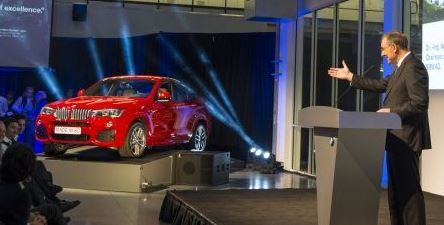 Dr. Norbert Reithofer introduces the all-new BMW X4 at BMW's Commitment in the USA ceremony in Spartanburg, SC.
BMW X7 to be built in Spartanburg, North Carolina
The Spartanburg plant has built the BMW X3, X5, X5 M and X6 models. The event on Friday celebrated the beginning of the BMW 4 production. Reithofer said "With the BMW X7, we are developing another, larger X model, which we will produce at our U.S. plant for our world markets – once again underscoring our commitment to the U.S."
Harald Krüger, BMW Board of Management member for Production, explained how important the US is to the company's overall production strategy:
"The BMW Group aims for a good balance of growth between all markets and continents. The Spartanburg plant is an important building block in our international network of 28 production and assembly facilities in 13 countries today. It makes a vital contribution to profitable, globally-balanced growth."
"The BMW plant in Spartanburg is the best example of our successful strategy of 'production follows the market'. The state of South Carolina has supported us as a valuable and reliable partner throughout our 20-year involvement in the region and played a decisive part in making the U.S. our second home."
BMW 1bn dollar US investment raises workforce to 8,800
After the Spartanburg plant expansion is completed its workforce will rise to 8,800 workers. Reithofer explained that the site's expansion will create 800 new jobs. "It will also make Spartanburg the largest plant in terms of production capacity in our global production network."
The Spartanburg plant exports $7.5 billions' worth of cars annually, according to data from the US Department of Commerce, making the company's American facility the largest vehicle exporter in the US (based on total exports excluding NAFTA). Seven in every ten cars produced in Spartanburg are exported.
According to a recent study by the Moore School of Business at the University of South Carolina, BMW Group activities in the state have a total impact of approximately $16.6 billion on the state economy annually, supporting about 30,000 jobs.
The Spartanburg plant has built over 2.6 million automobiles since 1994.
Video – BMW announces 1bn dollar US investment
Written by [google_authorship]