If you invited members of the public to name the UK's new polar research ship, and hundreds of thousands of them overwhelmingly chose Boaty McBoatface, but you don't like the name, should you respect public opinion or ignore it? This is what appears to have happened, because Science Minister Jo Johnson is said to be cool on the new name.
Isn't this a bit like 'Be careful what you wish for'? If you are going to stick your neck out on a giant PR exercise and invite the whole nation to choose a name, shouldn't you accept the suggestion that is the most popular, regardless of how unsuitable you might think it may be?
If Mr. Johnson is not keen on naming the new polar research ship Boaty McBoatface, that's just tough luck, isn't it? Why did he ask us for our contribution if he then opts to ignore it?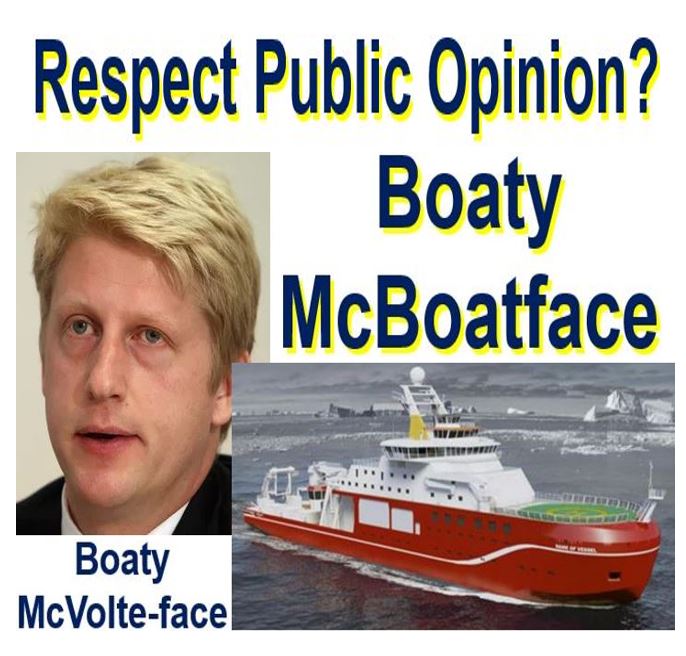 Even if Boaty McBoatface does not get the name so many of us want, perhaps Science Minister Jo Johnson's new nickname Boaty McVolte-face might stick. (Image: adapted from assets3.parliament.uk)
Parliament to review PR campaign
Members of Parliament (MPs) are to review the process that was used to find a name for the new ship. The House of Commons Science and Technology Committee members say they wish to discuss whether the public engagement project related to the search for a name has been a success or a huge failure.
The answer to that question seems simple. If hundreds of thousands of people came forward to suggest a name, it has been a huge success. If their contribution is to be ignored, then it has been a gigantic failure, in fact, more like a giant PR shot in the foot.
---
---
Mr. Johnson believes there are 'more suitable' names for the new boat than Boaty McBoatface.
Next Tuesday, the CEO of the Natural Environment Research Council (NERC), Duncan Wingham – Professor of Climate Physics at University College London, Principal Scientist for the CryoSat Satellite Mission, and the first Director of the Centre for Polar Observation & Modelling – will have to come before the Commons Committee to give evidence.
The NERC, which is responsible for British polar science, ran the online poll. Julia Maddock, Head of Communications at NERC, will join him before the Commons Committee.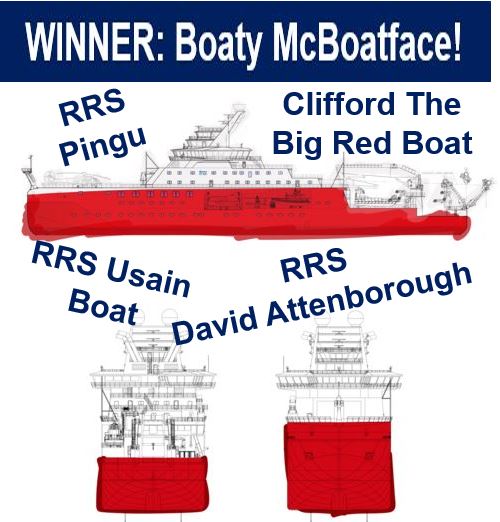 Many funny names were put forward by members of the public. Boaty McBoatface came first, a long way ahead of RRS Henry Worsley, which came second. (Image: adapted from nameourship.nerc.ac.uk)
Will Mr. Johnson's new nickname be Boaty McVolte-face?
Committee Chair, Nicola Blackwood, Conservative Party MP for Oxford West and Abingdon, said:
"Hundreds of thousands of people took part in NERC's competition to name a new polar research vessel. And they'll want to know whether there's going to be a 'Boaty McVolte-face' on the name. My committee wants to explore this as an example of science communication."
---
---
"Was it a triumph of public engagement or a PR disaster? We'll also want to know how NERC intends to build on the mass coverage they've attracted and engage people with the vital polar science that Boaty will be enabling."
The campaign – Name Our Ship – from the outset clearly stated that the NERC would have the final decision on the ship's name, and that the chosen name should be inspirational and related to the ship's mission.
Total surprise at Boaty McBoatface popularity
According to the campaign organisers, the names suggested by members of the public would be regarded only as 'suggestions'.
Nobody expected the humourous suggestion of Boaty McBoatface to become so popular. That name had been put forward by James Hand, a former BBC presenter, who later apologized.
The BBC quoted Mr. Hand as saying:
"I read the story about naming the ship on the BBC website on Thursday and some of the entries were really funny – my favourite was Clifford The Big Red Boat."
"I thought I would throw one into the ring. By Friday night it was leading by a couple of thousand, and when the site crashed on Sunday it was leading by 8,000. It's been utterly bizarre. I've apologised profusely to the people behind the website."
Even so, the name was hugely popular. The website received over two million visitors, while a short video about the ship was viewed more than 50,000 times.
What do you think? Respect public opinion, or ignore it and find a more 'suitable' name for the ship?
Video – Name our Ship
In this NERC Science video, Linton Roberts, Managing Director of Cammell Laird Shipyard, talks about the impact on the shibuilding industry – including jobs and skills – that the new NERC polar research vessel will have.