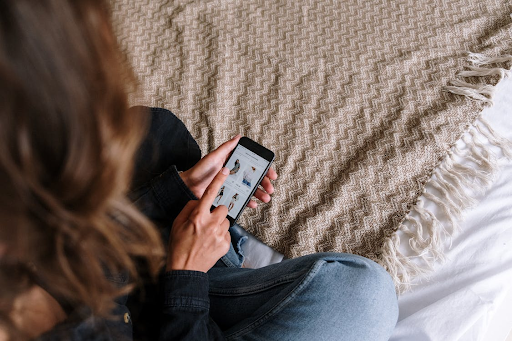 As an ecommerce business owner, your ultimate goal is to drive sales and increase revenue. 
However, with so many competitors in the market, it can be tricky to stand out and attract more customers to your business. 
This is where strategic tactics come in. 
Implementing targeted strategies and must-haves to achieve breakthrough growth in ecommerce can boost your sales and set your business apart from your competitors. 
In this blog post, we'll explore five proven strategies for increasing ecommerce sales and help you take your business to the next level.
Let's get started. 
Plan your shipping strategy
Your shipping process plays a crucial role in your boosting your sales.
After all, an inefficient shipping process can lead to order delays and frustrated customers. 
The first step in ensuring a streamlined shipping process is to develop a solid shipping strategy for your small business.  
Get help from quick tips to plan your ecommerce shipping strategy:

Research shipping carriers and options

. Find the best fit for your business by researching various shipping options and companies. 
Consider factors such as delivery times, costs, and the services they offer and read reviews and compare rates.

Set shipping rates and policies

. Determine your shipping rates and policies, including whether you will offer free shipping and your shipping thresholds. 
Consider factors such as the size and weight of your products and the cost of shipping materials.

Communicate your shipping information

. Display your shipping information prominently on your website and your checkout page. It helps customers know what to expect when placing an order.
Use shipping software such as Veeqo to determine shipping costs quickly. 
The platform can select the best rates automatically based on the order's value, delivery option, weight, and other specs.  
Image source: veeqo.com. 

Use your shipping data to improve continually

: Regularly review and analyze your shipping data to identify trends and areas for improvement. 
It can help optimize your shipping strategy and drive more sales over time.
Offer excellent customer service
Providing excellent customer service can help you stand out in a crowded ecommerce market and encourage customers to return to your business and buy. 
Follow these tips to improve your customer service and, in turn, increase your sales.
Respond promptly to customer inquiries

. Customers appreciate and expect fast responses, so answer their questions and concerns promptly, whether through email, phone, or social media.
For example, you can set up a customer service chatbot on your Facebook page to address common customer questions quickly. 
Sephora's virtual shop assistant on Facebook messenger is one example. 
Image source: facebook.com. 

Address customer issues proactively

. Take the initiative to resolve customer issues with your products or services as quickly and efficiently as possible. It can go a long way in building customer loyalty and improving your reputation.

Offer multiple customer support channels

. Provide various ways for customers to get help from you, such as email, phone, live chat, or social media. 
It allows customers to choose the best method for them, improving their overall experience with your business.
Improve the level of customer service quality that you offer and build a strong reputation for your ecommerce business to drive more sales. 
It can also help your brand become famous on social media, which is always great for bringing in new customers and sales. 
Run email marketing campaigns 
Email marketing is a great way to stay in touch with your customers and promote your business. 
Building an email list and sending targeted, personalized emails to your subscribers can help your business promote new products, offer special discounts, and encourage repeat business.
Learn from these quick tips to run effective email marketing campaigns. 

Segment your email list

. Segmenting your email list helps you send targeted, personalized emails to specific customer groups based on their interests and behaviors.
It can increase your marketing emails' relevance and improve their effectiveness.
Use email marketing platforms such as Mailchimp. It has robust segmentation tools to help you group your audiences and target them easily with your emails.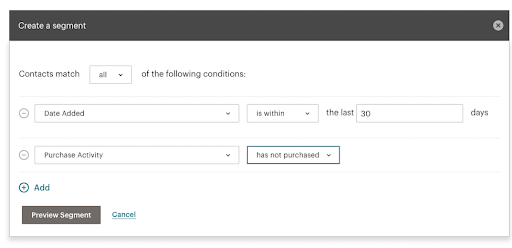 Image source: mailchimp.com. 

Include a strong Call-to-Action (CTA)

. Create compelling email CTAs, such as "Shop now" or "Learn more," to encourage readers to take the next step and buy. 
Follow effective content writing tips to nail your email marketing copies and CTAs. 
Test and optimize your emails

. Test and optimize your email subject lines, layouts, CTAs, and other elements. It helps you determine what works best and has the highest open and click-through rates. 
Regularly testing and optimizing your emails helps you improve their effectiveness and boost your ecommerce sales.
Sending targeted, relevant emails can drive traffic to your website and encourage customers to buy.
Streamline your ecommerce marketing workflows
Streamlining your marketing workflows can help you and your team work more efficiently and effectively, ultimately boosting your ecommerce sales. 
Consider the tips below to handle marketing tasks and projects seamlessly. 

Create a content calendar

. A content calendar helps you plan and schedule your marketing content. It helps ensure you have a steady stream of content to promote your ecommerce business and products.

Use project management software

. Organize and track your marketing tasks and projects efficiently with reliable project management software, so no job falls through the cracks.
The software lets you stay on top of your workload and get everything done on schedule. 
For instance, monday.com, a popular Wrike alternative, offers many collaboration and task management tools to streamline your marketing campaign and project workflows. 
Image source: monday.com. 
Run efficient marketing workflows that support your efforts to skyrocket your ecommerce sales. 
Automate your ecommerce store product management
Automation can streamline your often tedious product management tasks.
Automating product management can also help you work more efficiently and accurately, leading to increased sales. 
Follow these quick tips for seamless ecommerce website product management.

Use product management software

. Automate various aspects of product management, such as adding and updating products, tracking inventory, and generating reports. 
The tools can save time and help you manage your products more efficiently. 

Set up automated email notifications

. Use email automation tools to set up notifications when certain events occur, such as when a product's stock falls below a certain level or when an order is placed. 
It can help you stay on top of important tasks and ensure you don't run out of products and miss sales opportunities. 
Use product data feeds

. Consider using a product data feed to automate adding and updating products on your website, especially when selling large amounts of items. 
A product data feed contains all your product information, including descriptions, images, and pricing. 
You can set up your website to automatically import this information from the feed, saving you time and effort.
If you sell items from an online marketplace, use platforms such as ExportYourStore to automate exporting and importing your product listings. 
Learn how the platform works with this comprehensive ExportYourStore review.  
Automate key aspects of product management on your ecommerce website and streamline your operations to get more sales. 
Increase your ecommerce sales with proven strategies
Boosting your ecommerce sales is essential for your online business's success. 
Implement this guide's strategic tactics to reach a wider audience, establish customer trust and loyalty, run marketing campaigns efficiently, and increase sales. 
Look for ways to continuously improve your ecommerce business and stand out in a saturated market to build a successful online store and achieve your sales goals. 
---
Interesting Related Article: "Latest eCommerce Customer Experience (CX) Trends In 2022"