One of the biggest challenges, developers usually face is having good coding standards and documentation. From freelancers, start-ups, small businesses to large corporates everyone gets stuck when things are not well-organized. It creates a lot of chaos and misconceptions to implement it for a solution.
When standardization is missing everything else is derailed automatically, no matter you try to grab the things.
Today, in this blog we are going to talk something very similar to that, wherein we will understand a framework. And how it's taking a firm command over the developer's community. Leading with its integrity, security, versatility and UI design elements.
Well, by now you might have got a hint about what we are talking about.
No? Still didn't get it? We are going to talk about the Bootstrap framework from every nook and corner. Be its properties, capabilities and why it is favourable for developers.
But before moving forward, did you realize why the Bootstrap framework will work for you?
The main reason is customization and that will lend you plenty of options to convert complex projects into flawless and manageable applications. Moreover, with beautiful webpages, icons, bootstrap templates you will be able to make your website speak itself with its design.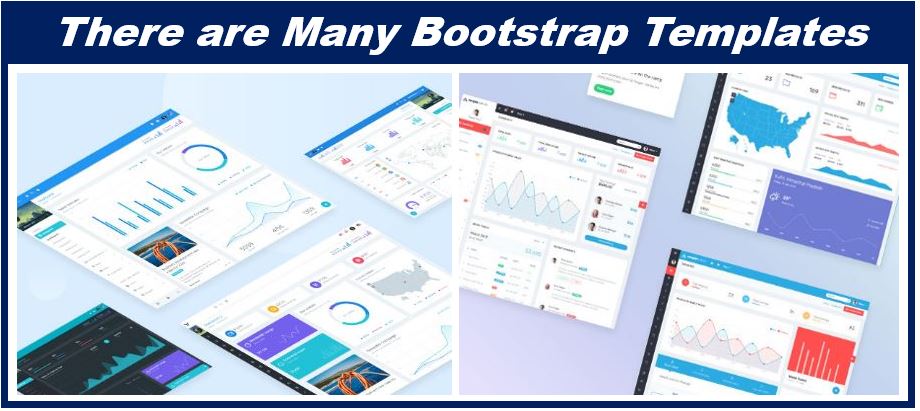 So, first, remove all the unwanted thoughts from your mind. And let us explore the hidden treasures with Bootstrap. Not only that we will try to understand why it's gaining so much of attention.
Before we jump into the real essence of using the Bootstrap framework keeping in mind the future demands. Let's quickly take a look at some core points developers faced in the initial days. Those hard days when the framework was not of much importance.
How the Bootstrap Framework Changed the Life Of Developers
Initially, developers had no proper documentation support, coding structures, and standardization of concepts. In short, everything needed manual interpretation of coding usability, functions, templates and UI elements.
It was hard enough to use the same code at multiple places and lines of code were exponentially increasing. This brought nightmares for developers to work efficiently and maintain cleanliness with coding.
But, today things have drastically changed. Since the emergence of the Bootstrap framework things has looked very simple and optimistic. The clean coding standard, minimalistic design, lesser coding lines, code reusability, UI components can be readily used. Customization options and responsiveness are the key aspects that have brought about a transformation in how web development is done.
Today, developers have got an open hand over coding structures. They can happily build applications using the Bootstrap grid system, prebuilt components, and Sass variables. Many other UI elements can be used instantly in today's time. Bootstrap framework has the capability to integrate with various other well-known platforms like Magento, Joomla, and Joomla. Just a few months ago Bootstrap 4 was launched to simplify the development process of developers.
The most important advantage millions of users can save lots of time, energy and cost on web development. This also means now they can develop websites without any major issues. And smoothly they can concentrate more on new features, functionality and creating a lucrative design for a website.
Novice developers who are entering for the first time into the programming world may find it easy to work.  Having little HTML and CSS knowledge they will be able to work with Bootstrap.
Where Do We See the Bootstrap From Now?
As we all are aware of the fact that responsive design is playing the most crucial role. Especially, in the e-commerce business, customer acquisition, and various other areas, the Bootstrap framework is up surging with time. Bootstrap relieves you from the pain of starting from scratch.
Friends, when we say scratch, the word may sound very simple but it takes a lot of effort. Especially, when you build up an application all from the ground level. You have to focus on tons of things, issues, loopholes, design, and content. But now that Bootstrap has arrived, for developers, it came a long way as a savior. Specifically, an opportunity to focus on the conceptual design of an application than to always roam around the basics.
Today, while most companies have switched over to the Bootstrap framework, the revenue model has drastically changed. Moreover, it is accumulating the market with creativity, user experience, security and enhanced performance.
Now, after knowing all those creamy advantages of the Bootstrap framework, one question remains intact with developers.
Can they start learning the Bootstrap framework, if not yet and achieve the threshold of the development goals?
Is it so simple and promising for a long time?
Relishing the Bootstrap Framework for Future Endeavour
After knowing its advantages, simplicity, reliability, and smartness, you would have fallen in love. And why would one not like it when you can get all as components and ready-to-use plugins.
Looking at the prospect, the Bootstrap framework will be instrumental in relishing the applications and designs with:
Authenticity
Responsiveness
User-experience
Minimalistic design
Pre-defined resources
Clean coding structures
Junk-free standardization of coding
Performance enhancement and stability
Developer-friendly coding environment
While we use a front-end framework to build applications, it reduces the need to reinvent the architecture of designing. The iterative work on a theme or a template from scratch based on the requirement separately is reduced. You can get free guidance on how this framework can affect your Marketing effort by consulting SEO Services in Dubai for better understanding.
This will automatically reduce the overall development cost and time. Earlier, your team had to focus on one project at a time due to the unavailability of resources. But today things have changed and due to such frameworks, you can now focus on multiple projects at a time.
And one thing we should not forget that the Bootstrap framework story started with Twitter. So, in such a short period gaining popularity means there is still a lot to be explored from Twitter in the coming days.
Conclusion
We must emphasize on one single thought-process, whenever a framework is supported by a giant company. Also, frameworks having strong community support that always steadily moves forward. The things will take time but when its results are felt in the long run you will feel the immense difference with methodology.
Happy coding and exploring!!!
Stay Home!!! Stay Safe!!!
---
Interesting related article: "What is SEO?"