Socks. You probably have a drawer of them as well as a place where you keep mismatched pairs in case you happen to find a match one day. You probably wear them every day as part of your work wardrobe and might even wear socks with sandals on your days off. Socks are a big part of your daily life. But have you ever wondered how the funky little sock shops you visited here and there trended into a much bigger businesses? Well, we did and we want to tell you all about that process.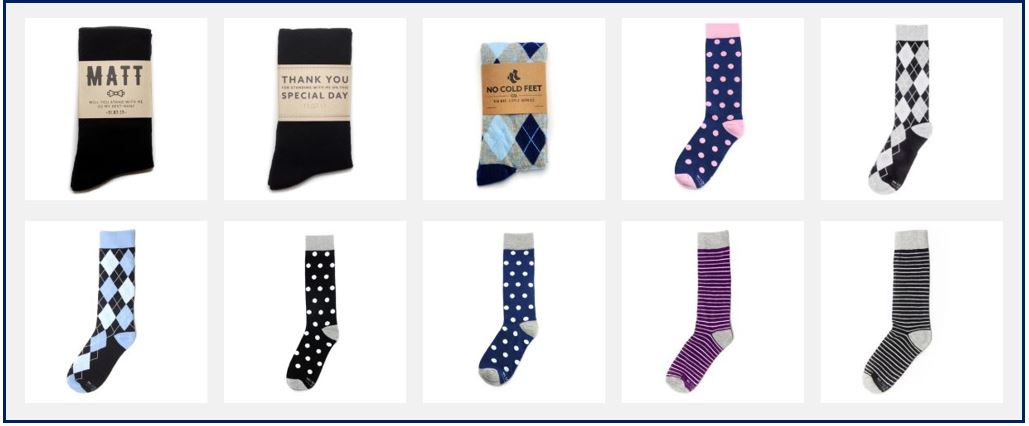 1. Entrepreneurs Typically Lead The Way
Consumers are famously fickle and buying patterns are unpredictable.  Through all of these changes, entrepreneurs stick it out during bad times and are always hopeful for good times. A boutique sock company can get through hard economic times because it has less staff, less overhead, less of everything so it is far more flexible than larger businesses. Smallness gives these operators room to experiment a little bit and try new things.
Why not sell socks that glow in the dark?  The products large companies won't sell, can be perfect niche markets for smaller companies. Sometimes taking those risks can result in new fashion statements.
2. New Technology Opens Many Doors
The internet and social media have put boutique sock companies in front of a customer base they could never before reach. Google My Business, websites, social media pages, and eCommerce opportunities have brought many smaller businesses on even footing with larger corporations.
New technology has connected small businesses to people who are looking for just the products they produce and sell. Surfing the web has given life to an entirely different method of shopping and enhanced parcel delivery services.
3. The Personal Touches That Count The Most
The impersonal treatment experienced when interacting with a large corporation is often annoying and can make customers feel like they don't matter much beyond the cash register. Small boutique sock companies focus on personal contact and customer service. The connection is social as well as financial.
A company that truly cares about its customers, and shows it with good service and respect, builds brand loyalty. Small businesses find this easier to accomplish simply because contact between company and customer is closer and resembles the rapport between friends. Large corporations cannot achieve this level of personal interaction.
4. Socks Go Beyond Just Different Colors
The rise of socks for different occasions is one innovation that pushed the boutique sock company movement into the mainstream. Sure, socks are always available in a variety of standard colors, but smaller sock companies stepped out of the box and created socks with patterns, pictures and bold, bright colors.
Different kinds of socks made from varied textiles are intended for different purposes. You can find athletic socks, socks for comfort, socks for special occasions, socks for groomsmen by No Cold Feet, socks for fun and socks for just about any personality under the sun. All of this is thanks to entrepreneurs expanding product lines.
5. Ask For And Listen To Feedback From Customers
Boutique sock companies have turned into big business by paying attention to their customers and what they say. We've already discussed the importance of the personal interaction between company and customer but listening to what customers are saying about the products they buy makes a big difference in the overall scheme of things.
Customers are like friends and when they trust you, they will be open and honest about what they want or need. If they don't like something about a product, expect to hear about it. Timely responses to this feedback improves your product selection and quality as well as customer relations.
6. Share Success With Those Who Support Your Venture
This is a bit of an extension on the point about providing strong customer service. Boutique sock companies can share more than just product information with their customers. If a specific type of sock becomes massively popular, the company makes a little more money.
The small business builds on that customer support by giving a return to its customers for their ongoing patronage. This return can come in many forms ranging from price reductions, giveaways, bonuses, or any other incentive program that says "thank you" to the customer base.
Giving something back when celebrating success goes a long way to building brand loyalty.  These happy customers will take to social media to tell their friends about your great company, and so give you even more customers!
7. They Never Lose Sight Of Why They Are In Business
Big business sometimes forgets its purpose.  Smaller companies, such as boutique sock companies, have their purpose written into the business plan. Knowing the purpose of a company serves as a grounding point for decision making whenever the company considers recalibrating its focus.
Small business operators become successful because they typically do not deviate from their core principles and the reason why they got into business in the first place. Big businesses would do well to remind themselves of this example.
In Conclusion
Entrepreneurs, such as boutique sock companies, have the vision, flexibility, and ability to make an impact on their specific industry just by doing what they do best. This usually results in trendsetting examples of how a small manufacturer with a great idea got from Point A to Point B.
With innovative new ideas ranging from online sales portals to bright and bold colors and designs, small sock companies are making an impact that has got the attention of the bigger companies. That, in a nutshell, is how a boutique sock company can become a big player in the world of comfy footwear.
___________________________________________________________________
Interesting related article: "What is an Entrepreneur?"