The deep, rich color of blue sapphire gemstones has made them a favorite for jewelry for centuries. The gemstone is believed to have magical properties, which could be why they are so sought after. Blue Sapphire stone is also known as Neelam in Hindi. It is believed to be the gemstone of Saturn or Shani.
Historically, ancient Greek and Roman civilizations used blue sapphire for spiritual purposes and believed that the stone had certain healing powers. The stone is associated with the throat chakra, which governs communication and self-expression.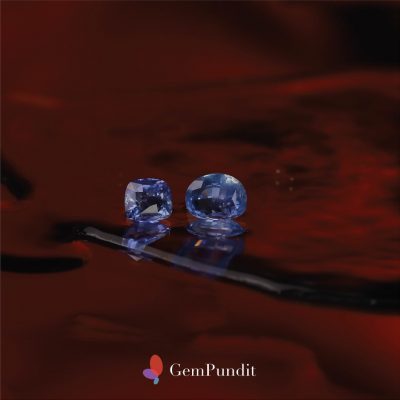 Benefits of Blue Sapphire
What makes the blue sapphire gemstone so special? How is it different from other stones? Many people believe that the stone has healing powers. It's thought to be able to relieve pain, treat illnesses like malaria and cancer, ease menstrual pain and assist with childbirth and fertility.
Others believe that wearing the stone will increase a person's wisdom or improve their vision or strength. Whatever its mystical properties may be, one thing everyone agrees on is that it looks great!
Varieties of Blue Sapphire Jewelry
There are many varieties of blue sapphire available, including natural stones and lab-created stones. It can be found in opaque or translucent stones and comes in many different shades of blue, ranging from light blues to deep navy hues.
Some of the most popular types of blue sapphire jewellery include: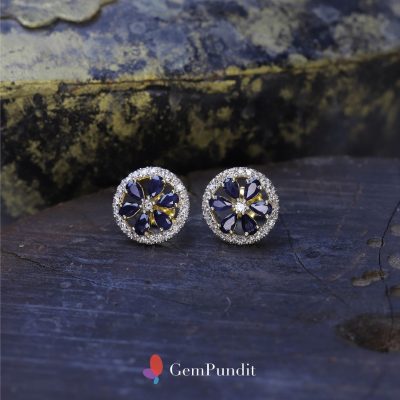 Blue Sapphire Earrings
Earrings are the perfect way to show off the colour of any gemstone, and none more so than blue sapphire. If you want to make a statement with your earrings, choose a pair that features intense, vibrant colours: think deep blue or even purplish-blue hues.
Blue sapphire earrings also come in smaller sizes; they're perfect for everyday wear or an understated accent to other pieces in your wardrobe. Smaller stones give way to more delicate designs, such as braided gold or fine filigree wirework—and those let you add just the right amount of sparkle to your look.
Blue Sapphire Ring with Oval Cut
The oval-cut Blue sapphire Stone is a classic choice for a ring. This stone shape is not quite round and not quite square, so it offers the best of both worlds. The oval cut gives this stone a unique shape that makes it stand out from other types of stones. This blue sapphire ring looks great when paired with white gold or silver bands.
White Gold Necklace with Baguette-Shaped Stones
If you're looking for something more modern, you can't go wrong with a white gold necklace featuring baguette-shaped stones. Baguette stones are rectangular and feature sharp corners, which makes them a nice contrast to the soft curves of your collarbone.
The white gold band plays up the light tone of these stones while making them look more striking against your skin tone than they would in yellow gold or rose gold settings.
Princess-Cut Stud Earrings
Stud earrings are pretty versatile, and you can wear them with any outfit. This cut features a square or rectangular shape with four-prong settings that firmly secure the gemstone. Princess cut blue sapphire earrings are classic and modern, making the perfect gift for any woman in your life.
Blue Sapphire Vintage Earrings
Vintage earrings were made during the late 19th century and early 20th century. Women typically wear these earrings, and they can be costly. They are so expensive because they usually contain diamonds and other precious stones such as rubies, emeralds, and sapphires.
However, some people prefer to purchase cheaper vintage earrings that do not contain any of these valuable stones at all.
Art Deco Style Earrings
These earrings have a contemporary design that makes them look modern but still retain their classic look. They usually come with either square or round-shaped diamonds set in white gold settings.
Blue Sapphire Butterfly Pendant
If you're looking for a unique piece to add to your collection, this pendant is a great choice.
While it's true that most butterfly pendant necklaces are made with other gemstones, such as rubies, emeralds, or garnets (to name a few), blue sapphire is a popular choice for this type of necklace. That might be because the blue of the stone pairs so well with the bright, colourful details in butterfly jewellery.
Additionally, some people like that the deepness of the stone contrasts with the lightness of butterflies—it creates an exciting look that is aesthetically pleasing.
Blue Sapphire Rings with Diamond Band
If you're looking to express your love in a way that's both thoughtful and beautiful, one of the most popular styles of engagement rings is a blue sapphire ring with a diamond band. The sparkling diamonds add an air of elegance and luxury to the blue sapphire, making it a luxurious and fun choice for any occasion.
A ring like this can be worn as an everyday accessory, an engagement ring, or even both.
How to Choose the Right Blue Sapphire Jewelry
Sapphire gemstones are a beautiful and classic choice for any jewellery piece. If you're looking for the perfect blue sapphire to pop out of its setting, you'll want to make sure you're choosing the right stone.
The first thing to consider is how much sparkle you want in your ring. Sapphires with a higher clarity rating will have fewer impurities, which means they'll be more brilliant. Of course, the larger and more vibrant the stone, the more expensive it will be—but we've found some great options that won't bust your budget.
Next, you'll want to consider colour. The most valuable sapphires are pure cornflower blue—which includes both light and dark blue stones. If a sapphire has a greenish tint or is too dark, it will likely cost less than other stones of similar size and clarity.
Finally, when picking out your Neelam stone, think about how big it should be. For example, if you have small fingers, a large stone may look out of proportion with your hand; but smaller stones can appear lost on them if you have larger fingers and hands.
Choose a store like GemPundit that offers a comprehensive variety of blue sapphire jewellery accentuated by pure and natural stones.
---
Interesting Related Article:"Gems and Jewelry Market: Growths & Trends"