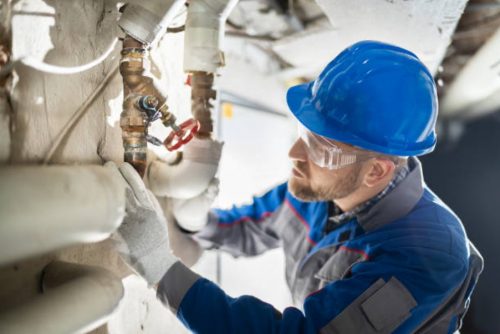 Building maintenance includes all those activities that are performed for retaining and restoring the functionality of commercial and residential properties. This includes a wide array of tasks, such as maintaining the electrical system, taking care of plumbing, cleaning, and landscaping. General building maintenance is a type of preventive maintenance that is not aimed at anything specific.
General building maintenance is carried out for preserving the safety, functionality and comfort of a facility for all occupants. This includes the owners, employers, workers, vendors, clients, customers, and any other visitors. It is hard work to keep up with building maintenance. However, neglect may result in frequent and expensive repairs and a gradual decline in the property's value. It may also result in decreased business. Use this handy general building maintenance workflow to ensure that nothing is forgotten.
Seasonal Building Maintenance Workflow
Climate and location can have different effects on a building. There are different maintenance tasks that should be performed as the seasons change. You can add any other task to this workflow as you find unique to your location or particular building.
Workflow for Spring Building Maintenance
Service air conditioning units
Check for dust build-up in the HVAC ducts
Prep the landscaping:

Trim shrubs and trees
Fertilize and mow the grass
Clean landscaping
Prepare garden beds

Pressure wash hardscapes
Establish a watering schedule for plants and grass
Inspect outdoor lighting
Workflow for Summer Building Maintenance
Clear gutters and drains
Clean debris from the roof
Check the roof for damage
Confirm the recycling area and trash area are in good condition
Inspect the windows
Inspect the parking lot condition, signs, and asphalt striping
Inspect structural materials for peeling paint, rot, and rust among other things
Inspect the grounds for erosion and water run-off issues
Workflow for Fall Building Maintenance
Service the boiler or furnace
Rake and remove any fallen leaves
Winterize the irrigation lines
Mark the driveways and streets for snowplows
Inspect for leaks in the plumbing
Seal cracks in the asphalt or parking lots
Workflow for Winter Building Maintenance
Prepare sensitive structures and landscaping for snowfall
Inspect the roof for any ice dams
Inspect the interior of the building for maintenance issues:

Bathrooms
Pantries
Common areas

Check that all light switches and GFCI outlets are functioning
Inspect the floors and ceiling for any damage
Hire snow removal services
Workflow for Year-round Building Maintenance
These are a few maintenance tasks that need to be performed at regular intervals:
Clean window glass, hardware, and tracks, by commercial cleaning services in Miami
Replace damaged interior and exterior light bulbs
Check batteries in the carbon monoxide and smoke detectors
Replace air filters in the HVAC
Check for visible signs of leaks
Inspect for signs of pest damage or rodent infestation
Test the fire alarm
Service the fire alarm and fire suppression system
Replace the water filters
Inspect the fire extinguishers
Inspect all OSHA fall prevention equipment and devices
Inspect latches, hinges, door closers, and locks for proper operation
Address anything else that needs to be taken care of
Components of a General Building Maintenance
These are a few important components that cannot be missed in a general building maintenance workflow:
Masonry
You will notice signs of damages on the masonry and exterior walls with time. These should be addressed as soon as they crop up if you want your establishment looking well kept. Building eaves, arches, and canopies should be inspected frequently and carefully. These are prone to falling to ruin. You should also pay attention to any visible demolished areas or cracks in the exterior of the building. Soffit and routine roofing checkups can be carried out along with the rest of the building exterior inspection.
Building Openings
There are a number of openings to a building, such as gates, doors, and windows. These should be checked for damage or breakages. In particular, doors and windows have varying durability depending on the material they are made from. They may need to be taken care of on a weekly basis and repaired or replaced, whenever required. You should pay special attention to smaller parts, such as locks, hinges, and handles.
These can break faster and prevent the door or window from functioning properly. Gates and metal security fencing should also be paid special attention. Take care of any elevators that open directly to the outside. You may need to consider the security aspect of these elevators as well.
Lights and Plumbing
Any lighting issues should be addressed immediately by the facility manager. Damaged or broken bulbs lend an air of neglect to the building. This is particularly true for exterior lighting. You may be giving miscreants an opportunity by not fixing parking lot and foyer lights. You should have the entire wiring system checked at least once a year for any potential defects and faults. Power supply should be checked on a daily basis by the maintenance team.
Plumbing defects are usually not as easily noticeable as lighting issues. This is why the plumbing team should be equipped with a checklist. It is the facility manager's responsibility to ensure the plumbing team does a daily, weekly, and monthly check of all faucets, valves, and other equipment. They should also work with the Hamilton landscaping team to prevent any irrigation issues. If required, you should hire an irrigation specialist to take care of any concerns.
Fire Safety Equipment
It is required by the law to check all fire safety equipment and maintain a record of the inspections. You may place your facility at a risk of fire and extensive damage if you haven't already made this part of your routine preventive maintenance. In addition, you would also face heavy penalties and fines for not adhering to government regulations.
Fire extinguishers should be serviced at least once every year depending on where they are located. Crawl spaces should be inspected frequently to prevent any fire hazards from building up. You should have your sprinkler system maintained by professionals along with the rest of the equipment. It can be difficult to keep on top of all these different maintenance components. Experts recommend investing in an automated maintenance software program that keeps a track of everything to ensure predictable results.
---
Interesting Related Article: "A Quick Guide To Boiler Maintenance"