British scientists, engineers, technicians and researchers were shocked and dismayed to learn early on Friday morning that their people had voted for Brexit – to leave the European Union. The UK has been a member of the trading block since 1973, which means that very few Britons remember ever having worked when their nation was not a member state.
Even though Great Britain is among the five leading science research and development nations globally, science and technology was talked about surprisingly little during the referendum campaign, which started in April 2016.
Despite science and technology not being at the forefront of issues discussed during the campaign, the vast majority of scientists who did voice opinions urged people to vote to Remain in the Union.
Virtually all British scientists, engineers and researchers were shocked, dismayed and ashamed when they woke up to find that Britons have voted to leave the European Union. They believe British science will suffer as a result.
Brexit a serious worry for scientists
US journal Science quoted Steve Cowley, Director of the Culham Centre for Fusion Energy near Oxford in England, home of JET (Joint European Torus), a fusion reactor sited in the UK, who said:
"This is a really serious worry for me. I fear desperately for U.K. science. There is no way I can pretend to be anything other than dispirited and disappointed."
---
---
Simon Wessely, President of the Royal College of Psychiatrists in London, said:
"Whilst I don't believe that people voted to leave the E.U. with science and health foremost in their minds, I fear that the consequences for both will be serious over the coming year unless we take firm and decisive action now."
Emily Morris, a PhD student working on plant root development at the University of Nottingham, UK, told the prestigious journal Nature:
""I am 9 months into my PhD and this result makes me terrified about my future in science. Many people are commenting that young researchers would be better off moving away from the UK now."
"The atmosphere in the lab today is depressing. A day of grieving should be allowed but I hope by Monday scientists will be discussing initiatives to save UK science rather than how to jump ship."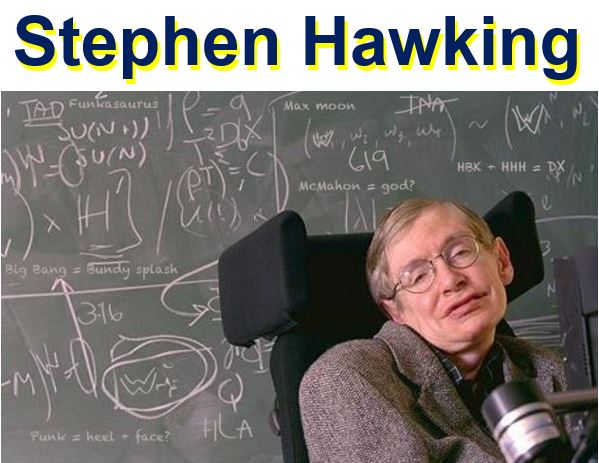 Professor Stephen Hawking warned that leaving the European Union would most likely be a 'disaster' for UK science.
Bewildered and ashamed
Dean for Europe at the University of Aberdeen in Scotland, Professor Anne Glover, a former EU chief scientific adviser, said she was personally heartbroken and has great concern for the future of UK science, engineering and technology.
---
---
Prof. Glover said:
"Our success in research and resulting impact relies heavily on our ability to be a full part of European Union science arrangements and it is hard to see how they can be maintained upon a Brexit."
Prof. Glover added that she was bewildered and somewhat ashamed by her own country. She had never thought this would happen.
Britain leaving the EU also affects scientists working in other EU member states. Christian Möstl, who studies physics at the Space Research Institute of the Austrian Academy of Sciences, Graz, Austria, explained how his current research and probably future studies are linked to the UK being a member state.
Mr. Möstl explained:
"While collaborative funding may get much more difficult, researchers from the EU should collaborate with their UK colleagues like we've always done it and like we don't care about this result."
"Even more so now. I work in space and astrophysics and I am currently participating in an EU-funded FP7 project on the prediction of solar storms, led by the UK's Rutherford Appleton Laboratory. The Brexit directly affects us, as we are planning on a follow-up project and now have no idea if that is even possible."
"Cambridge thrives as part of a wide international community" – further statement from our Vice-Chancellor https://t.co/8FMyOoVx4G

— Cambridge University (@Cambridge_Uni) 24 June 2016
Even though the total amount of funding coming from the EU is tiny compared to what UK scientists receive from British public bodies in the form of grants, Britain has generally done extremely well in the race for EU funds.
Europe's Horizon 2020, the largest EU research and innovation programme ever, with almost €80 billion of funding available over 7 years (2014 to 2020), plays a crucial role in fostering cross-border collaboration and boosting research in scientifically less well-developed nations.
According to the European Commission, Horizon 2020 "promises more breakthroughs, discoveries and world-firsts by taking great ideas from the lab to the market."
How and why we must prevent any Brexit brain drain and keep our science and medicine borders open for business https://t.co/Pgg9u8TzfE

— Simon Wessely (@WesselyS) 24 June 2016
The Wellcome Trust biomedical research foundation in London said in a statement yesterday:
"The UK's vote to leave the European Union is understandably causing considerable uncertainty for British science and research.
"Wellcome is committed to ensuring that science and research are properly considered in the exit negotiations, that existing public funding is maintained and that international collaboration is not hindered."
A bad day for UK and European science
Helga Nowotny, professor emerita of social studies of science at ETH Zurich in Switzerland, and a former president of the European Research Council, said:
"It's a bad day for Europe, the U.K., and European science. I think the E.U. funding was such a significant part of U.K. science funding. I think this will really lead to a dramatic drop in funding, and it will not be made up by charities or national government."
"This will disproportionately affect young European researchers, who are largely funded on soft money. I find this extremely worrying."
"We look forward to continued strong ties with Europe and the world." Imperial's leaders highlight our European ties https://t.co/jQmej2X5d8

— Imperial College (@imperialcollege) June 25, 2016
Scientists at Imperial College London, a leading public research university, were shocked and alarmed by the referendum result. President Alice Gast and Provost James Stirling sent the following email message to students and staff:
"Imperial is, and will remain, a European university, whatever your view of the referendum outcome. We are very proud of the innovations, ideas and inspiration that come from the European members of Imperial's global community."
"We are determined that political changes will not hold Imperial back from delivering excellence in research and education for the benefit of global society. We will vigorously defend our international values if they are threatened and will continue to think and act internationally."
"Our European students, staff and partners are crucial to the current and future success of this great university, and we look forward to continued strong ties with Europe and the world over the coming years."
The university says it is urgently seeking clarification from the authorities regarding the visa and fee status of non-UK students from EU member states, as well as a number of other key policy areas for the College as the UK negotiates its future relationship with the trading bloc.
Video – Stephen Hawking urging vote to remain in EU
During the referendum campaign, Prof. Stephen Hawking together with 150 eminent British scientists urged Britons to vote to remain in the EU. They said that Brexit would be a 'disaster' for science.