Workplace accidents can happen due to a variety of reasons; sometimes, due to negligence, but it may also arise from an unfortunate event that can occur without warning. The worst thing that can happen after an accident is when employees fail to act promptly. An accident can lead to serious injuries, or worse, death. That's why an immediate response is very critical.
An unsafe workplace is not good for the employees and the company's reputation itself. If an employee or customer had a slip and fall accident at the business premises, the staff's ability to respond to the situation says a lot about the company. Hence, a comprehensive first aid training would benefit the business and all its employees.
What Are the Benefits of First Aid Training for Businesses?
There are many reasons why businesses should require first aid training for employees. Although accidents may be minimized by complying with safety standards and procedures, it's best to be prepared if an accident does happen.
In Melbourne, professional first aid trainers can be contacted to do on-site training for employees inside the workplace. If your company can do that, then it is highly recommended to do it as soon as possible.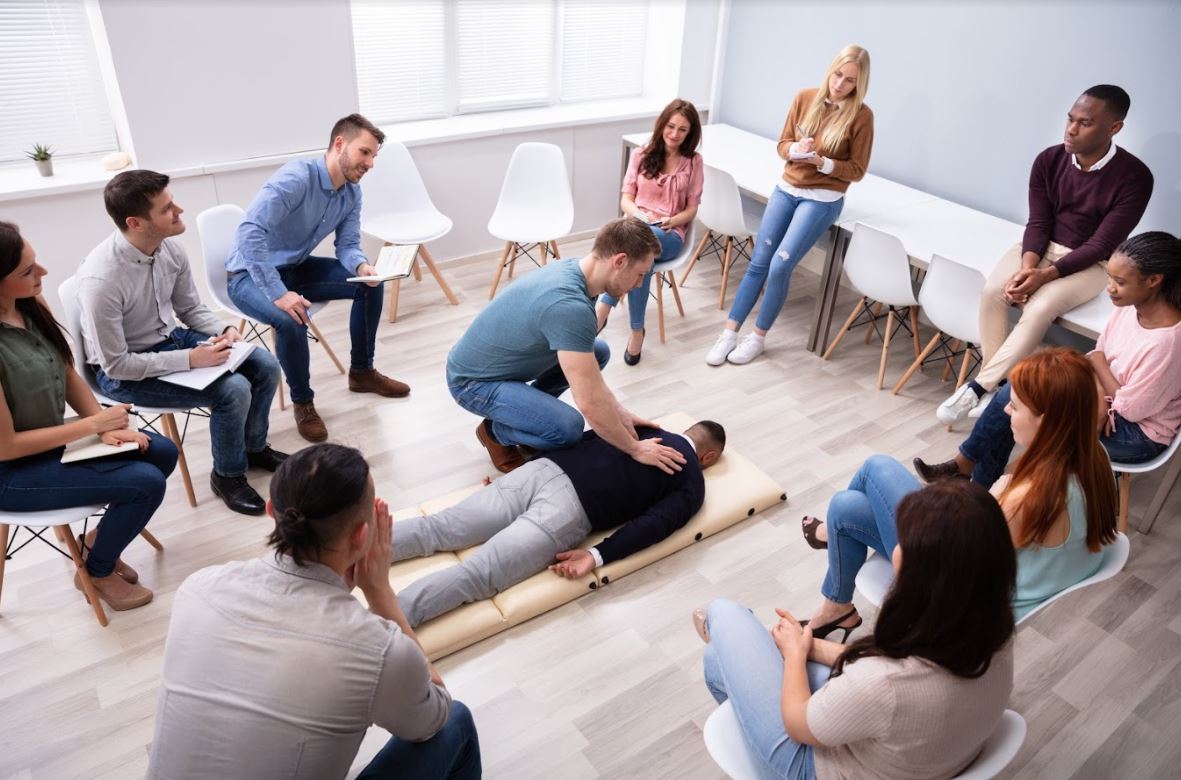 Once you provide first aid training to employees, the business can enjoy the following benefits:
Ensure Safety in The Workplace
First aid courses are usually targeted towards those working in industrial, construction, and fishing or agricultural businesses. These businesses usually record the most injuries among their workers. Other industries that can benefit from first aid training may include warehouse, automobile, and transportation companies.
However, all business owners should invest in their employees' first aid training to increase awareness of safety protocols. This is because any workplace can potentially encounter accidents that involve team members who slip and fall, or sustain physical injuries such as cuts and bruises.
Boosts Emergency Preparedness
No one knows when an accident will happen. A perfectly normal day at the workplace can turn chaotic when an employee or customer gets hurt. First aid training helps staff respond faster to emergencies and prevent further accidents from occurring.
Creates a Positive Reputation for the Company
To create a positive work environment and stellar reputation in the industry, your employees must be properly trained to handle emergencies at any given time. If you want to boost the company's reputation, you have to hire professionals who can perform first aid training for all employees and guests at any time of the day.
Avoid Unnecessary Expenses
With proper first aid training, your company can save expenses from the costs of treating future injuries from accidents. Whether a customer or employee gets hurt at the business premises, delayed treatment may worsen the injuries and would require costly medical care.
The goal of first aid is to minimize the pain and discomfort of the injured victim while waiting for paramedics to arrive. You can avoid costly medical bills and personal injury lawsuits by making sure everyone in the organization is prepared to handle any emergency.
Boosts Employee Morale
First aid training empowers your team members to handle emergencies and accidents at the workplace. It helps staff to think on their feet and be more vigilant. Companies that provide first aid training may provide participants with a certificate of completion, which means they'll be able to add these skills to their resume.
Takeaway
Before choosing a first aid training program, some things have to be taken into consideration. First, you have to determine if the program would provide the services needed by your company. The right program should provide both theoretical and actual hands-on training.
There are a lot of companies that provide first aid training for business organizations. Choose the one that will best fit your employees' needs. Most importantly, make sure that the institution that's offering the training is accredited and recognized by your state.