Businesses who serve both consumers (B2C) and companies (B2B) must adjust their thinking to allow for very diverse audience types. What works for an organization serving only one segment or the other doesn't suffice for a business to many (B2M) model.
The Small Business Administration (SBA) estimates small businesses generate about 65% of new jobs for the United States. If you're like most B2M companies, you likely fall into a small to mid-size business category. Although over 400,000 new companies form each year, about as many as that fail. Figuring out what works to keep your business in the percentage of successful firms after five years means adopting the best operational practices.
These nine habits are well worth forming going forward. We'll also include some examples of corporations who got things right so you can learn from their victories. Here's where to begin:
1. Plan Your Marketing Strategy
Customers won't flock to you. You must actively seek them if you want your business to grow. Plan a marketing strategy attached to the goals you have for growth. While your plans should align with seasonal sales and new product releases, create an approach flexible enough to change on a dime when needed. You never know what events might occur in the world and impact your company and your customers.
2. Create Clear Calls to Action (CTAs)
When you serve more than one buyer persona, you need to make it clear where users should go to get the information they need. You don't want a business owner to go to your consumer pages and vice versa. Instead, create a buyer's journey for each segment of your audience and provide clear direction on which path to take.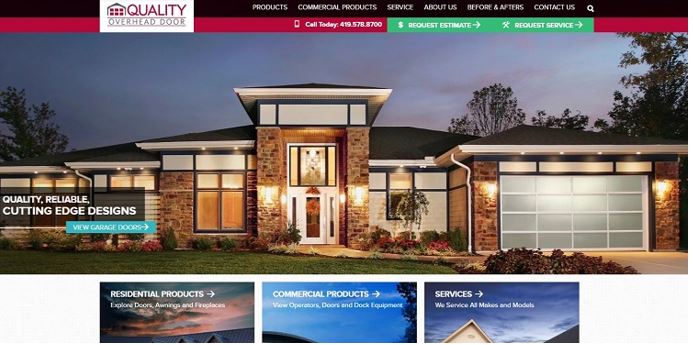 Quality Overhead Door uses both residential and commercial links in their nav bar as well as CTAs on their landing page. By separating the sections for homes versus commercial properties, they personalize each user's experience.
3. Update and Secure Your Network
More businesses are going online, but that also means more hackers are trying to make a backdoor entry into your databases and steal customer info. The Herjavec Group's 2016 Annual Cybercrime Report estimated a whopping $6 trillion in damages from cyberattacks by the year 2021. Assure your users their information is safe by keeping your website up to date and putting security measures in place.
4. Find Commonalities
Even though your consumer and business customers may be quite different in some ways, there are still some things they have in common. Make a list of the reasons why each audience segment seeks you out. Look for matching components you can utilize in marketing and on your website to reach your entire audience and not just one sector. Although separating your audience is smart for personalization, there is also an advantage in understanding your business as a whole.
Customers Bank understands they serve two diverse audiences who need personal checking or business checking. At the same time, however, some topics concern all their customers. They share this information, such as locations where they volunteer and updates on current policies due to world events, on their landing page.
5. Promote Brand Over Product
There are times when it is much smarter to focus on your branding rather than a specific product. You might sell the same product to both consumers and businesses by offering bulk ordering for companies. However, your mission as a firm likely falls under a single objective. Why did you start the company in the first place? How does your purpose apply to your full customer base?
6. Update Your Lead Magnets Form
No matter what your lead magnets are, make sure the forms are up to date and collect only the information necessary to turn an interested party into a qualified lead. Keep your form short and to the point. People are more likely to share their name and email and check a box than fill out three pages of fields.
LoPriore Insurance Agency provides a free quote form allowing people to tab to the right type of insurance based on their needs. The choices include home, car and business. The form itself is fairly short, and no matter which tab you choose, you simply fill in each point and hit the CTA reading, "Start Saving Today."
7. Have One Customer Service Policy
When training your customer service reps, they need to be versed in the different types of clients you serve. However, your policy should be a cohesive whole. If the customer is always right, then train your representatives to go above and beyond to ensure their happiness.
If you have a specific quality guarantee, decide what situations institute the enactment of it for both consumers and businesses. Then, write out the policy. If everything is in writing, you always have proof that it's there. At the same time, your staff should feel they have some flexibility to develop creative solutions to customer problems.
8. Inform Across Channels
Just because one of your clients is a business doesn't mean they can't also be a personal customer. Think about banks who serve all their clients' needs, providing business checking for -their professional concerns, home mortgages for personal properties and certificates of deposit (CDs) for long-term savings. Cross-promote by letting your business customers know you can also care for consumer demands and vice versa.
9. Target One Buyer Type
When creating a landing page, make it applicable to one buyer type at a time. You can create as many different landing pages as you need, but each page should address only the needs of your B2B or B2C customers. Don't make a page be everything to everyone, or you risk losing them all to confusion.
Test and Reevaluate
Test every element on your pages and make sure they meet your target audience's needs. Conduct A/B tests to see how well each aspect performs according to your goals. Reevaluate if your customer base remains the same. From time to time, you may add buyer personas or find that old ones are no longer applicable. Make changes as needed to increase conversion rates and fully meet customer needs.
Author Bio: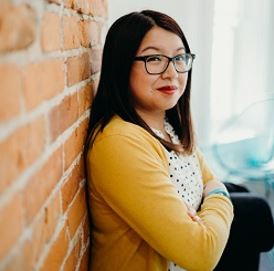 Lexie is a digital nomad and graphic designer. If she's not traveling to various parts of the country, you can find her at the local flea markets or hiking with her goldendoodle. Check out her design blog, Design Roast, and connect with her on Twitter @lexieludesigner.
________________________________________________________
Interesting related article: "What is a Marketing Strategy?"