Let's be honest. At the moment, it feels like there is a crisis around the corner at every turn. It seems to be more alarming when something actually goes right amongst everything that is going on unless you are a hand sanitizer company!
Even in the best of times, it is rare that a business can avoid any crisis, so it is best to be prepared for if and when the situation arises to minimize the damage.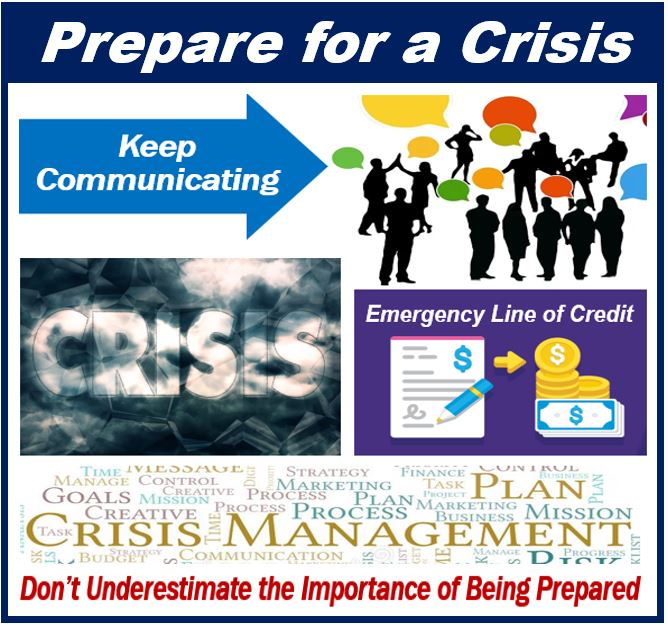 Why Prepare for a Crisis?
Preparing for a crisis can do the world of good when it comes to mitigating damage. It can improve the confidence in employees and management to know that there is a risk assessment and a plan of action in place if any problems arise. At best, it can also help you avoid losing your business too.
Secure Emergency Line of Credit
A lot of the time, when a crisis happens, there is usually some kind of financial hit. This can be devastating for many businesses, but depending on the crisis, you might be able to get some additional help. If it is an internal issue, then an emergency line of credit would hopefully be able to see you through.
If you can have some money by on back up that you know you can access immediately, then that is the best option, but do not be afraid to take out a line of credit if you have a finance plan available, so you are able to pay it back on time without struggling.
Create a Crisis Management Plan
One of the best ways to prepare for a crisis is to create a plan that all employees are on board with, and everyone in the business knows back to front. There is no point only one person knowing what to do in a crisis when everyone will most likely need to work together to work through the crisis – not to mention that it can be difficult to think logically and strategically when you are in a high-stress situation.
Take the extra stress out of making judgment calls by having a plan in place for when the main types of crises arrive. For professional help, consider contacting Insignia Crisis Management for more information.
Do Not Stop Communicating
When things go bad, one of the easiest things to do is to just stop communicating, whether that's due to panic, stress, or upset, or whether it is to save face and not have clients or stakeholders worry. This is the polar opposite of what you need to do as a business. It is always best to keep your clients, stakeholders, and employees informed if you are facing difficulties that may take a while to rectify.
It is far better than leaving them in the dark and creates an open line of communication for plans that are being initiated in the current situation and any other plans moving forward. Those who are working with you should appreciate the heads up and the honesty.
---
Interesting related article: "What is a Business Plan?"