Introduction
A Customer Data Platform (CDP) is defined by the CDP Institute as "a packaged software that creates a persistent, unified customer database that is accessible to other systems."  David Raab, a marketing technology analyst was the first person to define the term CDP in the year 2013.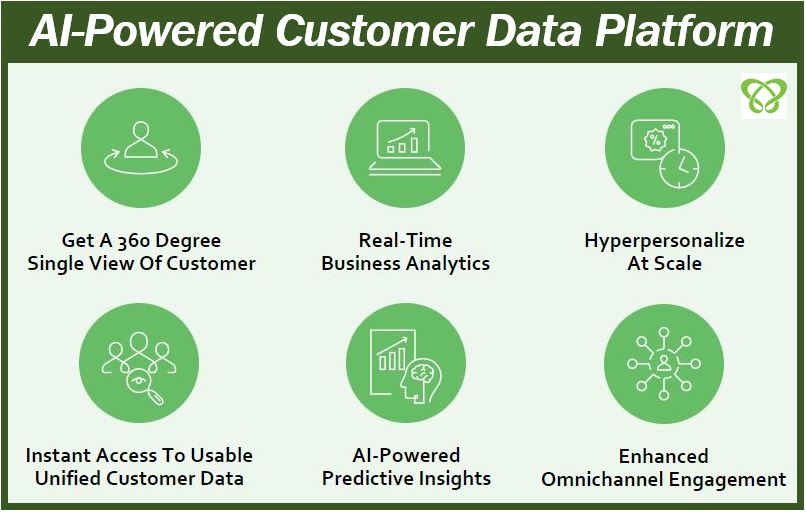 Today, enterprises gather a lot of information about their customers more than ever before.  They take the help of Customer Data Platforms (CDPs), which is a marketing database, to analyse data, along the various touch points of a customer's journey, across different channels.  CDPs integrate with other platforms to give businesses a single all-round view of customers or a 360 degree profile.   Useful insights that can be worked upon are gathered across a customer's complex journey towards purchase.
CDPs are fast gaining momentum, even though many marketers are not very familiar with this technology.  They make for a very attractive marketing concept that leads to highly personalized, smarter campaigns.
A CDP will remain admirable and philosophical unless it enables customer moments.  Moments are the foundation of a customer relationship and this is what they will remember when they perceive a brand.  Companies should aim towards creating these customer moments across all channels.
Crafting delightful customer experiences with CDP
Here is an example of a German Railway Company, Deutsche Bahn that uses a CDP to create moments for its customers.  The company realized that customers are most likely to upgrade to first class, when travelling gets strenuous and crowded.  They started offering an upgrade through push button notification apps.  It did not matter how the customer bought his ticket – online, through the app or on a visit to a physical counter, since all these channels were connected through a CDP.
The CDP used by the company combined personal data with contextual data, which is, finding out how busy the train was on a customer trip, to create a special moment.  This was a win-win situation, both for the customer (remembering a moment) and for the company (additional revenue). These experiences will however require a seamless sync between your loyalty program, CRM and the CDP.
Things to consider before investing in a CDP
Organizational readiness is a key factor you should take into account before investing in a CDP. A Customer Data Platform is ultimately data-driven, so you will need to analyse your current data sources, how organized they are and the level of accessibility. Without having all the systems required to access customer data, a CDP will not be able to achieve its end goal – a single customer profile.
Other things to consider are data capture and collection, first-party data management, cross-device stitching, integrations to assist with the enhancement, analysis and application of all that data.  And more importantly, a system with the most progressive, authentic, transparent and thoughtful approach to data governance and the other CDP –  Customer Data Privacy.
From the beginning, it is vital to understand what you want your CDP to help you with.  Regarding features, some of the points to think about would be
Does the CDP have the capability to capture customer profiles, interactional and transactional data?
Is there a detailed list of the different sources of data that is coming into the CDP and how often does it need to be updated?
Does the company have the right staff to leverage the benefits of a CDP?
Does the company have the right kind of leadership to be customer centric and not focused on the channels or the organization?
All the information that comes into the CDP may not be required by you. Do you know which of the information needs to be stored?
How will the data be linked? Make a set of rules to state how the data needs to be linked – matched, merged, customized and removal of duplication.
Do you know who your customers are? Define your customers as per households, individuals, office locations, headquarters and purchasing hierarchy
Can the CDP create new data? Can it convert meaningless data into sensible ones? For example, product codes to product descriptions, gender explanation from "M" to "Male", determining the age of a person from the "Date of Birth" field and so on
How will your information exist in the CDP for other systems to be able to access it and how often will this happen?
Is the CDP capable of handling new queries? The CDP should be able to handle all the queries that a marketing team comes up with, from time to time
How will the CDP control and report data? Does the onus lie with the vendor or do you wish to have all the controls?  Each business has its own specific needs and customization that has to be looked into, at the start of this journey itself
Is the CDP scalable? – will it be able to match your business requirements in 10 or 15 years' time? Is it flexible enough to handle changes – like new branches, social channels or a new product line?
The Elephant in the Room – Data Privacy
According to Ian Woolley, Chief Revenue Officer of Ensighten, the recent General Data Protection Regulation puts privacy among the top priorities and as one of the biggest challenges when considering a CDP – and of course when generally handling personal data.
Businesses should have changed the way they collect and record consent from customers by requesting their personal information in a more transparent way. By not doing so they would not only be handling data illegally but could also be held accountable for huge fines and loss of customer trust.
A great thing about the CDP is that it plays a powerful role in enabling both implicit and explicit user consent models governing data collection and compliance. This helps businesses to initially gain the consent required through the website and also stops data leakage by identifying privacy risks and stopping third-party vendors from passing customer data to other parties through the unauthorised "piggybacking" of additional tags. These are crucial measures to cover very important compliance bases.
Conclusion
A good CDP will improve productivity, boost efficiency, streamline a business and place a customer at the heart of it.  Before you make the final decision on a CDP vendor, it's highly recommended to evaluate their technical capabilities against all possible use cases your business is likely to encounter.
Take the time to fully comprehend the complexity of the data required for your use cases and compare them against the technical capabilities of the CDP and your marketing team. It's also vital to evaluate the scalability of a CDP platform. A good way to do this is to evaluate the product roadmap of a potential CDP vendor and analyse the functionalities which will be added down the road. And finally, as with any investment, you are within rights to expect a ROI in a reasonable timeframe.
_______________________________________________
Interesting related article: "What is Customer Experience?"