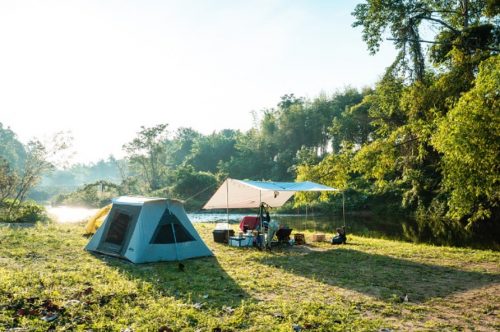 If you're looking for an exciting outdoor adventure holiday with lots of fun, then camping in Rishikesh is the perfect destination for you! Rishikesh is one of the best places to go if you are looking to travel to the Himalayas in the region. Situated on the banks of the Ganges River, this area is home to some of the most beautiful scenery in India.
Camping in Rishikesh: About 
Camping in Rishikesh is very popular because the area is full of adventure activities and tourist attractions. If you're planning a trip camping near Rishikesh, you can plan a lot of activities and a day trip to get the most out of your short stay. If you plan to camp at the Rishikesh river side camp you can do some exciting things such as body surfing, cliff jumping, bonfires, volleyball indoors, and badminton.
Rishikesh is a fantastic place to wander around and explore. You can also take a boat ride across the river to see the Ram Jhula and Laxman Jhula. As you cross the suspension bridge, you'll be enchanted by the view of the town and the river. At Parmarth Niketan Ashram, the evening aarti has become a major attraction for tourists in Rishikesh. People gather here every evening to experience the Ganga Aarti, which is a fire Aarti.
In addition, you can find peace by enrolling in free Yoga classes at meditation centers and temples. You can enjoy the most exciting adventures in Rishikesh, such as bungee, giant swing, white-water rafting, cliff jumping, waterfall trekking, and others. One of the most popular camping venues in Rishikesh is at Neer Garh where one can enjoy a beautiful view of both sunrise and sunset.
Best Time To Visit Rishikesh
The best time to visit Rishikesh is whenever you like as it is blessed with spiritual vibrations all year round. However, an ideal time to visit is between February and mid-August when the temperatures are around 28 degrees and the sunny sky creates an enchanting atmosphere.
If you prefer slightly cooler temperatures and fewer tourists, you may want to consider traveling in the winter months (November to February). July to September is the monsoon season, so it's not the best time to visit.
Tips For Camping In Rishikesh
Camping in Rishikesh offers a wide range of fun-filled adventure activities, but one must remember some safety precautions before embarking on this journey. Here are some important tips.
It is important to pay attention to everything the instructor says. Take it seriously and strictly follow it.
You should wear clothing that makes you feel comfortable and safe.
Pack extra batteries and/or a solar charger for your electronics.
Always wear a lifejacket or personal floating device when in the boat.
Dress in layers, as the temperature can vary greatly from one hour to the next.
Be aware of the local wildlife, and take appropriate precautions to avoid interactions with snakes, monkeys, etc.
Always tell someone where you're going and when you expect to return.
Where To Stay In Rishikesh
There are plenty of great camping spots throughout Rishikesh, but some of the most popular areas include Neelkanth Mahadev Temple, Gita Ashram, and Swargashram. All three offer stunning views and plenty of open space to set up camp. There are a variety of accommodations available – from hostels and camps on a budget to luxury resorts and luxury camps in Rishikesh. Based on your budget and requirements, you can choose the best camp in Rishikesh.
What Should You Bring When Camping In Rishikesh?
During Camping In Rishikesh, one should carry basic things to make their camping experience easier and safe. If you are visiting during the monsoon season, you will need a raincoat while for winters, you should bring warm clothing.
If trekking is involved in your camping plan then good quality shoes would serve well for you because smooth pathways are far and few in between. Similarly, protective gear like helmets, knee pads, etc should be carried along for safe biking or motorbike riding.
For trekkers, it is recommended to carry small bottles of essential items like medicine, insect repellent cream, flashlights, etc with them so that they don't have to go back every now and then to fetch something they forgot during their camping activities in Rishikesh. Also, you'll need hiking sticks, water, and food.
Final Words
So, if you're looking for an outdoor adventure, camping in Rishikesh is a great option. There are plenty of beautiful campsites located near the river, and you'll be surrounded by stunning scenery. You'll also have access to some of the best hiking trails in India. So, if you're looking for an unforgettable camping experience, Rishikesh is definitely worth considering.
---
Interesting Related Article: "Unique Ideas to Make Your Camping More Fun and Memorable"