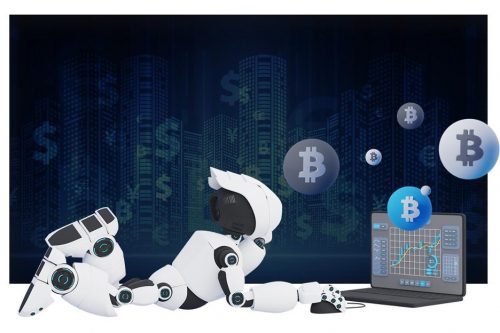 Crypto Traders Rejoice!
If you are looking for a platform to automate your crypto trading strategies, then look no further.
The MetaTrader 5 platform is considered one of the best automated crypto trading platforms in the financial industry.
It provides the most sophisticated automated trading capabilities for everyday trading on a variety of financial markets.
MT5 trading robots can analyze prices to buy and sell cryptocurrencies without any human intervention, while performing numerous calculations objectively and continuously.
But the best part is, it is completely for FREE!
To become a consistently profitable crypto trader, it requires you to leave your emotions at the door.  However, if you feel that your emotional impulses are hijacking your trading performance no matter how hard you try to stop them, then maybe you should consider using a crypto trading bot.
Pros and Cons of Using Automated Crypto Trading Strategies
Here are the main PROS of using a crypto bot.
Algorithmic Trading:A crypto trading bot eliminates emotional trading by offering you an automated investing and trading option. FOMO buying and selling, panic trades, lack of discipline and lack of patience will become things in the past. All of these psychological factors are the number one reason why traders lose money in the market, and you will be able to avoid them by simply using a trading bot.
Quick and Efficient Trading:A trading bot is an expert in multitasking since they can analyze and trade multiple currencies at the same time. And since they are not constrained by the same narrow focus as humans, they won't miss on potential trading opportunities because they were focusing on another task.
Computers are much faster than human beings: In a highly volatile environment, such as the crypto market, processing a lot of data and information to execute a trade can be overwhelming to us, humans. Whereas an AI can process vast amounts of data far faster than any human being. This means:

No more missing out on trades.
No more emotional trading.
No more second-guessing yourself.
And the list goes on and on…

More free time for yourself:After all, you're just a human being, at some time, you have to go to bed. While you sleep, cryptocurrency trading bots work around the clock, seven days a week, making potentially profitable trades. They won't ever miss a good trading opportunity!
While trading bots have many major benefits, there are also a couple of CONS that you should be aware of.
Monitoring is Necessary:Even if cryptocurrency trading bots can handle many automated tasks flawlessly, you must still check-in on them on a regular basis. Markets move in cycles, so your automated crypto trading strategy needs to be tweaked and maintained relative to the bullishness or the bearishness of the market. You can't leave the bot alone for an indefinite period of time without monitoring it.
Knowledge needed: To utilize a bot efficiently, you need a good understanding of the crypto space and a well-thought-out investing strategy. You still need to know how to use bots effectively, despite the fact that some of them come with predefined settings. In other words, you need to do your due diligence before jumping in with two feet.

Conclusion
Yes, it is very possible to automate crypto trading and also the PROS are much greater than the CONS, so the next question that you need to ask yourself is "why not give it a shot?"
---
Interesting Related Article: "Cryptocurrency – Where Will It Be in the Next 5 Years?"