With over 150 million tons of cannabis waste created nationwide each year, it's critical that your company knows about the different solutions for your cannabis disposal. From the plant stems to the packaging materials, there are many different elements to getting rid of the refuse from the various parts of the cannabis industry.
In a world where sustainability is a big part of every conversation, operating your waste disposal through a green, ethical company is an important factor for customers, government regulations, and the health of the planet. Many cannabis companies choose one of three options for their waste disposal — mixing cannabis waste with general waste, building on-site waste management facilities, or hiring a company that specializes in cannabis waste disposal.
If you're wondering about which companies can best help you with your cannabis refuse, explore the top three options here.
1. GAIACA Waste Revitalization
GAIACA Waste Revitalization claims that they're the first cannabis waste disposal company to not only compost stems, leaves, and other miscellaneous plant parts, but also repurpose product packaging instead of simply throwing it in the city landfill.
They have a compost facility in San Jose, CA that has recycled over five million pounds of cannabis waste already. They also operate throughout Florida and Michigan to ensure nationwide access to their services.
Licensed and certified, you can fully tailor their services to your needs. Explore their most popular service options including:
Cannabis Waste Management
Hazardous Cannabis Waste Management
Certified Cannabis Product Destruction
Clean-Up/Decontamination
Environmental Consulting
Industrial Hygiene
Waste Water
Lab Packing
Training
With a zero-waste mission, GAIACA can evaluate your company's needs with sustainability in mind and make recommendations based on your budget and goals.
2. EcoWaste Services Inc.
Another California based company, EcoWaste Services was first launched in 2011 as a medical waste company. Under the name BioWaste Inc, they took care of potentially infectious biomedical waste as well as packaging, bandages, leftover kit materials, and other laboratory essentials that needed to be disposed of properly.
With the high standards of the medical waste industry and their experience getting rid of liquid and solid refuse, they're uniquely suited to the needs of the cannabis industry.
After their transition to waste disposal for cannabis in 2016, EcoWaste Services put its efforts into more than just waste collection services. They also help businesses train their operators to effectively manage onsite waste disposal and navigate the legalities of cannabis waste disposal as they develop.
3. Cannabis Waste Recycling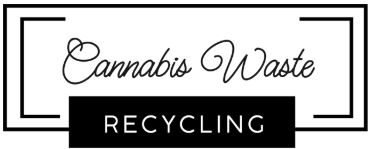 Cannabis Waste Recycling is the last company on the list to offer cannabis-specific waste processing and disposal. In addition to their work with cultivators and manufacturers, this company also works with testing labs, distributors, retailers, and consumption lounges to ensure full coverage of disposal for any business associated with the creation or use of cannabis.
While they are also based in California, they focus their services on companies within Los Angeles, San Diego, Orange, Riverside, Ventura, and San Bernardino. Reach out to them for on- or off-site waste processing, soil rejuvenation, or waste management and planning for your facility.
Contact one of these companies today to discover which offers the customized solutions you need for your cannabis cultivation, manufacturing, testing, or distribution facility.
---
Interesting related article: "What is CBD?"