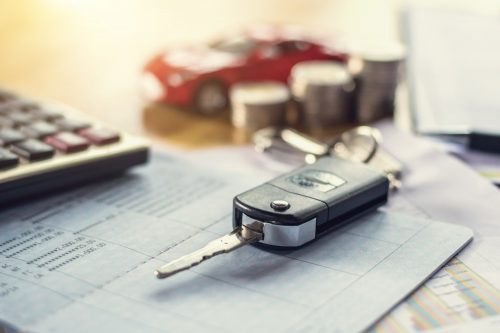 Car finance is used by a huge number of people in the UK and it's the dominant method of paying for any new car – which means lots of deals are about, ready to tempt you into purchasing a brand new model.
Finance deals are a great way of being able to move up into a car you didn't think you could afford, as it can reduce the monthly cost of car finance arrangements by a significant amount.
There are two main types of car finance deals: PCH and PCP. We'll explain those in a moment, but there's also cash to consider: some new car deals are essentially just money off the cash price. You could enter a finance agreement using this figure with, for example, a bank loan, so it could still represent a car finance deal for some – but we'll skip those for today.
PCH stands for Personal Contract Hire and it's the same as leasing – essentially a really long car rental. You never own the car, you just pay per month to be able to drive it and then hand it back at the end of the term (usually 2-4 years).
PCP stands for Personal Contract Purchase and it's similar, but with a few key differences. The monthly payment is still there, and you don't own the car for the contract period, but crucially you have the option of buying it by paying a lump sum at the end of the contract time. It's a popular way of choosing a new car, but most buyers hand the car back and start a new PCP contract on a newer model after the typical two to four-year contract.
We're going to focus on PCP finance deals in the article below, where we pick out some of the best finance deals to look out for in 2021. But before you enter a finance deal you should do your homework.
Check how much you can afford to pay – many PCP deals require a significant deposit at the start of the term, and then monthly payments for several years. You can get a car valuation to work out how much your current car is worth as a trade-in to help with this, but you'll need to have a good grip on your finances in general.
Best PCP deals 2021
PCP is the most popular kind of car finance in the UK. It allows car buyers to get into a brand new model at an affordable monthly price, with the option to buy the car if they decide they really love it at the end of the term.
A typical PCP deal involves a deposit of a few thousand pounds, then 36-48 months of payments. After this, if the buyer decides not to purchase, the car is handed back to the dealer. The APR number is important here as it shows how much interest you'll pay on each model, and 0% APR is always a good deal because it means you're not paying extra money over the value of the car.
Ford Kuga: £285/month, £5,849 deposit, 0% APR
The Ford Kuga is a great small SUV with a quality interior, comfortable suspension and punchy engines including the 1.5-litre diesel in our finance deal here.
With 0% APR it's well worth considering if you're looking for a family car with plenty of space inside that's enjoyable to drive but not too expensive to buy.
MG ZS EV: £286.25/month, £3,212 deposit, 0% APR
The MG ZS EV has a 163-mile range and costs very little to buy using PCP finance thanks to excellent deals at the moment. This zero-emissions model is great in city traffic and for those with a short commute, as it could bring big fuel savings as well as its quiet driving and good practicality.
It's one of the cheapest new electric cars around and although it's a bit cheap-looking inside, it's well equipped and very affordable.
SEAT Ibiza: £236.28/month, £3,777.10 deposit, 0% APR
The SEAT Ibiza is a great supermini because it looks smart, has a pleasant interior, is well equipped and it's good to drive. This finance deal brings 0% APR and a low monthly price as well as free insurance (as long as you're in a certain age range).
The SEAT comes with an excellent 1.0-litre petrol engine that's quiet, fun to use and returns excellent fuel economy, so it's a top all-rounder if you need a small car.
SEAT Leon Estate: £284.99/month, £5,118.52 deposit, 0% APR
The SEAT Leon Estate is really practical, with a huge boot and lots of room for passengers in the back seats. It's available for less than £300 a month at the moment and with 0% APR, so this looks like a lot of car for the money.
The Leon is good to drive, especially with the 1.5-litre petrol that this deal covers – it's very smooth and quiet, and gets special technology that means it's really efficient especially on the motorway.
Toyota GR Yaris: £299/month, £8,013 deposit, 0% APR
The Toyota GR Yaris is the darling of the motoring press at the moment because it brings rally car performance for such a low price – less than £300 a month in this particular deal. That's a bargain for this brilliant hot hatchback.
The GR Yaris is fast, fun, and even quite practical, so it's a great choice for anyone who loves driving.
---
Interesting Related Article: "How To Cancel Your Car Finance Agreement"