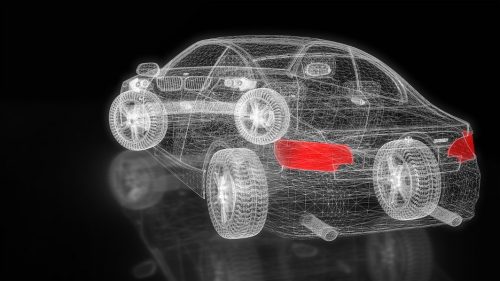 Technology has been a wonderful part of human history, I could not imagine living in the present world without technological advancement. Maybe we still have to travel for months before we could reach our destination, write a letter instead of making a call, but thanks to the fast adoption of technology we're able to process several things in a short period of time.
However, when it comes to car safety and security measures, most of us take it for granted, the automatic way we take the control of a steering wheel and set out to drive from Point A to Point B expecting to have a smooth, uneventful ride has caused more damage to the auto industries than expected.
At the beginning of the automobile revolution, manufacturers also didn't care that much about safety until recent years when automobile security has taken a good turn. Car safety has improved in leaps and bounds over the last century. The first petrol-powered vehicles were without seatbelts, crumple zones, or any real regard for the wellbeing of drivers and passengers!
But thankfully, If the past few years are anything to go by, the coming years should be exciting for technological innovations in car safety. Automobile safety divisions are becoming increasingly more innovative and certain trends are gaining momentum and automobile companies are offering cheaper, effective, and easy to implement safety options that the industry leaders are confident would soon be populating the roads worldwide.
However, the year 2022 is set to witness a greater penetration of self-driving technology, vehicle electrification, and more advanced new-age features in the new generation of cars.
Here are some of the promising technological innovations and trends in the car technology space for 2022.
1. Advanced driver assistance system (ADAS)
This is a new automated vehicle technology currently under development, it promises to either assist the driving task or to altogether take human drivers out of the loop. To reduce or eliminate accidents due to human error.
In fact, the European Commission government has decided that this new technology and safety measures will become mandatory by July 2022 in new vehicles.
The reason Is to make Europe a world leader in the development and deployment of connected and automated mobility services and systems to bring down the number of road fatalities to zero within the next ten years.
Imagine how huge this innovation will be for the automotive industry. With technology, we could get to a stage where we have zero accidents. A lot of logistics, vehicle transportation services, and car shipping companies will provide more reliable services. Not only that, but the customers who order goods through logistics or ship their vehicles from one place to the other will also benefit from this innovation.
In fact, it will help auto transport service companies provide cheap car shipping, reliable logistics, timely delivery, and proper maintenance of goods and services to enhance customers' experience.
2. Front Crash Prevention
Auto companies offer different levels of front crash prevention, ranging from audible and visual warnings to autonomous braking.
The systems use different types of cameras, sensors, radars, and LIDAR to evaluate when the vehicle is too close to something in front of it. Generally, a warning is issued and brakes are pre-charged or applied. Using police-reported crash data, IIHS research has determined that front crash prevention systems are reducing crashes.
The Highway Loss Data Institute (HLDI) has provided further support of front crash prevention systems through insurance claim comparisons and because of such findings certain markets reduce shipping costs for automobiles which possess said features leading to cheap car shipping.
3. Rear object detection and backover prevention
While in reverse, cameras and sensors provide feedback to drivers.
Rearview cameras show what is behind the vehicle and sensors alert drivers when objects are in the way or cross-traffic is present. Some technology adds automatic braking, if necessary.
Certain markets haven't directly mandated backup cameras. However, the technology's rear visibility requirements can't be satisfied without a camera. An IIHS study reports that blind spot cameras and sensors reduce the blind area by about 90 percent for an object comparable to the size of a small child. Children and elderly people are most likely to be killed in a backover accident. NHTSA estimates 267 deaths and 15,000 injuries annually from backover accidents.
4. Curve-Adaptive Headlights
Curve-adaptive headlights rotate in relation to road curves, based on the movement of the steering wheel.
Some systems also adjust using speed as an additional factor. While studies show that this technology reduces crashes, most systems also use LED or HID lamps. It is difficult for researchers to verify if the lamps, or the curve adaptation, are responsible for the success.
An HLDI study shows that curve-adaptive HID systems allowed drivers to spot an object one-third of a second sooner in the dark.
5. High-Beam Assist
High-beam assists automatically switch between high beams and low beams, based on the presence of nearby traffic.
It was recently discovered that many new cars aren't equipped with safe headlights. Of 31 cars evaluated in midsize car testing by IIHS, only one earned a Good rating. Therefore, the IIHS is now testing headlights and plans to include the scores as part of its car safety ratings.
There is not enough data available to prove that the technology reduces crashes. However, an IIHS study, in partnership with the University of Michigan Transportation Research Institute, discovered that only 18 percent of drivers remembered to turn on high beams or understood when it was safe to do so.
6. Interior Motion Detection
Leaving a child or a pet in a hot car can result in tragedy. Approximately 40 children die from heatstroke each year after being left unattended in a hot car.
Manufacturers are trying to eliminate this possibility with interior motion sensors that detect if someone has been left inside a car. The car is then programmed to sound an alarm and can even send a notification to the car owner's phone.
Automakers Hyundai and Kia already have a form of this in some models, but experts support legislation that would make it standard in the all-new model
Conclusion
Some of these safety systems have undergone years of testing and improvements.
Others are still in the early stages, so testing is inconclusive. Many of these safety technologies save lives. All of the systems have potential. Those that have been proven to work are eventually mandated by appropriate authorities.
As the technology advances, robots will continue to become more dexterous, showing off improved fine motor skills. In manufacturing, we expect robot development to continue to accelerate in uses requiring task-specific capabilities, suitable for small manufacturers. Given the supply-chain problems, which aren't going away any time soon, we also expect to see the continued development of robotics applied to transportation and logistics problems.
Author Bio:
Daniel Moayanda is a Digital Marketing Expert/Consultant, & Founder of
NNON Movement
. He's also a Guest Contributor to InfoSecurity Magazine, Huffington Post, Dzone, SAP, etc.
---
Interesting Related Article: "Essential Car Safety And Maintenance Tips To Avoid Accidents"