People who have little or zero experience in gambling often doubt what to choose: a casino app or a mobile site of the casino? Some projects offer their customers both versions but most deliver only one of them. Both the casino apps and mobile-optimized sites have their pros and cons. In this article, we will try to compare them impartially to facilitate your choice.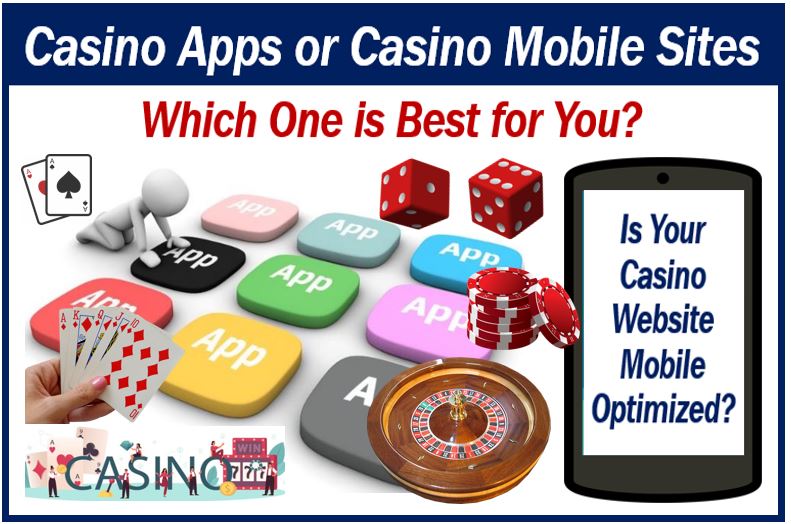 The Peculiarities of Casino Apps
The apps tend to be less dependent on the speed of your Internet connection than mobile sites. Most gambling projects build apps for iOS and Android — but some might offer only Android versions because their target audience hardly uses iPhones.
iOS apps can be downloaded either from the site of the casino or from the AppStore. But Android apps are available only on the gambling site because Google Play does not support gambling-related content.
Never download gambling apps from third-party sources! Hackers often disguise malicious software as casino APKs. Some of them might ask you to pay for installation. That would be a clear sign of illegal actions because casinos distribute their apps for free.
Before downloading the app, configure the settings of your phone or tablet so that it has nothing against software by unknown developers. Later on, you will need to update the app. You might consider enabling automated updates. Yet even in this case, you should check the necessity of manual updates because sometimes the system would require your approval.
Some casinos give special bonuses to those who download their apps or register through the app. If you have not signed up for the casino that you fancy yet, check the terms and conditions of its bonuses. Maybe, it would be wiser to create an account through the app and not on the desktop.
The Characteristic Features of Mobile Sites
When using a mobile casino site, you will not need to download any software on your gadget. This is good for those who have little free space in their device's memory.
Mobile-optimized sites differ from their desktop counterparts in their design. They contain fewer banners, flashy elements and texts. All the attention is focused on the games. Some platforms allow you to open their mobile sites on the desktop, just to see how they look.
In terms of privacy, sites are better than apps. No one will see the casino icon on your phone and you will be able to keep your gambling hobby secret if you need it. Apps might send you notifications but sites will never do that. Of course, you can configure the notifications — but what if you forget?..
Usually, the sites run smoothly in all mobile browsers.
Similarities of the Apps and the Sites
Both the apps and mobile sites give you access to more or less the same functionality as desktop sites. They allow you to carry out the following operations:
Create a new account
Play games
Use bonuses
Train in free demo mode
Top up your balance
Withdraw the winnings
Participate in tournaments
However, both might lack the live chat where you could get in touch with the support team. Plus, the selection of payment methods might be different for the desktop and mobile versions of the platform.
Both consume little traffic and will not slow down your gadgets. Your mobile communication costs will not increase and you will not need to switch to a pricier tariff. However, if the site is not optimized for mobile format, it will consume more traffic than its optimized counterpart.
Most gambling projects prohibit creating multiple accounts. This means you will need to introduce the same combination of login and password for the desktop and the mobile versions of the casino. The sum on your balance, the history of your account and your status in the VIP program will remain identical for all devices.
No matter which version you choose, the app or the site, your odds to win will not change. The algorithms of the games always remain the same, regardless of the device that you use to access them. If someone says on the Internet that the app of a certain casino is more generous than its site, you should not believe it. Most likely, that was pure luck of that person — but there are no guarantees that anyone else would hit a big win thanks to that app.
Conclusion
Hopefully, this article came in handy and now you clearly realize the difference between casino apps and casino mobile sites. ligaz11 blackjack, craps, baccarat, roulette, and video poker are some of the easiest casino games with a high probability of winning. With their help, you can gamble at any time of the day regardless of your location. First, you will need to get accustomed to the compact size of the display. But in a couple of days, you will get used to it and will enjoy your casino sessions to the max.
---
Interesting related article: "What is an Application (App)?"