Mental health is one of the most crucial aspects related to holistic well-being. It determines your cognitive functions and may promote a healthy immune response. Also, your pet's mental health is as important as your own in enhancing the quality of life. You can try out herbal or therapeutic measures to control anxiety amongst animals. Most pets experience anxiety in various forms like separation, travel, and isolation anxiety. You can opt for the anxiety solutions like CBD, hydrosols, and aromatherapy for all these types.
Here are the top therapeutic aids to tackle anxiety amongst animals and lead to wholesome wellness.
1.   CBD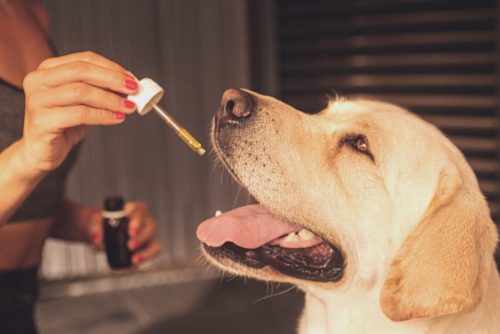 One of the best anxiolytic aids for your pet is CBD Oil or tinctures. It arises from the cannabis plant and is a potent phytocannabinoid. Also, CBD supplements act on the cannabinoid receptors and regulate the activity of the same. When you give strong CBD pills, it interacts with the endocannabinoid system and regulates the psychological pathways. Along with this, it can boost the release of serotonin through the interaction with the serotonergic receptors. All these factors stabilize your pet's mind and uplift the mood. Hence, you can use CBD Oil before heading on a trip or during thunderstorms.
Some ways to use CBD are tinctures, capsules, and essential oils. You might want to consult a veterinary professional and find out the suitable dosage for your pet.
2.   Hydrosols
Hydrosols are the flower water extracts that remain as a residue during the preparation of essential oils. Due to the high dilution, the hydrosols are pretty gentle and ease the anxiety issues amongst dogs. Also, you can use major hydrosols like lavender and chamomile to soothe your pet's nerves. It can control the mood swings and curb situational anxiety issues.
Along with this, hydrosol therapy might promote sleep and reduce the signs of depression. You can use anxiolytic supplements to improve the quality of life and incorporate wholesome wellness. Try to stick to the therapy on a long-term basis for effective results.
3.   Herbal Remedies
Another effective aid for the situational and abrupt anxiety issues amongst the animals is herbal remedies. You can use herbal supplements in the form of tinctures and pills to soothe your pet's nerves. Also, some herbs like chamomile and lavender can alleviate pain, ease anxiety, and uplift your mood. The herbs enhance the physical as well as mental health of the animals.
Along with this, it may slow down the anxiety-associated ailments and lead to holistic wellness. Don't forget to get your hands on the capsules and other supplements to better manage anxiety in animals.
4.   Bach Flower Essence
Edward Bach, a British bacteriologist, and homeopath discovered the bach flower remedies years ago. The flower essence is suitable for stabilizing cognitive functions and might improve mental health. Also, the remedies contain active constituents from many therapeutic flowers. Some flowers used in preparing these remedies are Star of Bethlehem, Rock Rose, and Cherry Plum. Such remedies can help in many psychological issues like stress, anxiety, and mood swings in pets.
You can give a few drops to your pet for the utmost relief and rejuvenation. Not to forget, you can go for the sublingual or oral administration for faster absorption of the flower essence. It can control the pet's anxiety triggers like fear, isolation, and long rides.
5.   Aromatherapy
Are you aware of the aromatherapy technique that eases anxiety and might enhance your dog's mood? Aromatherapy is a therapy that uses herbal fragrances to tackle mental health disorders. It evokes an olfactory stimulation in your pet's nasal epithelium and calms the mind. Also, some herbal remedies like lavender, chamomile, and peppermint prove beneficial in elevating the mood.
All you need to do is get your hands on the essential oils that contain herbal essence. You can spray the oil on your dog's body or the bed for adequate relief. Don't allow your pet to inhale the fragrant oils, as the therapy is only for olfactory purposes.
6.   Acupuncture
Acupuncture is a therapy that involves puncturing needles at various parts of the body. It can stimulate nerve endings and ease the pain as well as other issues. If your pet is suffering from mild to moderate anxiety issues, then you must try to consult a veterinary acupuncturist. The therapy can stimulate the production of pain-relieving chemicals in the body. Also, it is devoid of side effects and leads to long-term relief from anxiety issues. Along with anxiety, frequent acupuncture sessions may relieve pains and boost your pet's mood.
Prolonged acupuncture therapy can control pain-induced anxiety, restlessness, and mental breakdowns in pets. But, you need to take your pet to a veterinary professional and refrain from practicing this at home.
7.   Exercise
There's no doubt that exercise and physical training is quite essential for your pet's health. It can alter your dog's fitness and enhance mental health. Hence, it's crucial to take your pet out on a walk or do some exercise with him daily. If you're busy with work, your dog might show signs of separation anxiety. In such cases, you can go out with your pet and spend some time alone.
Try to get some equipment like a treadmill or frisbee to get moving with your pet. Not only will it improve your bond, but it also keeps your pet away from anxiety issues. You must head out for evening walks and exercises with your pet to boost mental health.
Final Verdict
Pet anxiety can be troublesome and leads to an array of symptoms. If you own a pet, it's crucial to fetch the required anxiolytic aids for your furry friend. You can try the bach flower remedies to soothe your pet's body and improve the mood. Also, aromatherapy oils can calm the nerves and keep your dog away from panic attacks. You must get your hands on the hydrosols and CBD Oil to curb the anxiety and related mental issues amongst animals. Make sure to use suitable remedies and consult your dog's vet for maximum aid against anxiety.
---
Interesting Related Article: "A growing number of cannabis brands are expanding into the pet market"