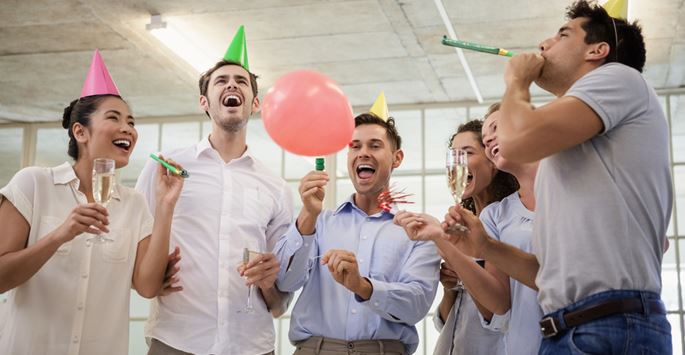 Completing a corporate milestone anniversary such as 1, 5, 10, 25 or 50 years is an important event in the company's history. It is the best time to reflect on business success, revenue, and acknowledge the hard work of employees. Also, it is a great chance for companies to thank the people who are a part of their success and celebrate this remarkable milestone.
We bring here some creative ways to celebrate your company's milestone anniversary and revisit the journey from where it all started and reached the current position.
Thank all the valuable clients
Thank all your old and new clients for keeping the company in business for so long. Send them all a thank-you note on an anniversary card. You can also add a little customised gift, such as a calendar, coffee mug or chocolates.
Throw a party
Companies can organise a party for employees in the office and ask them to bring their families along. Or throw a huge public party and invite all their esteemed clients and partners. This gesture will help develop a cordial relationship with all as a successful business depends upon the connections.
Give away corporate gifts
Giving corporate gifts to clients and employees on the company's milestone anniversary will raise the brand's awareness. It will help strengthen the business relationship and satisfied customers are more likely to give repeated business. To order corporate gifts in Dubai, companies can place a bulk order on online gift websites.
Announce on social media
Social media is a great platform to show off the events and celebrations happening in the workplace. It helps companies to do their branding and promote the corporate culture. Announcing companies' milestone anniversary on Facebook, Twitter, and LinkedIn will help spread the news to a great number of people.
Announce through press release
Apart from digital space, you can announce the anniversary in a press release. Description of the company's history and its major achievements throughout the years can be the highlight that will help gain prospects in the future.
Release timeline infographic
Release a visual timeline infographic that displays the key milestones since the beginning of the company till the current year.
Sponsor a local event
Sponsoring a local event like dance shows, concerts, and other entertaining programs on the occasion of anniversary can help companies increase brand awareness and connect to more people.
Re-design company logo
Companies can also make changes in their logo and tagline. Adding the number of years to the company motto will create an impactful tagline and advertise the milestone achieved. Also, including the new logo and tagline on the company email signature, catalogs, and corporate gifts is a great way to do branding.
Apart from these, companies can arrange tree plantation drives, community service for employees or create a video to announce the event.
________________________________________________________________________
Interesting related article: "What is a Logo?"