In a changing world order, thirty-five percent of Americans think that China will be the world's dominant economic power by 2020, according to a survey from TheStreet carried out by GfK North America.
Although most Americans (59%) today believe the United States is still the dominant economic power globally, over one third think China really is changing world order and will take the lead by the end of this decade.
Joe Deaux, TheStreet's Economics Analyst, said:
"Despite the slow economic recovery of the five years since the financial crisis, most people in the United States still regard the nation as the world's dominant economic power. However, confidence that the U.S. will retain that status five to seven years out wavers. Though respondents still see the U.S. in the future as the outright economic leader, favor for China substantially narrows the gap."
The survey also found that:
28% of survey respondents today believe China is now the world's number 1 economic power
50% of seniors (aged 65+) believe the United States will still be the dominant economic power at the end of this decade.
Just 35% of 18 to 34 year-olds think the US will lead the world economically at the end of this decade.
Fifty-three percent of respondents earning less than $25,000 per year believe that in five to seven years' time the US will still lead the world economically.
Among those earning $50,000 per year or more, only 37% thought the US will be able to maintain its dominant position for the next seven years.
China is changing world order, nowhere else, most people think
Very few respondents saw any other country or region as likely contenders for the number 1 position. Just 3.4% thought it might be India, Russia got 2.2% of respondents, the Eurozone 1.9%, and Latin America 1.6%.
Many economists have described China's rapid economic rise over the last thirty years as one of the greatest economic success stories in modern times.
From 1979 to 2012 the Chinese economy grew by an average of nearly 10% each year. During that period about 500 million people are said to have been raised out of extreme poverty.
Today, China has emerged as the second largest economy in the world.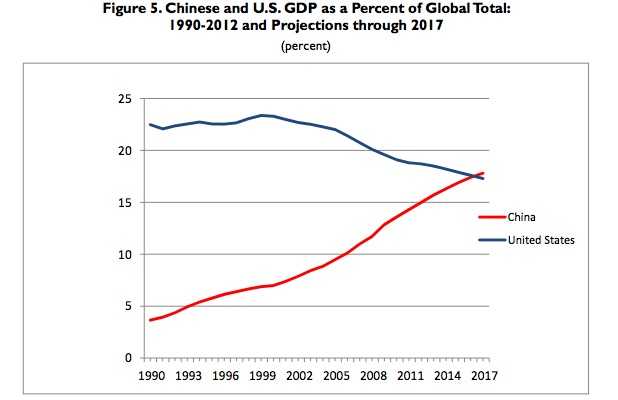 Changing world order (source: The Economist).
According to a report by the Congressional Research Service, China is today:
The largest manufacturer in the world
The world's number one merchandise exporter
The largest holder of foreign exchange reserves