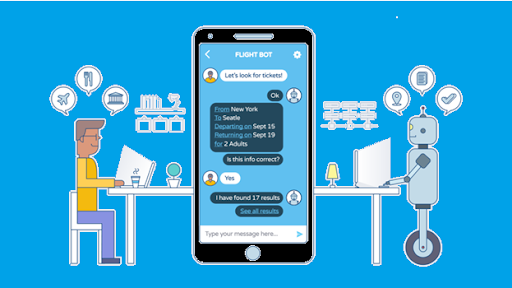 In the digital age, every business wants to be a pioneer in its field to catch up with new technology trends. How to deploy solutions that can meet the needs of customers, scale up while ensuring stability & consistent experience. The future of these solutions will involve Conversational AI and chatbots. Most businesses are quickly responding to the Conversational AI wave in the form of chatbots and optimization tools, however, they often forget the connection between that chatbot in the customer support process that businesses are currently using.
Explore the transformative power of Conversational AI as it surpasses traditional chatbots, redefining customer interactions and enhancing user experiences, including within the realm of conversational IVR.
Chatbots are now being used a lot on social networking platforms to help enhance the customer service experience. You hear and see a lot, but do you really understand what chatbot is? If not, please follow us below.
Customer service is what sets brands apart. According to the Sprout Social Index report, 44% of consumers say good customer service is what makes a brand more trustworthy. As social media becomes the main destination in customer service, social customer support teams need to be fully equipped and knowledgeable to handle more workloads efficiently. And chatbots are the leading tool in solving these problems.
Juniper Research estimates that chatbots have saved consumers and businesses 2.2 billion hours of customer service in 2020 and will save 27 billion hours by 2023. But this does not mean that businesses should abandon customers or replace customer service professionals with an "army of robots" impersonating. Instead, create a more seamless customer service and better customer experience by letting chatbots and people work together.
An example of simple chatbot builder from 13chats.com 
Below, Market Business News has gathered the main types of chatbots including their uses and made comparisons between features, performance and cost of implementation. After reading this article, you will be able to know exactly which type of chatbot is right for your business. Depending on its characteristics, you will know whether your fixed scenario chatbot solution or conversational AI chatbot will be suitable for your business.
So what is a chatbot?
Scripted chatbot is the most basic type of chatbot. Such chatbots communicate with customers using predefined scripts through a set of quick-response questions or interactive buttons. Such scripted chatbots are the slowest means of getting users to their desired value.
So what exactly is a Conversational AI?
Conversational AI chatbot will automate verbal or text communication naturally. It also understands the content of human communication through intent recognition. Today, artificial intelligence is expressed in quite linear ways: like Machine Learning (ML), Deep Learning, Natural Language Processing (NLP) and predictive analytics (AI Prediction).
Integrating Chatbot with your website or mobile app is a strategy that benefits both your business and your customers. Chatbots can help businesses increase revenue by up to 25%, increase lead acquisition rate by 9.5%, and improve customer engagement by 35%. Second, your customers get a better user experience in searching, purchasing online or services, paying seamlessly, and more. So if you are ready to integrate chatbot into your business strategy, the important question is "Which type of chatbot will fit your business model?"
What is the difference between Chatbot and Conversational AI?
Both the terms 'Chatbot' and 'Conversational AI' have the same meaning. However, 'Conversational AI' includes all technologies that support both methods: voice and text while 'Chatbots' only covers bots that support text and is limited in connecting successful results. other technology.
Not surprisingly, there's a lot of good to say about scripted chatbots. This type of chatbot can carry out large numbers of conversations and perform human-like judgment-intensive tasks. When Conversational AI was too complex and did not meet the demand as expected, the large enterprise market turned to simple chatbot platforms, especially for cheaper and faster development. 
That said, new enterprise chatbot solutions are starting to emerge that have the potential to automate and optimize several tasks for a better customer experience.
Backend of chatbot builder by 13chats.com
Final thoughts
Scripted chatbot is the simplest way for businesses to interact with customers, suppliers and employees anywhere. Rapid advances in chatbot solutions make it possible to make automated conversations more unique and natural, delivering increasingly satisfying experiences, driving engagement and loyalty across multiple platforms. business functions. Conversational AI is more expensive for startups or small businesses. 
What's written above are the shares to help you better understand the concept of chatbot. As well as help you understand why it can be said that this is a tool to help increase the customer's experience of products and brands for businesses today.If you just want to learn more details about chatbots, readers can contact free chatbots services for advice and support.
---
Interesting Related Article: "The Development of Artificial Intelligence"