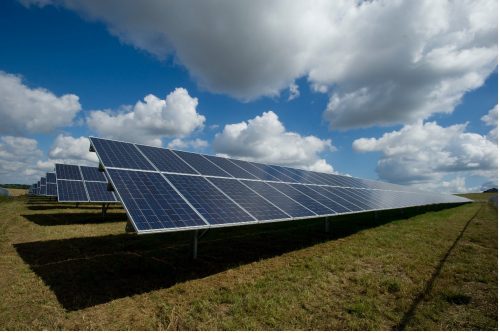 As report from China Business News CGTN: China's first hybrid energy power station utilizing both solar and tidal power to generate electricity became fully operational on Monday in Wenling City of east China's Zhejiang Province.
The project marks the country's latest approach toward harnessing two green energy sources in a complementary manner for power generation.
With an installed capacity of 100 megawatts, the power plant ensures more stability for the utilization of renewable energy. Since solar energy supply is intermittent and unavailable when the sun goes down, tidal waves could replace it by supplying power during the night. Moon's gravity causes tides in the oceans.
"The project has created a new model of comprehensive utilization of new energy by coordinating tidal and photovoltaic power generation using both sunlight and water [tides]," Feng Shuchen, executive vice president of the China Energy Group, told China Media Group (CMG). "It has also effectively promoted innovation and development to accelerate structural energy reform and industrial upgrading."
The power plant has been built on over 133 hectares with 185,000 installed photovoltaic modules. Its annual output will be over 100 million kWh to meet the annual electricity demand of about 30,000 urban households.
Compared with the same-size thermal power plant, the hybrid energy power station will save around 28,716 tonnes of standard coal and reduce carbon dioxide emissions by 76,638 tonnes annually.
Stable high-tech plant runs day and night
To ensure the power station's efficient operation, numerous cutting-edge technologies have been adopted to keep it running smoothly day and night.
According to Tang Jian, general manager of China Longyuan Power Group, China Energy Investment Group, his team has developed a digital production platform, based on transparent data, with an early warning model which enables rapid remote diagnosis of the condition of wind-solar equipment. The current accuracy of such remote diagnosis system is over 85 percent.
Moreover, drones are also involved to free manpower from daily inspection, facilitating routine patrol and maintenance of the station. For example, drone patrolling has greatly reduced manpower required for inspection, saving operation and maintenance costs as the staff can monitor and control the equipment remotely from the main control room.
China's efforts to pursuit clean energy
In 2021, according to statistics released by the National Energy Administration (NEA), China's newly installed photovoltaic power grid-connected capacity reached a new high to 54.88 million kilowatts. The country's accumulated photovoltaic power generation projects under construction total 121 million kilowatts.
From January to April of 2022, China's photovoltaic power generation added 16.88 million kilowatts to the grid with a year-on-year increase of 126.7 percent. It is estimated that 108 million kilowatts photovoltaic power generation will be added to the grid in 2022, with a year-on-year increase of 95.9 percent.
Up till now, China has become a promoter and leader of global photovoltaic industry development, said the NEA.
---
Interesting Related Article: "Different Types of Solar Panels"