The Chinese service sector is helping boost economic growth, latest figures have shown.
The non-manufacturing PMI (Purchasing Manager's Index) reached 56.3 in October (55.4 in September), a 14 month high, according to the National Bureau of Statistic and the China Federation of Logistics and Purchasing.
Any reading greater than 50 means that non-manufacturing production activities are speeding up.
Authorities say the growth in the Chinese service sector shows that domestic demand is growing steadily.
Experts agree – figures pointing to growth in the Chinese service sector indicate the country's economy is becoming more consumption-driven. The service industry became China's second source of employment in 2011, overtaking manufacturing.
The Chinese service sector, which makes up about 43% of the country's GDP, includes construction and aviation.
Chinese service sector growth will help jobs
Cai Jin, vice-chairman of the China Federation of Logistics and Purchasing said "Continual expansion of the non-manufacturing sector will lead to steady employment growth, which is an important foundation to stabilizing the whole economy."
Jin added that this acceleration of non-manufacturing PMI is expected to carry on over the medium term.
Entrepreneurs' future expectations, a non-manufacturing PMI subindex reached 60.5 in October, compared to 60.1 the month before. This means there is better medium-term sentiment.
Chinese manufacturing PMI rose too

The National Bureau of Statistics5 also reported an increase in the manufacturing PMI to 51.4 in October, compared to 51.1 in September. Manufacturing PMI is at its highest point in 18 months.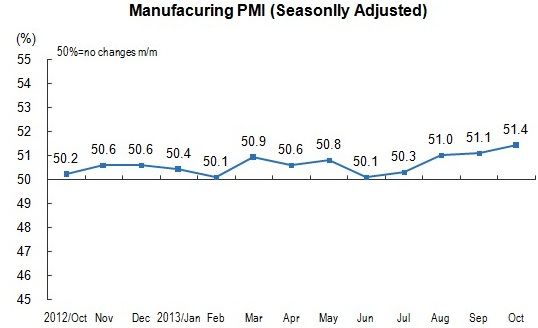 Source: Chinese Bureau of Statistics.
China's economic growth picked up in the third quarter, after a slowdown during the first half of 2013. Analysts say the "mini stimulus" boosted domestic demand as well as industrial production.
China's GDP grew at an annualized 7.8% during Q3 2013, compared to 7.5% in Q2 2013. Economic growth had slowed down in 11 of the 14 previous quarters.
The BBC quoted Ma Xiaoping, an economist who works at HSBC Holdings PLC, who said "The recent acceleration of capital inflow and expansion of fiscal expenditures will help keep a relatively sufficient liquidity. Besides, a rebound in employment and growth of incomes can boost consumption in the future."
In an interview with the South China Morning Post, Lu Ting, head of Greater China economics at Bank of America in Hong Kong, said "Growth momentum will still be relatively robust. The room for a further improvement in the non-manufacturing PMI is limited so we should still avoid being too bullish."
China's 3rd Plenum this week
Leading Communist Party officials meet this week – the third plenary session of the 18th Central Committee of the Communist party of China – to decide on policy changes that may help China avoid a steeper slowdown over the long term as its export- and investment-led economic model loses impetus.
Nerys Avery and Sarah Chen wrote in Bloomberg this morning that signs of sustained growth potential in China may give President Xi Jinping and Prime Minister Li Keqiang more confidence in introducing reforms.
However, growing local government debt, a slowdown in export growth, and excessive credit growth may undermine a stronger recovery from a six-month slowdown.
Simon Rabinovitch wrote in the Financial Times that Mr Xi's predecessor, Hu Jintao, who promised to address China's unbalanced growth at the 2003 third plenum, failed to do so and left nearly a decade later with the economy "even more reliant on investment."
Mr Xi has to make up for that lost time as China enters an era of slower growth. China needs to shift its economy to one driven more by consumption and innovation.